25 Dallas Police Officers Under Investigation for Allegedly Posting Racist, Threatening Content on Facebook
Four active-duty Dallas police officers have been placed on administrative leave and 21 others were under internal investigation after the officers were believed to have made racist and violent comments on their Facebook profiles.
The move by the Dallas Police Department came one month after a cache of social media posts from police officers in eight U.S. jurisdictions was made public by The Plain View Project, which had scoured the Facebook profiles of law enforcement officers nationwide over the past two years to compile a database of potentially inflammatory or otherwise objectionable content.
After the database was first made public, the Dallas Police Department released a statement saying that it was "thoroughly investigating the names and posts" of officers flagged by the database.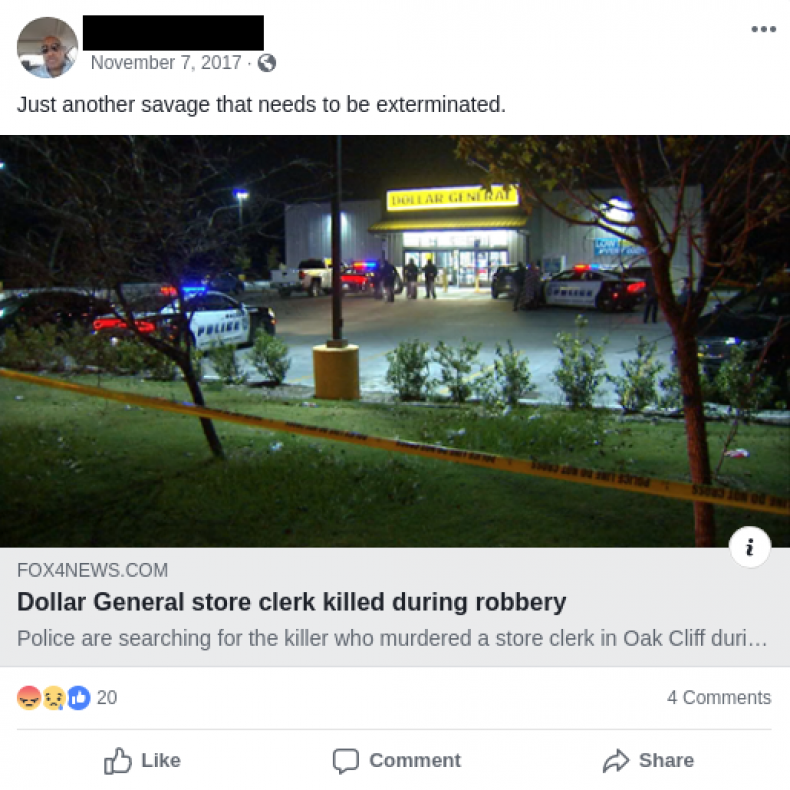 "We take these matters seriously and we want to assure the community that we will not tolerate racism, bigotry or hatred of any kind in our organization," the statement concluded.
The Plain View Project has now collected around 5,000 posts, around 300 of which were allegedly published by active-duty Dallas officers.
Friday's announcement from the Dallas Police Department explained that the "department's preliminary findings show that 25 officers posted or shared material that was determined to be a potential violation of DPD's General Orders and/or Code of Conduct."
"Four of those officers have been placed on administrative leave based on the extreme nature of their posts," the police said.
The 25 officers currently under scrutiny from the department were a subset of the 170 current and former Dallas officers whose posts were deemed offensive enough for The Plain View Project to flag.
The Facebook posts contained language that, among other things, disparaged racial minorities and made light of police brutality.
One allegedly current Dallas Police officer shared a meme that contained the phrase: "Despite what you've been told, violence does solve problems."
Another purportedly active-duty officer shared a meme from a Blue Lives Matter Facebook page that encouraged people to watch a video of protesters getting hit by a car.
"WATCH: Car vs. Protesters. Car always wins," the post read, followed by several laughing emojis.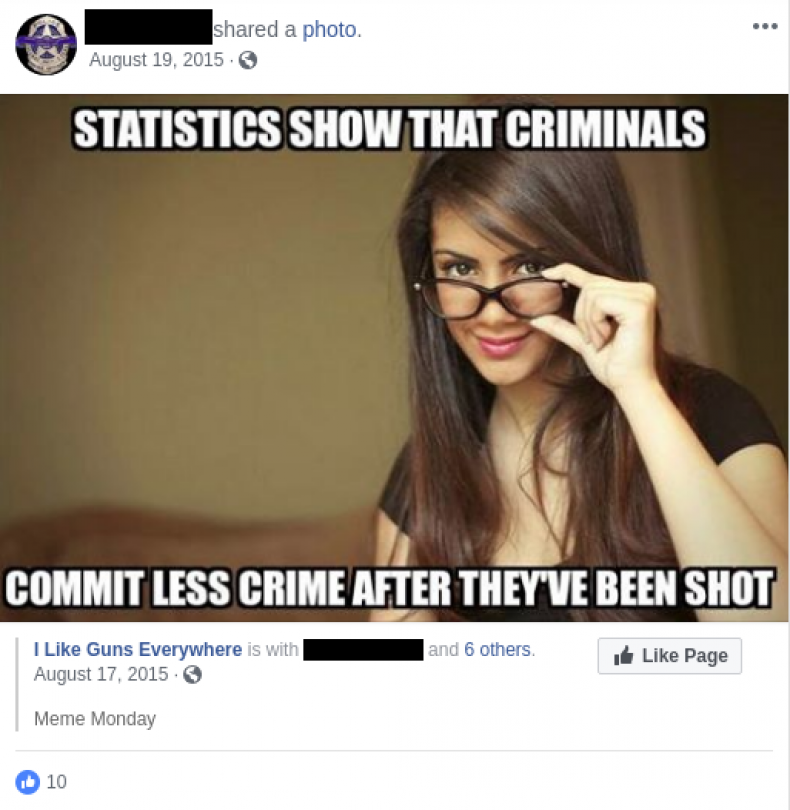 One post shared by someone believed to be a current officer included an image of a figure labeled "Europe" watering a sapling labeled "Islam," which was tied to a noose strung around the figure's neck, implying that as the tree grew, "Europe" would be hanged.
Other posts directly advocated for police violence and, in some cases, committing murder.
"We take these matters seriously and we want to ensure the community that we will not tolerate racism, bigotry or hatred of any kind in our organization," Dallas Police Chief U. Reneé Hall said on Friday. "The Dallas Police Department prides itself on maintaining the highest standards of ethics and integrity while providing service to the community without prejudice."