2.5-Foot Baby Alligator Found In Man's Backpack at Traffic Stop
Officers in South Carolina got a major surprise recently after a recent routine traffic stop resulted in the startling discovery of a 2.5-foot baby alligator in the driver's backpack.
According to a Facebook post made by the Berkeley County Sheriff's Office in South Carolina, 48-year-old Tracy Lee Crane was caught illegally possessing the young reptile. As part of the page's #WantEmWednesday series, in which they ask the community for help in locating criminals at large in the area, they shared the recent incident that resulted in the gator's discovery.
Though they joked that the "story is a great catch," the department explained that an unnamed officer on traffic duty tried to pull Crane over for a "vehicle registration violation."
"The deputy attempted to conduct a traffic stop on the vehicle...and what do you know?! The driver...did not stop," the department reported. "Crane continued driving until his vehicle got stuck on a woodpile and then he fled from the traffic stop."
The officers were able to identify Crane because in his haste to flee the scene, he left behind his cell phone.
"We know when that hotline blings...that can only mean one thing. #BUSTED!!!" they joked on Facebook.
As officers proceeded to search the abandoned vehicle, they realized that, along with his phone, Crane also neglected to take his unauthorized pet alligator with him.
"Deputies discovered a baby alligator inside of a bookbag!" the department shared. "After a short bonding moment, Wally the Baby Gator was safely relocated with the help of [the South Carolina Department of Natural Resources]."
According to photo evidence provided by officers at the scene, the gator measured to about 2.5 feet from snout to tail.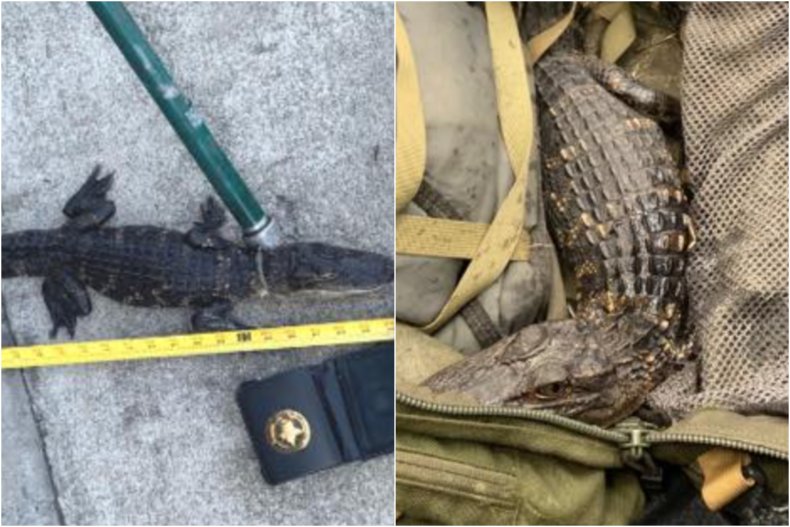 The Berkeley County Sheriff's Office, as well as the South Carolina Department of Natural Resources, are currently asking the public for help in bringing Crane into custody. The sheriff's office noted that Crane has an extensive rap sheet and has several outstanding warrants.
"He has active warrants for Failure to Stop for Blue Lights and Sirens, Driving Under Suspension–Second Offense, Expired Registration, and Possessing an Alligator without a License," the department said.
Of his nine arrests, Crane has previously been charged on two counts of driving under possession, two counts of possession of drug paraphernalia, two counts of breaking into a motor vehicle, two counts of possession of methamphetamine, two counts of failure to stop for blue lights, one count of shoplifting and one count of violation of a county ordinance.
Facebook users were highly amused by the story and encouraged law enforcement to enforce a hefty punishment for Crane's latest actions.
"Possession of an Alligator without a license should hopefully keep him behind bars," one commented. "Maybe it was his service gator," another person joked.
Newsweek reached out to the Berkeley County Sheriff's Office for comment on the situation, but they did not immediately respond in time for publication. A representative from the South Carolina Department of Natural Resources told Newsweek that they are "looking into the situation."
This is not the first gator finding in South Carolina in recent weeks. Earlier this month, a woman in the Myrtle Beach Golf and Yacht Community on Facebook posted a viral video of a massive 10-foot alligator strolling through the neighborhood and finding patches of grass to nap on.