25 Game-Changing Products for the Home Organizer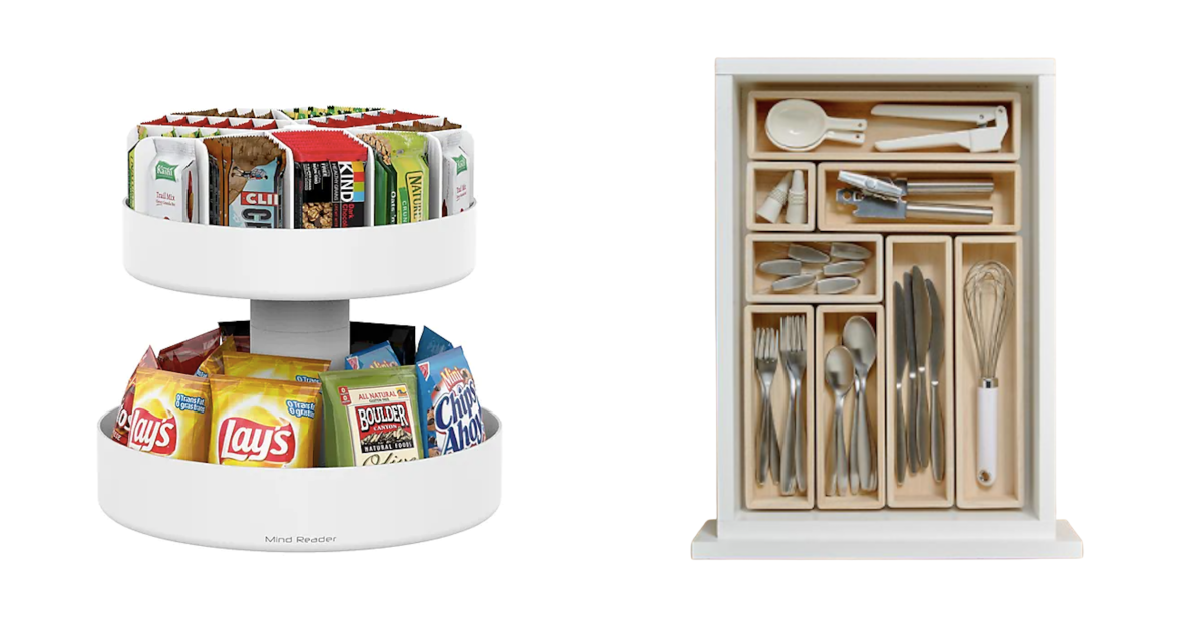 Calling all organization queens! Whether you live for labels or are just learning the sweet magic that is having everything in order, there's room in this very type-A space for everyone—newbies and pros alike.
They say to keep clutter-free in your closets, bedroom, kitchen, bathroom and really, all throughout the house, it's important that every item has a home: TV remotes go here, the chips go there, belts go here, undies go there. So, you know what that means—it's time to do some shopping! (You know, for the sake of organization.)
25 Best Home-Organizing Products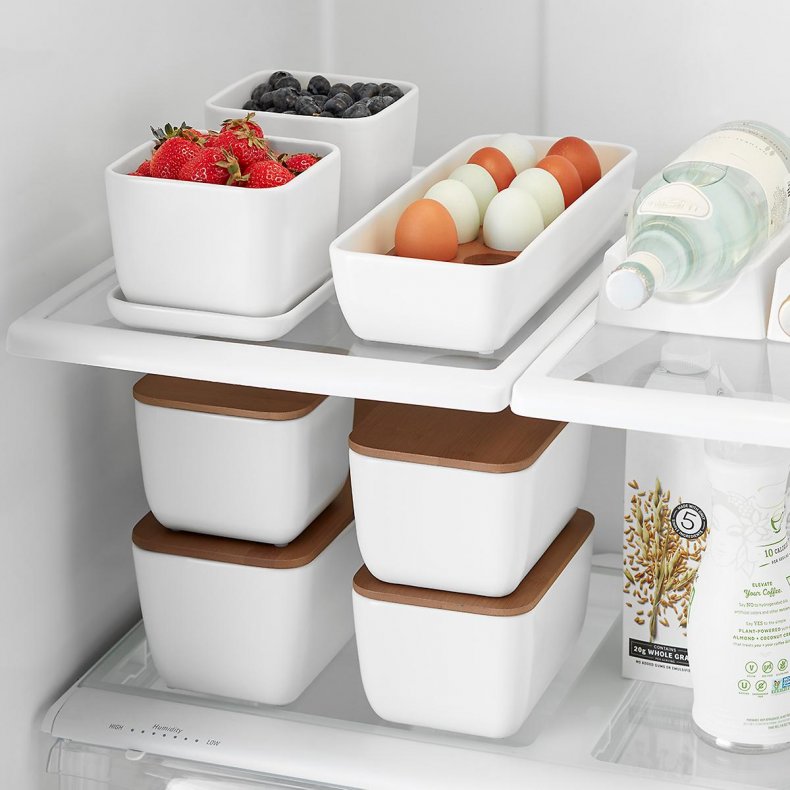 In a world where plastic fridge organizational kits are the norm, Marie Kondo's new ceramic and bamboo line at The Container Store is a real gift (and sustainable to boot).
Buy at The Container Store for $154.88.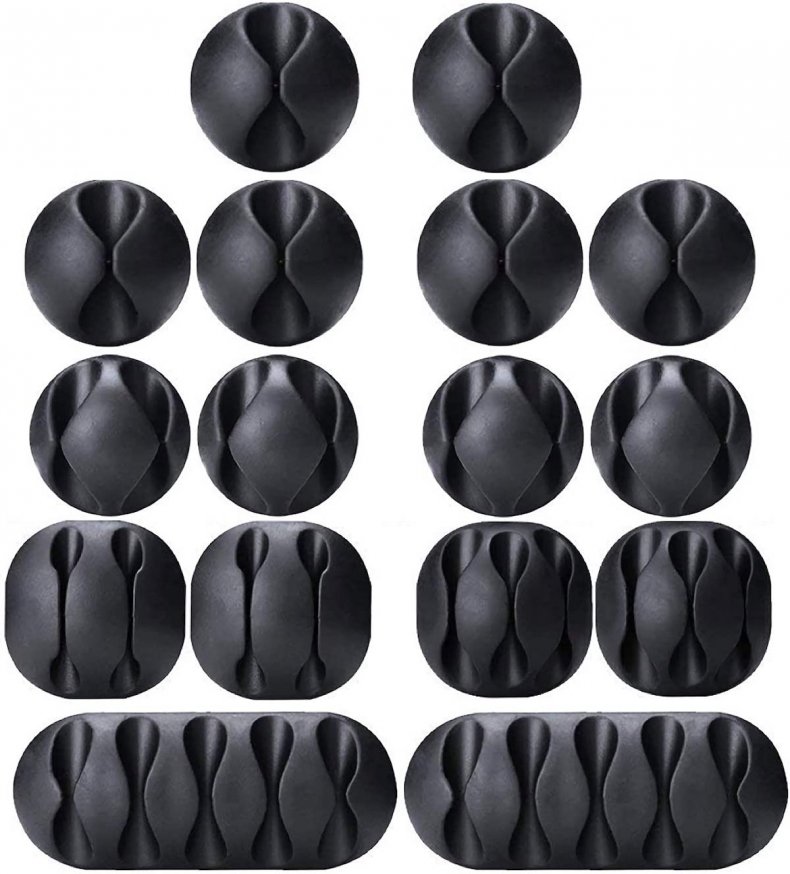 Definitely don't underestimate the functionality of cable clips. These things may look simple and boring but they're actually a game changer when it comes to streamlining any cord, plug, wire or just about anything else. We've seen people even use them as an upgrade from Command Hooks, hanging everything from toothbrushes to pens.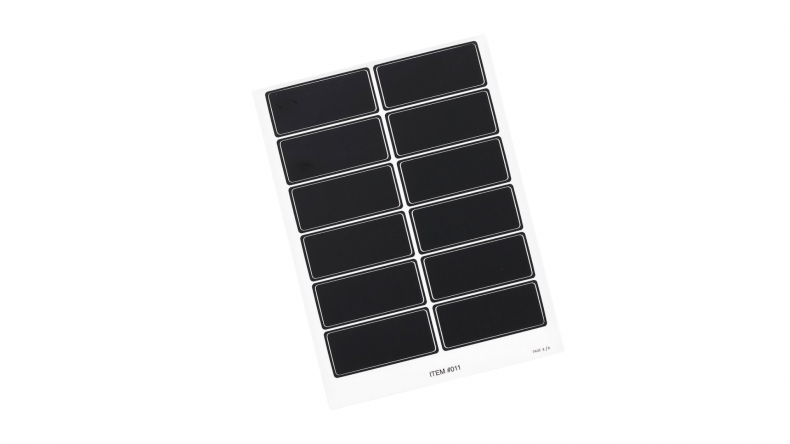 Novice or expert—doesn't matter. We could all use more labels in our lives! The Neat Method Blank Label Set features 12 blank, reusable stick-on labels that adhere to just about any surface. Use a chalkboard marker to really bring this item to life.
Buy at The Neat Method for $8.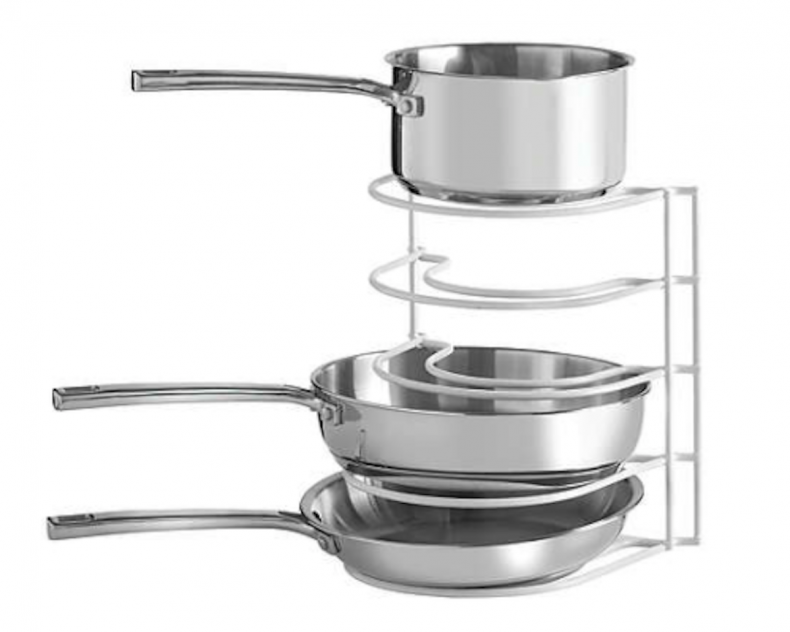 Is your pots-and-pans cabinet a mess? Do you even have a pots-and-pans cabinet? Step up your game with the Salt Pot and Pan Organization Rack, which can hold up to four pots and pans and their lids.
Buy at Bed Bath & Beyond for $8.99.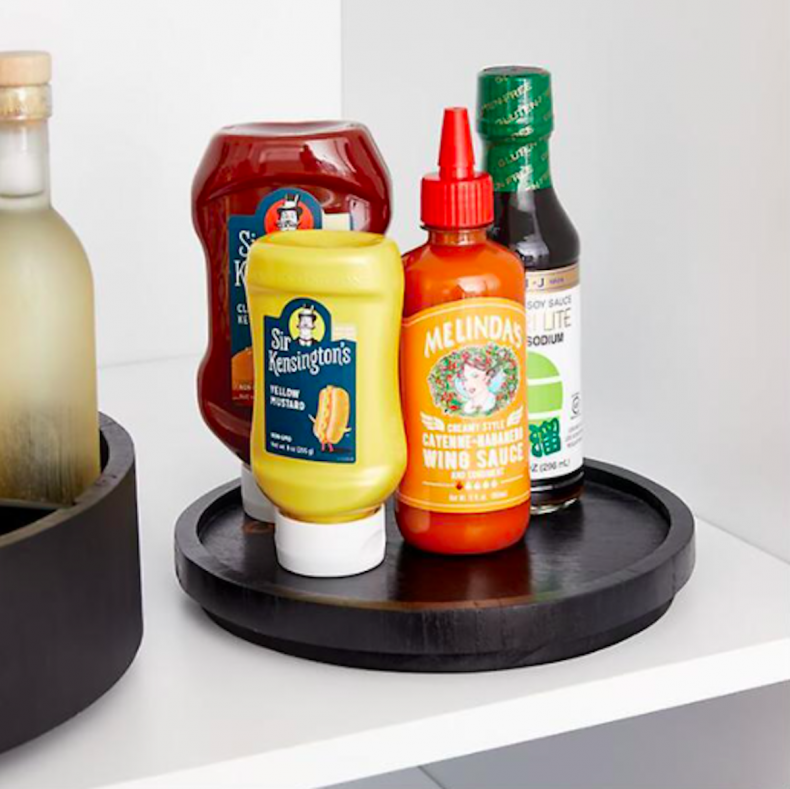 When it comes to getting your stuff together—literally—there's no better item in your arsenal than a lazy Susan. Put one in your fridge, two in your pantry—put them everywhere! We love this sustainably made one from The Container Store because it's made of the responsibly sourced hardwood Paulownia, is warp-resistant and is safe and convenient for food storage and everything else.
Buy at The Container Store for $19.99.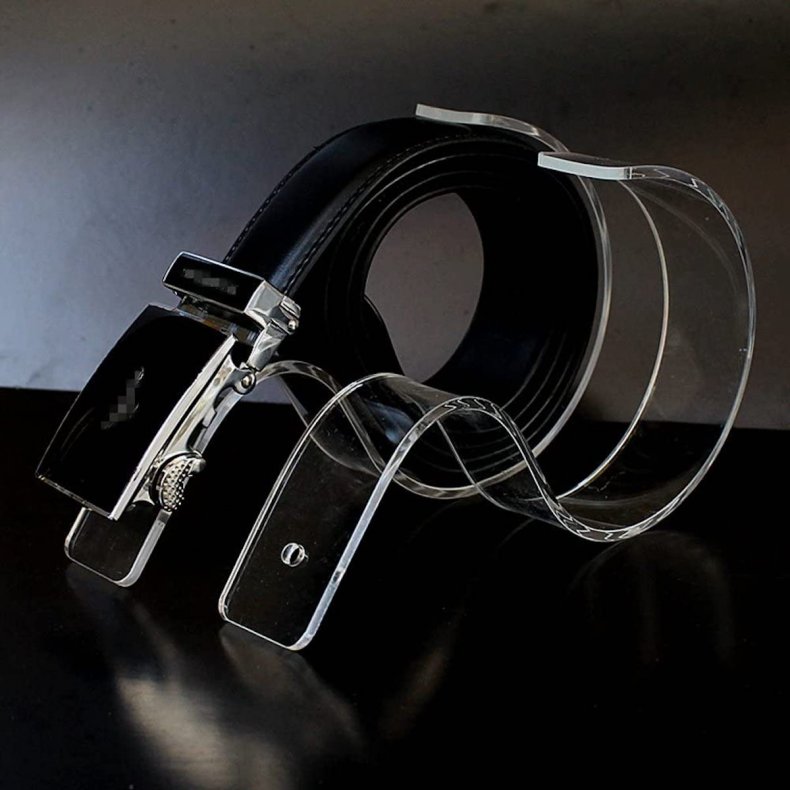 If you never know what to do with your belts, these Clear Acrylic Belt Display Stands, which come in a 4-pack, are about to change your entire closet. Simply roll up each of your favorite belts, insert into the stand, then display on a shelf.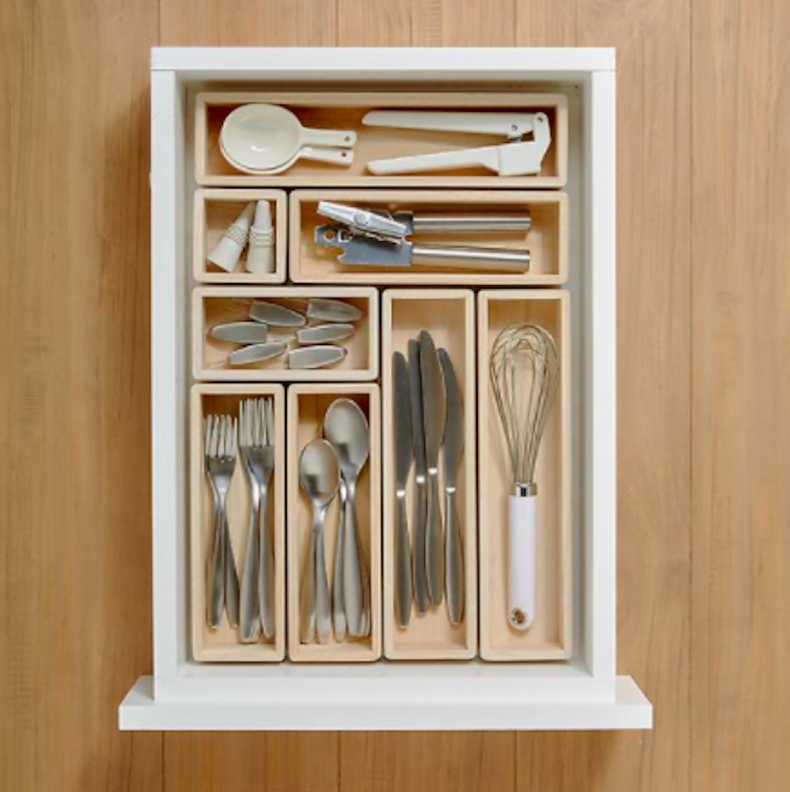 Utensils drawer a mess? Here's an A-plus storage solution that will keep everything—spoons, forks, knives and whatever else—in their rightful place. (No matter how hard you open or close the drawer.)
Buy at The Container Store for $63.92.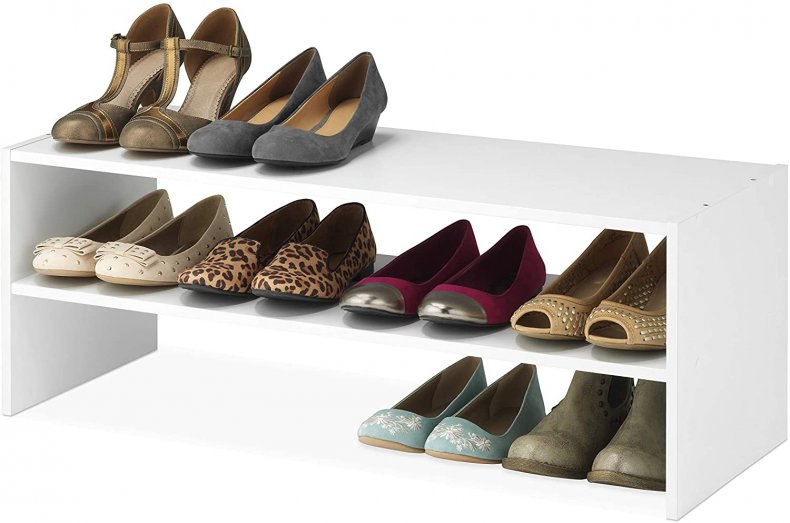 The best part about the Whitmor Wood Stackable 2-Shelf Shoe Rack is that it's stackable, meaning you can buy more than one and they fit right into each other for the shoe storage tower of your dreams.
Buy at Amazon for $34.99.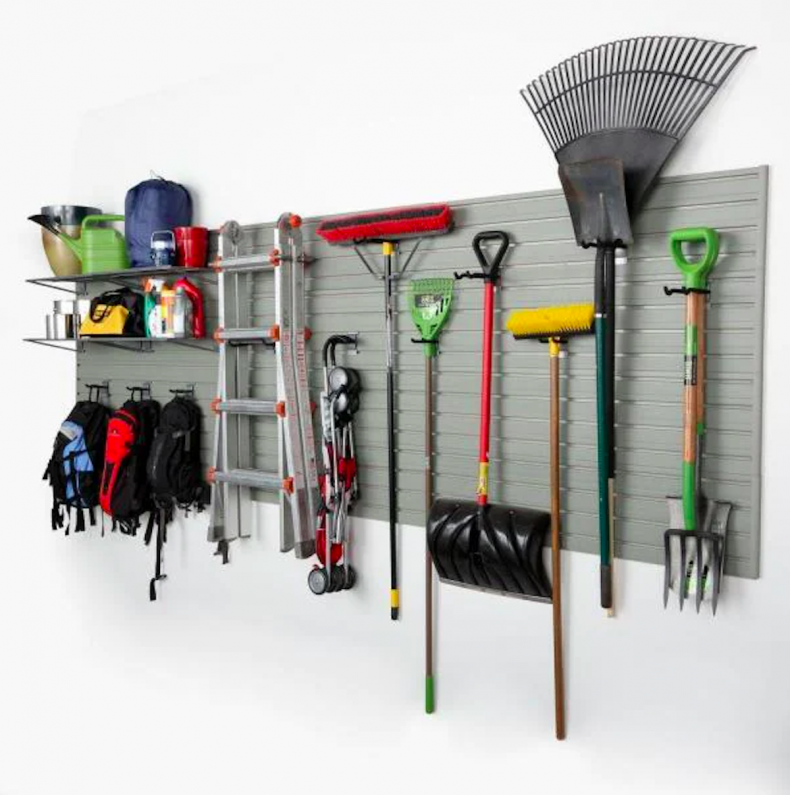 Don't sleep on organizing your garage, too! If your living room, kitchen and every closet in between has gotten the Marie Kondo treatment in your home, then the Flow Wall Modular Garage Wall Panel Storage Set is a must-have for your garage and all those random tools, ladders, strollers and other junk that just seems to accumulate there.
Buy at Home Depot for $335.88.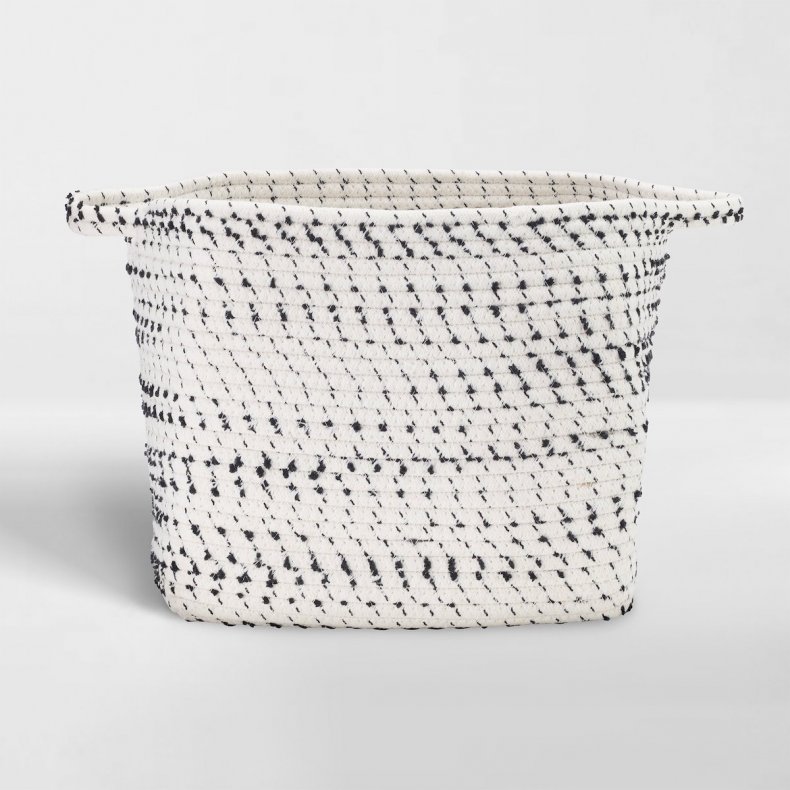 Isn't it so pretty? But beyond its good looks, the Neat Method Rope Bin is incredibly helpful when it comes to storage. Whether it's T-shirts you're rolling or Legos you're hiding, the Rope Bin makes all kinds of things look cute on the outside, no matter what's jammed inside.
Buy at The Neat Method for $25.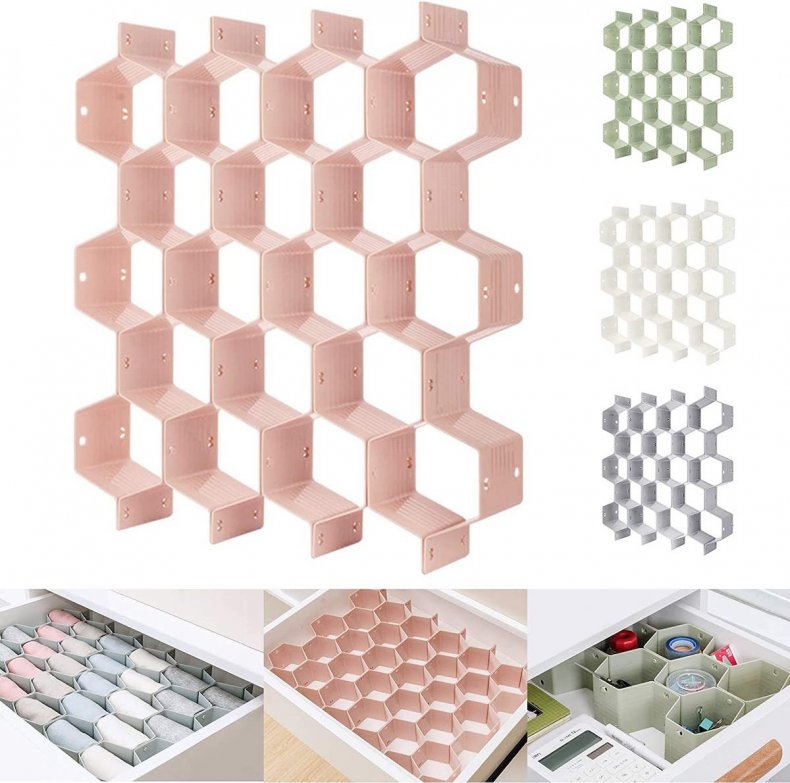 Underwear drawers aren't exactly known for being the most organized space in the house. If you throw in your undies, socks or whatever else without folding (or maybe just can never find what you're looking for), the Honeycomb Separator Adjustable Drawer Organizers are the perfect upgrade. They make sure that every item in your drawer is totally visible—even if not perfectly folded.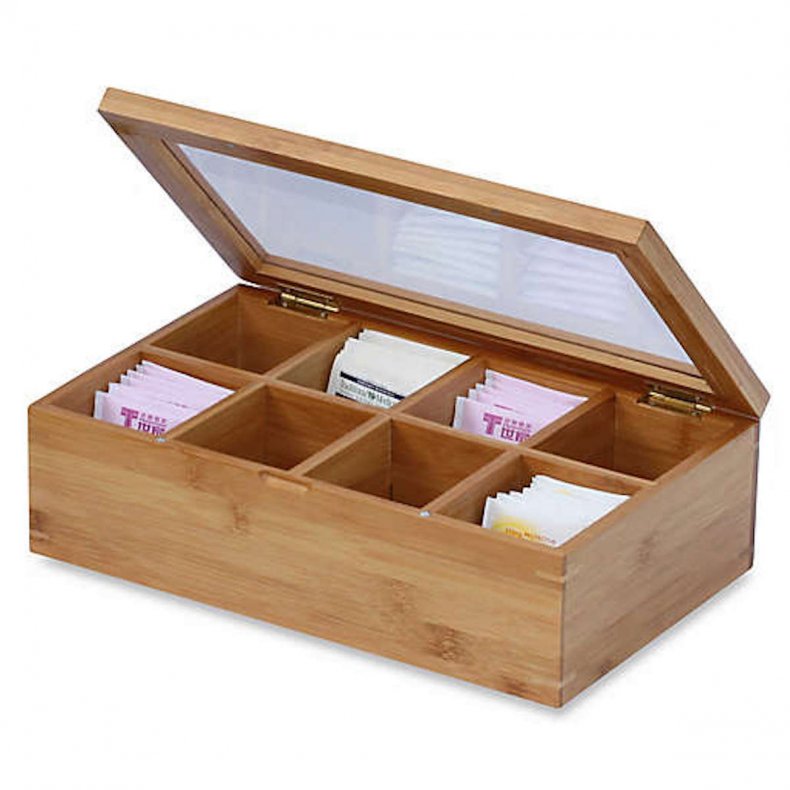 Somehow the tea just never seems to be organized. From rogue tea bags to mismatched flavors, they're enough to drive any type-A person to reach for a coffee instead. Luckily, the Oceanstar Bamboo Tea Box available at Bed Bath & Beyond can be your easy-to-keep-up solution.
Buy at Bed Bath & Beyond for $22.99.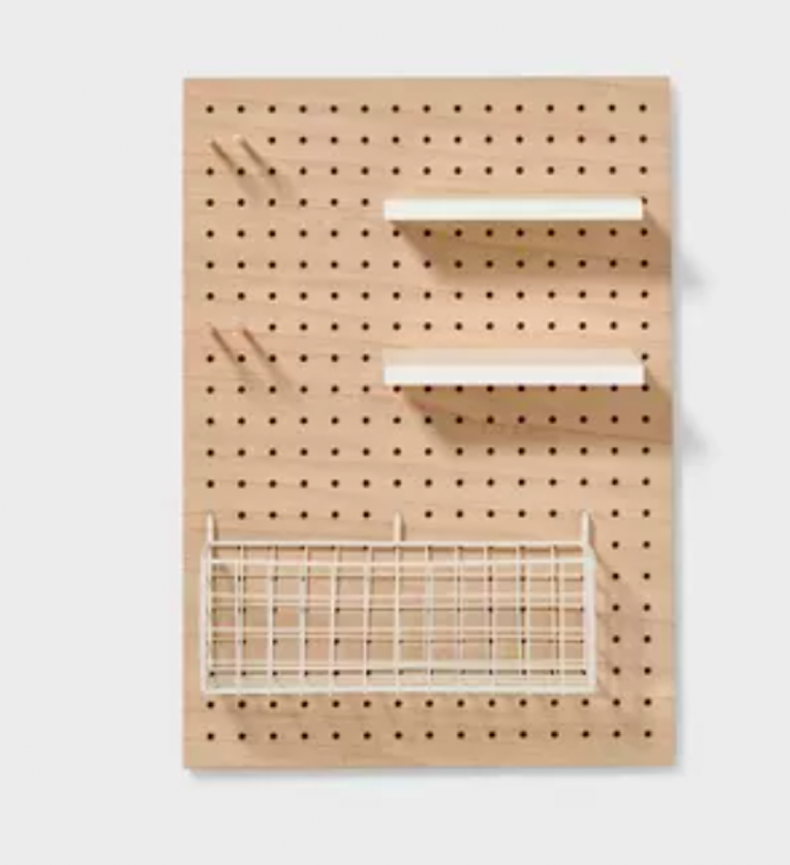 The world is your oyster when it comes to this Pillowfort Modular Organization System Pegboard from Target. As long as you can envision it, you can organize it on this piece. With two wire shelves, a rack and endless pegs to hang stuff from, you can use this in your office, living room or even near the entryway to keep everyone's stuff organized.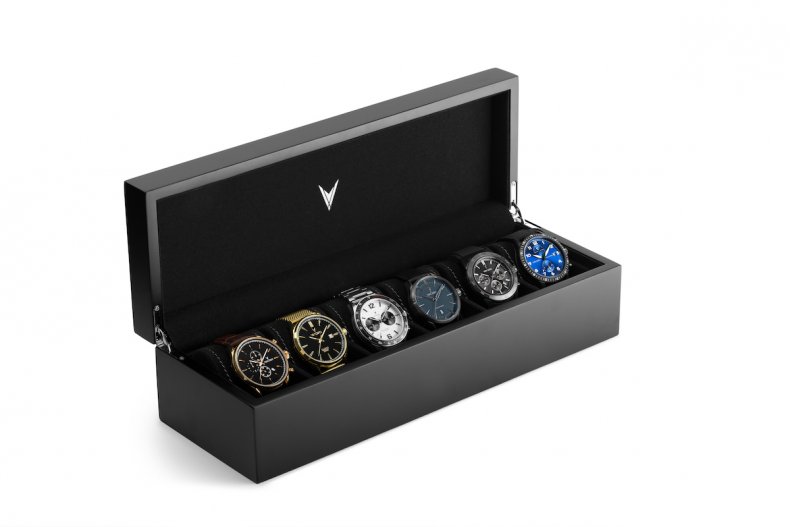 If you (or your partner) have been known to spend a pretty penny on a nice watch or two, then it's definitely worth making sure you have an organizational system for them. We guarantee you'll be obsessed with The Collector's Case from Vincero. It features enough display room for up to six watches.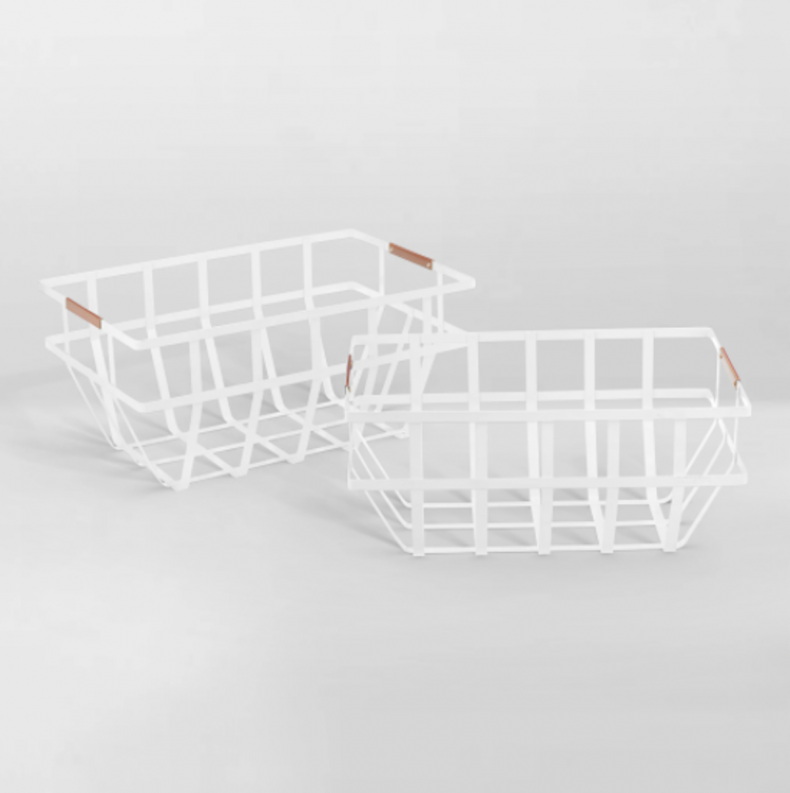 The Neat Method Flat Metal Baskets are an aesthetically pleasing storage option for just about anything, but particularly for that snack cabinet everyone seems to get into around midnight. Fill them with chips, fruits, candies and whatever else—but in true Neat Method fashion, be sure to slap a label on it!
Buy at The Neat Method for $27.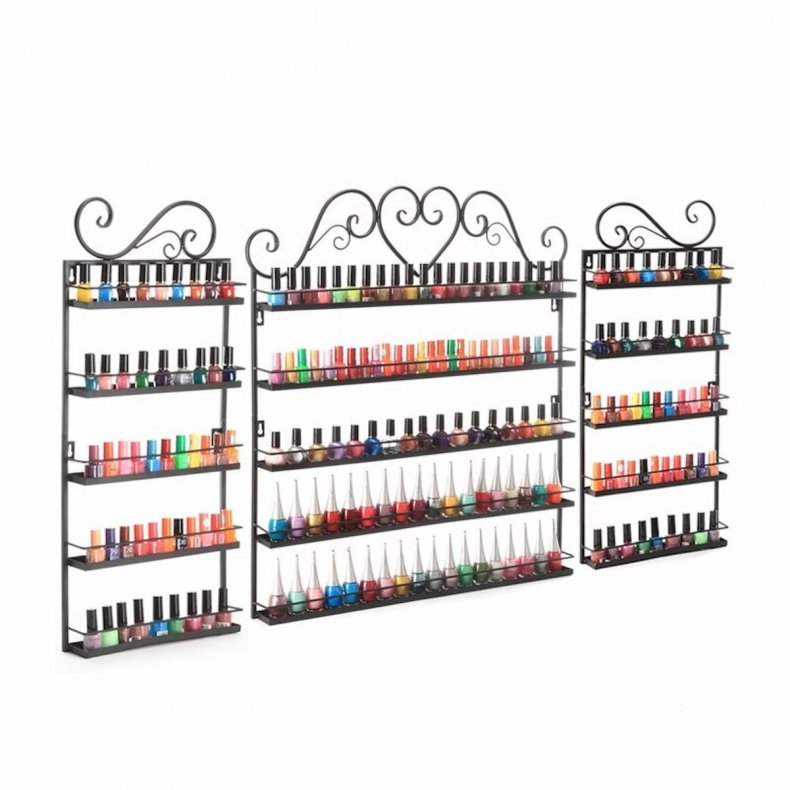 Surprised by how much nail polish you own? Same. Take control of that crazy polish container with this salon-worthy hanging organizer that can hold up to 200 bottles.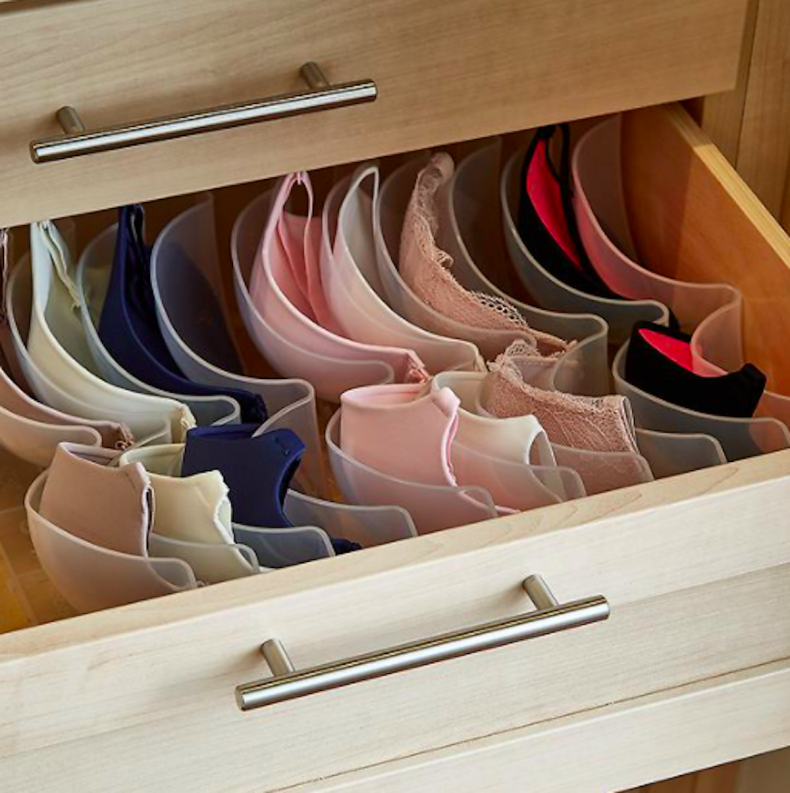 The 5-Section Boobie Trap Bra Organizer will change your life. Enough said. Nicknamed the Boobie Trap by its superfans, this bra organizer saves space in your drawer, protects your bras and puts each one on display so that you can see what you're actually grabbing for.
Buy at The Container Store for $29.99.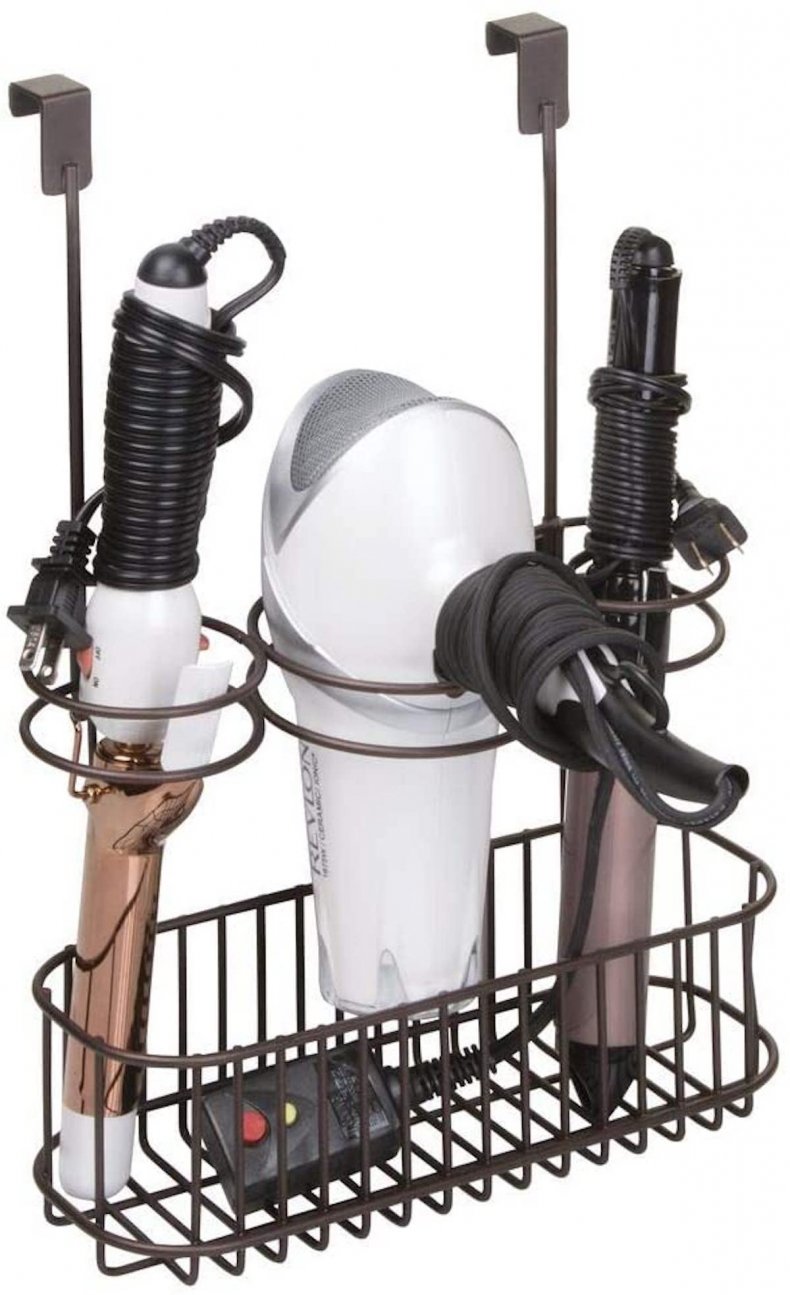 Heated hair tools are definitely overlooked when it comes to storage. Maybe you stuff them in a drawer, throw them under the sink or just leave them out. Take your bathroom back with this organizer, which hangs on the back of a door and fits up to three tools.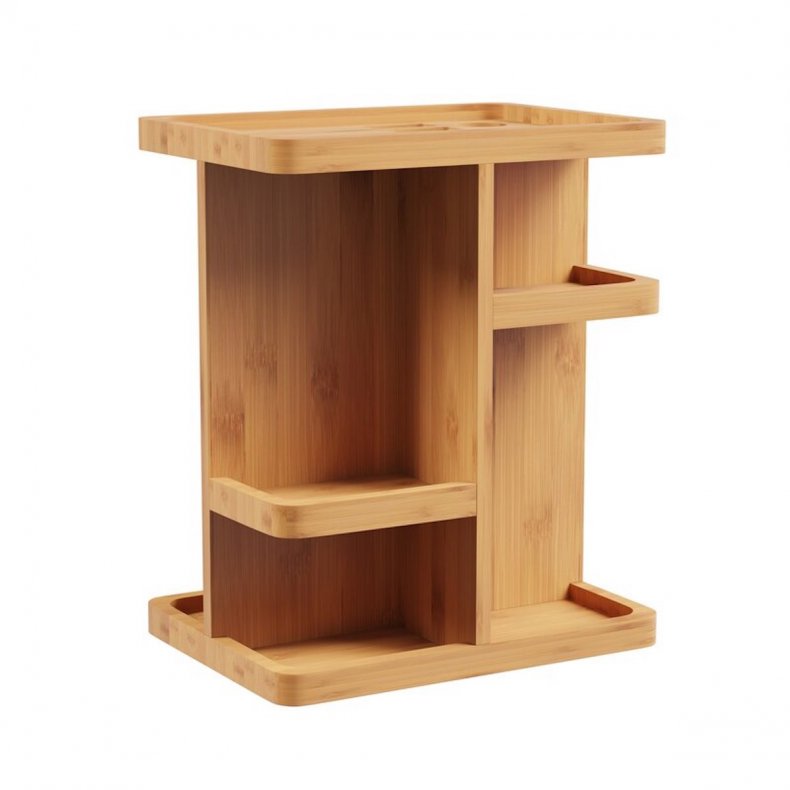 Skip the makeup bag. You can never find anything in it anyway! The Rotating Rectangular Tabletop Makeup Organizer spins all the way around and fits tons of different sizes and shapes of product so that you can display (and find!) all your cosmetics.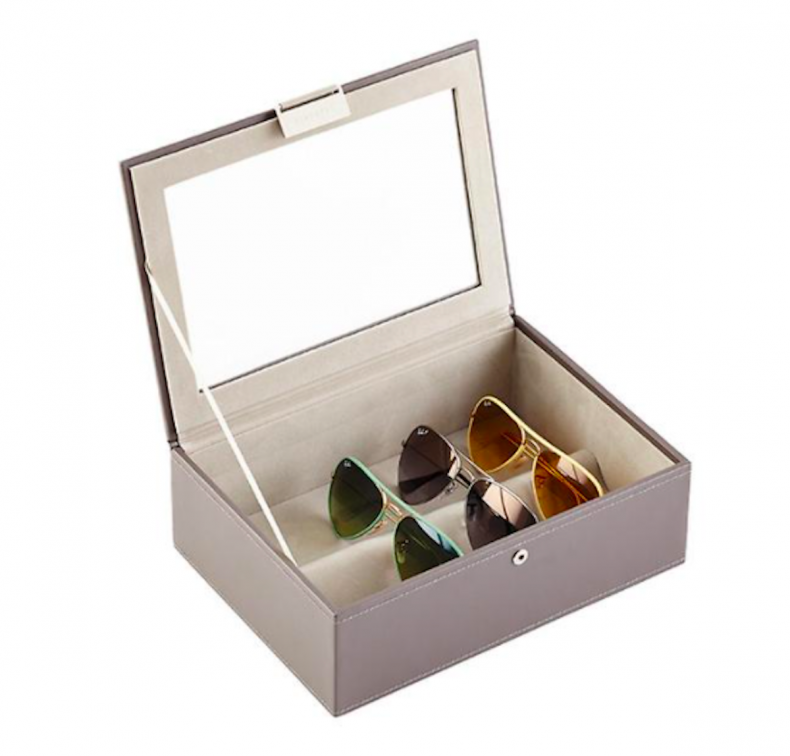 Raise your hand if you lose every pair of sunglasses you've ever owned. (Repeat sunglass breaker? We can't help you with that—sorry.) Keep up to six pairs of sunnies in the Mink Classic Stackers Lidded Eyeware Storage Box from The Container Store. Guarantee you never lose a pair again.
Buy at The Container Store for $34.99.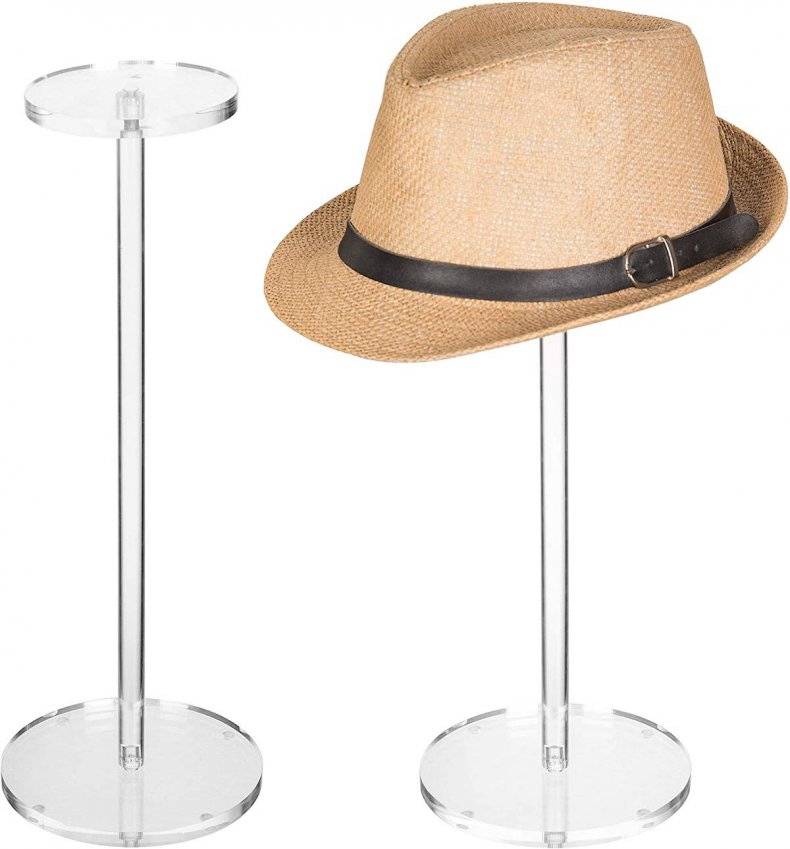 Hats in a pile? Stuffed in a drawer? Upgrade your hat storage game (or wig storage game!) with acrylic hat stands that don't just store hats—they make 'em look cute, too.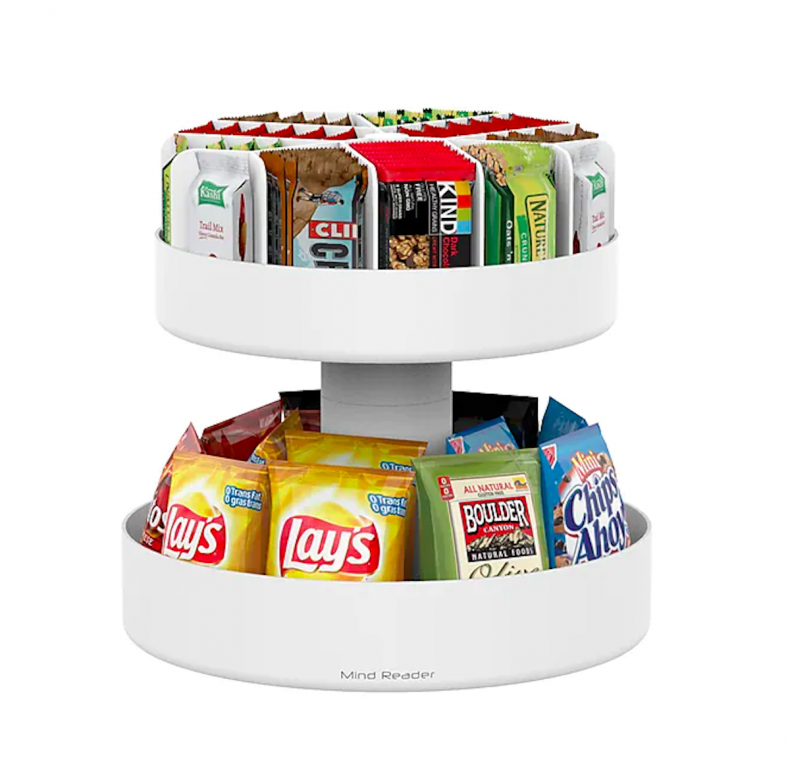 We just can't pass up a double-level lazy Susan. Use the Mind Reader 'Supreme' Lazy Suzan 2-Tiered Breakroom Snack Organizer in a work break room, your office, the kitchen, your at-home movie theatrer or wherever else.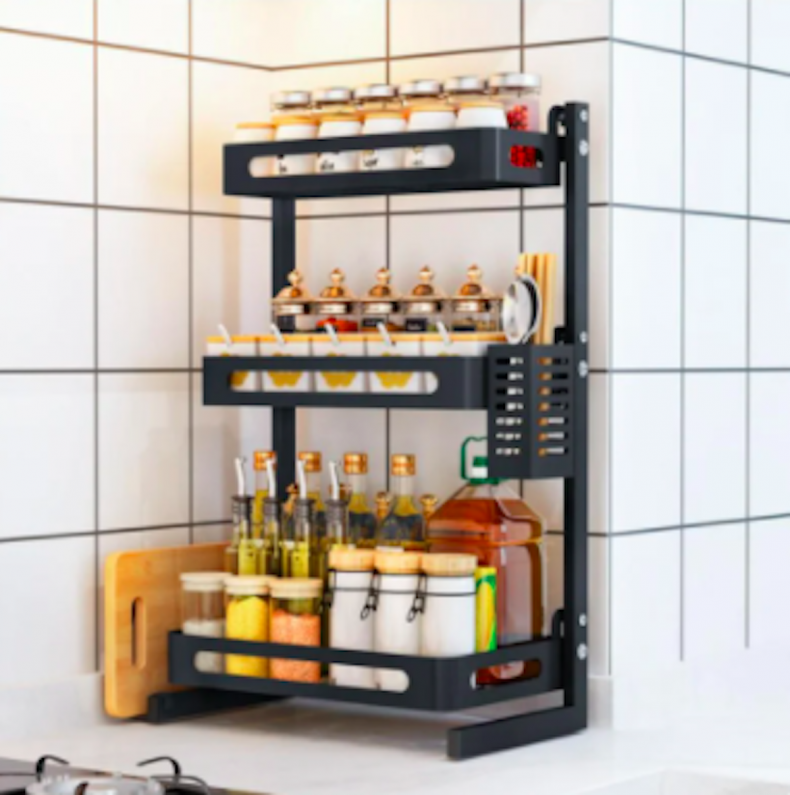 Trust us—there's a better way to store your spices. The 3-Tier Kitchen Countertop 31-Jar Rack is it. Not only does it maximize space vertically on your counter, but it also can fit up to 31 jars. That's your salt, cumin, pepper, turmeric and whatever else!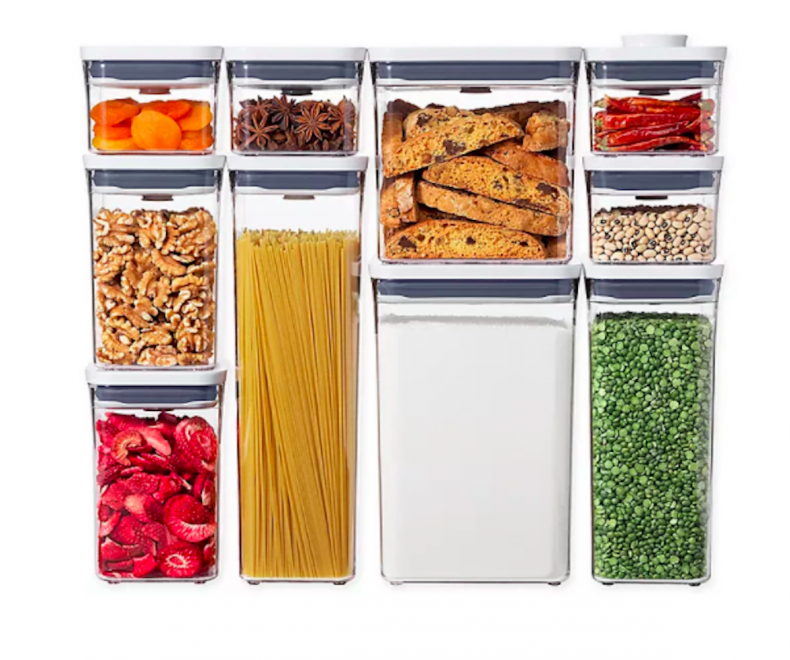 Not sure where to start on your organization journey? This is a pretty good place. This storage set from Bed Bath & Beyond is usually amateur organizers' first foray into the addiction that is keeping things tidy. That's because it comes with 10 different pieces that can be used for just about anything—including food storage.
Buy at Bed Bath & Beyond for $99.99.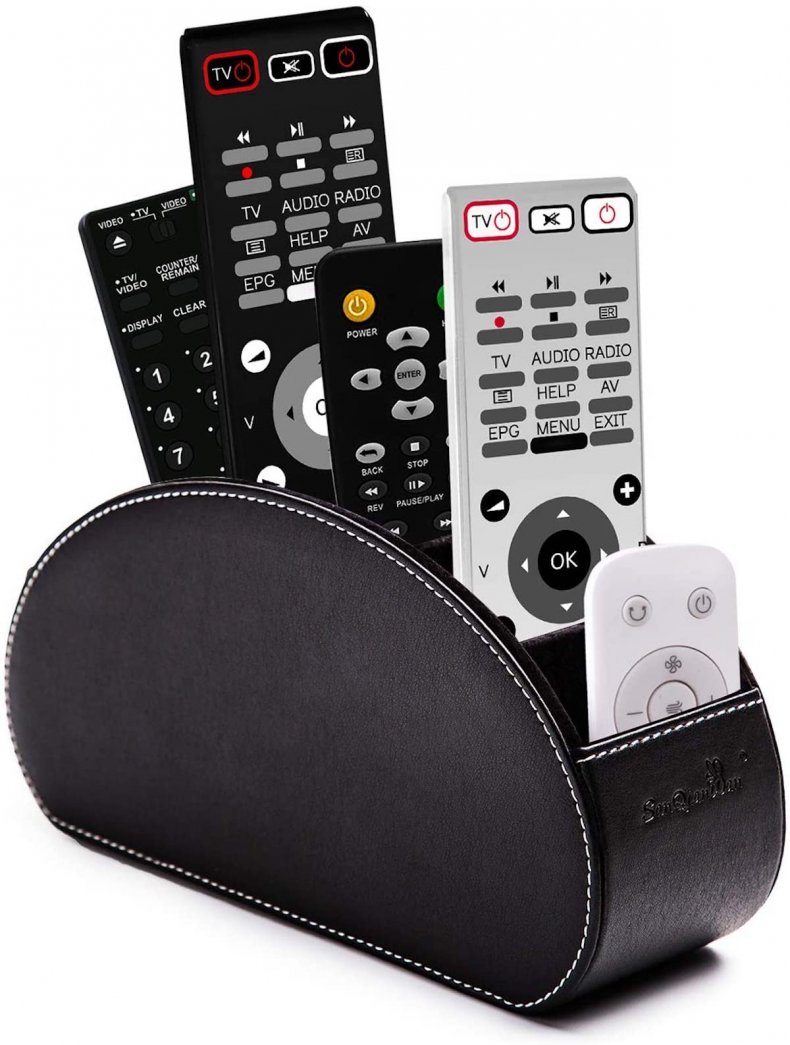 When was the last time you lost the remote? If the answer is yesterday, then it's time to stop messing around when it comes to your TV. Grab yourself the Remote Control Holder Organizer Box and stop playing with fire.
Newsweek may earn a commission from links on this page, but we only recommend products we back. We participate in various affiliate marketing programs, which means we may get paid commissions on editorially chosen products purchased through our links to retailer sites.