25 Immersing Movies Set on the Water
"Do not shoot on water!" Steven Spielberg once warned Kevin Costner before the making of 1995's Waterworld. Given Spielberg's own troubled experiences during the production of Jaws, it's safe to say he was offering sound advice. Costner swiftly ignored that advice and went on to participate in one of the biggest behind-the-scenes fiascos in movie history, complete with flooding sets and personal injuries.
Unfortunately Costner's efforts were not enough for Waterworld to make the following list of great movies set on the water. Jaws certainly did, however, as it's easily among the most classic films to involve water in a central capacity. As either a thematic motif, perennial backdrop, or physical obstacle (or all of the above), water plays an important role in a number of acclaimed works. Today, we honor some of the best examples.
Stacker surveyed film history and compiled a list of movies across decades, countries, and genres that take place primarily on a body of water, whether on a ship, in a quiet seatown, or the current of a river. To qualify, the film had to have at least a 7.0 on IMDb. The 25 films chosen are organized alphabetically.
You may also like: Actors With The Most Golden Globe Wins Of All Time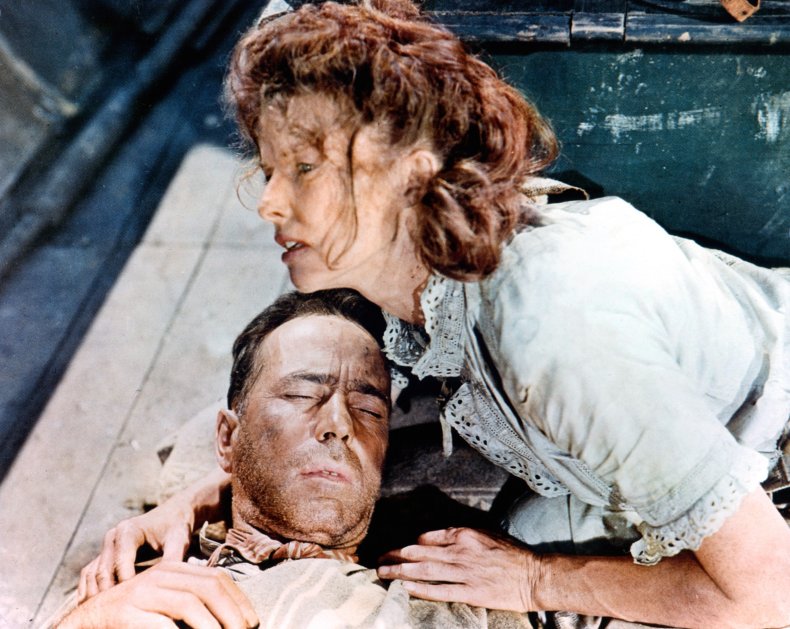 'The African Queen' (1951)
- Director: John Huston
- IMDb user rating: 7.8
- Metascore: 91
- Runtime: 105 minutes
Set during WWI, this Oscar-winning drama puts a surly riverboat captain (Humphrey Bogart) aboard the African Queen for a suicidal mission. His journey takes place along Tanzania's Ulanga River, home to perilous rapids and enemy forts. Danger lurks on all sides but Bogart's up to the challenge, even if he's not happy about it.
'Aguirre, the Wrath of God' (1972)
- Director: Werner Herzog
- IMDb user rating: 7.9
- Metascore: data not available
- Runtime: 95 minutes
Frequent Werner Herzog collaborator Klaus Kinski plays 16th-century explorer Don Lope de Aguirre, who goes mad in his search for the kingdom of El Dorado. The movie was shot on location in the Amazon and without stunt people, making the prevailing sense of terror all too real.
'Apocalypse Now' (1979)
- Director: Francis Ford Coppola
- IMDb user rating: 8.4
- Metascore: 94
- Runtime: 147 minutes
Follow Captain Benjamin L. Willard (Martin Sheen) through the heart of the Vietnam War as he hunts for a rogue general turned tribal leader (Colonel Walter E. Kurtz, played by Marlon Brando). Traveling up the Nùng River in a patrol boat, Willard faces peril both internal and external. The river is often depicted as a sanctuary, with the real threats coming from the ever-adjacent jungle.
'Battleship Potemkin' (1925)
- Director: Sergei M. Eisenstein
- IMDb user rating: 8.0
- Metascore: 97
- Runtime: 66 minutes
One of the most influential films ever made, Eisenstein's masterpiece chronicles the violent mutiny aboard Battleship Potemkin. Based on true events, the story breaks down into parts and opens off the island of Tendra in the Black Sea. Its most famous sequence takes place on the Odessa Steps and features groundbreaking editing techniques.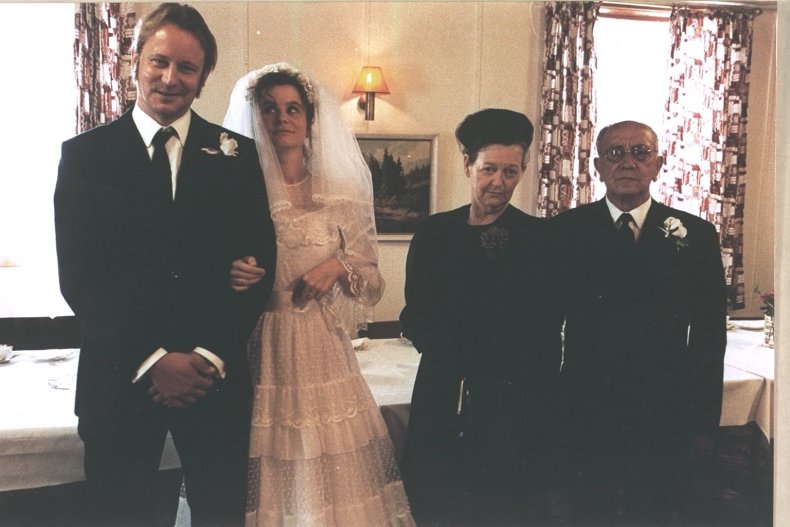 'Breaking the Waves' (1996)
- Director: Lars von Trier
- IMDb user rating: 7.8
- Metascore: 76
- Runtime: 159 minutes
This experimental drama centers on the rebellious romance between an eccentric woman (Emily Watson) and her husband, which takes a bizarre turn in the wake of an accident. It's set in a remote and dogmatic Scottish village off the coast of the Atlantic Ocean. By breaking the waves—i.e. defying local tradition—the lead character soon finds herself lost at sea.
You may also like: How Your Favorite Sci-Fi Characters Got Their Names
'Cape Fear (1991)
- Director: Martin Scorsese
- IMDb user rating: 7.3
- Metascore: 73
- Runtime: 128 minutes
Scorsese's update of a 1962 classic tells the story of attorney Sam Bowden (Nick Nolte), who's being stalked by former client Max Cady (Robert De Niro). A series of brutal escalations sends Bowden's family into hiding along the Cape Fear River. Against a backdrop of torrential downpours and crashing waves, Cady unleashes the storm within.
'Captain Phillips' (2013)
- Director: Paul Greengrass
- IMDb user rating: 7.8
- Metascore: 82
- Runtime: 134 minutes
Based on actual events, this Oscar-nominated drama depicts the hijacking of an American cargo ship by Somali pirates. With the Arabian Sea surrounding them on all sides, the ship's captain (played by Tom Hanks) and crew must think on their feet and quickly. According to those who were there, the real Captain Phillips was more of a self-righteous fool than he was a self-sacrificing hero.
'Cast Away' (2000)
- Director: Robert Zemeckis
- IMDb user rating: 7.8
- Metascore: 73
- Runtime: 143 minutes
Oft-used water metaphors take on a literal meaning in this survival film, starring Tom Hanks as a castaway in the Pacific Ocean. Set over the course of four years, it confronts the main character with various physical obstacles and a constant sense of despair. Eventually, he builds a raft and squares off against the unknown directly.
'The Cove' (2009)
- Director: Louie Psihoyos
- IMDb user rating: 8.4
- Metascore: 84
- Runtime: 92 minutes
One of the most brutal documentaries in recent memory heads to a whaling town in Japan, where locals corral and slaughter thousands of dolphins every year. While conspicuously one-sided, the film nevertheless exposes a particularly inhumane form of fishing. It won the 2010 Academy Award for Best Documentary.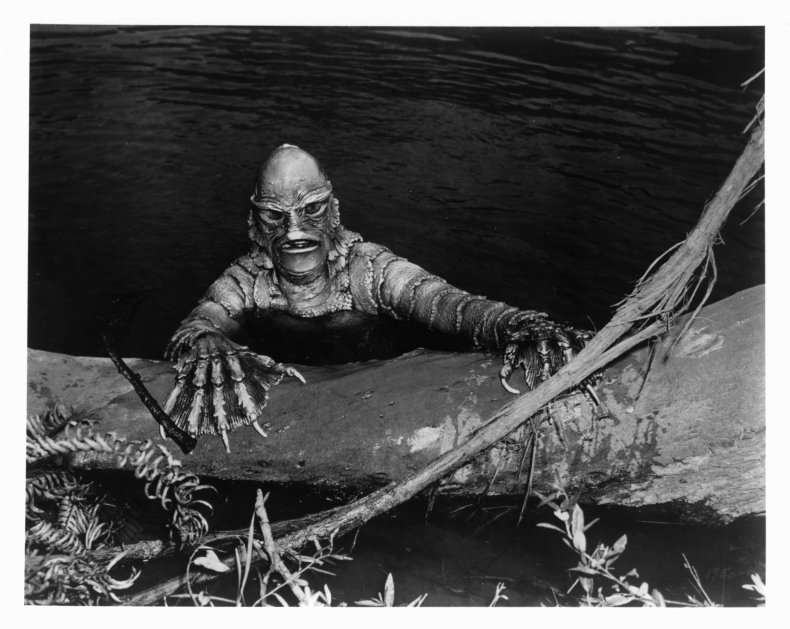 'Creature from the Black Lagoon' (1954)
- Director: Jack Arnold
- IMDb user rating: 7.0
- Metascore: 68
- Runtime: 79 minutes
In the mold of "King Kong" comes this classic creature feature, in which scientists pursue an amphibious humanoid deep in the Amazon jungle. Both camps square off in the mysterious black lagoon, a rumored realm of no return. The film was released in 35mm polarized 3D and followed by a pair of sequels.
You may also like: Every Golden Globes Best Drama Winner Since 1952
'Deliverance' (1972)
- Director: John Boorman
- IMDb user rating: 7.7
- Metascore: 80
- Runtime: 109 minutes
Panning shots of Georgia's (fictional) Cahulawassee River set the stage for this iconic thriller, which presents danger on land and in water alike. Four friends embark through the southern backcountry and soon discover that raging rapids are the least of their problems. A grisly hand breaking the water's surface provides for one final nightmarish image just before the movie closes.
'Don't Look Now' (1973)
- Director: Nicolas Roeg
- IMDb user rating: 7.2
- Metascore: 96
- Runtime: 110 minutes
Water plays a recurring role in this gothic horror, starring Donald Sutherland and Julie Christie as a grief-stricken married couple. Still recovering from their daughter's drowning, the pair head to water-bound Venice for a work-related trip. Inexorably linked to memory and death, the water motif helps cultivate a supernatural-like atmosphere of coincidence and connectivity.
'Forgetting Sarah Marshall' (2008)
- Director: Nicholas Stoller
- IMDb user rating: 7.1
- Metascore: 67
- Runtime: 111 minutes
The clear blue waters of Hawaii make for a perennial backdrop in this romantic comedy. Crushed by a recent break-up, a man (Jason Segel) travels to Oahu and ends up staying at the same resort as his ex (Kristen Bell). Between its improvised antics and tropical setting, the film effectively transports the viewer without veering too far off the narrative path.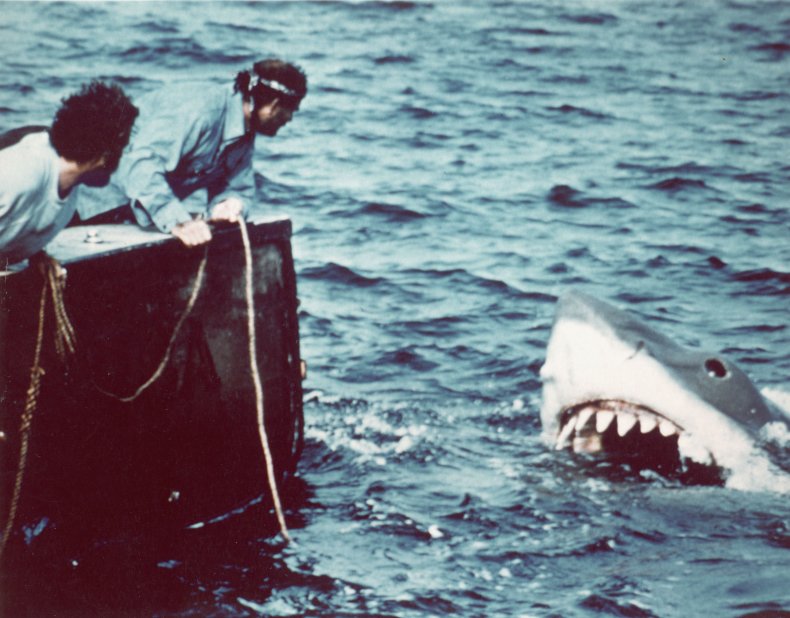 'Jaws' (1975)
- Director: Steven Spielberg
- IMDb user rating: 8.0
- Metascore: 87
- Runtime: 124 minutes
A deadly great white shark terrorizes a New York vacation town in this seminal summer blockbuster. Striving for authenticity, director Steven Spielberg insisted on shooting a number of key scenes on the Atlantic Ocean as opposed to a Hollywood water tank. It was a near-catastrophic decision that paid off in the end, even if some viewers never went into the ocean again.
'The Life Aquatic with Steve Zissou' (2004)
- Director: Wes Anderson
- IMDb user rating: 7.3
- Metascore: 62
- Runtime: 119 minutes
This box office bust from director Wes Anderson still enraptured his most devout fans and quickly earned cult status. Bill Murray plays legendary oceanographer Steve Zissou, who hits the sea in search of a deadly (and possibly imagined) Jaguar Shark. Brought to life in vivid color and detail, the story pays quirky homage to great seafaring works such as Moby Dick and Twenty Thousand Leagues Under the Sea.
You may also like: 50 Best American War Movies
'Life of Pi' (2012)
- Director: Ang Lee
- IMDb user rating: 7.9
- Metascore: 79
- Runtime: 127 minutes
A young man (Suraj Sharma) is cast out to sea with a Bengal tiger for a boatmate in this Oscar-winning blockbuster, based on the bestselling novel. Cutting-edge technology was used to create both life-like animals and the epic ocean terrain. The sweeping water-based environment was all the more immersive in theaters, where the movie was released in 3D.
'The Lighthouse' (2019)
- Director: Robert Eggers
- IMDb user rating: 7.5
- Metascore: 83
- Runtime: 109 minutes
It's a lonely life for two lighthouse keepers (Willem Dafoe and Robert Pattinson) in this psychological horror film, which slowly descends into madness. Set off the coast of New England in the late 19th century, it uses storms and raging waters as hostile and ultimately alienating forces. Director Robert Eggers drives home the gothic vibe by drawing upon mythical figures from sailors' lore such as mermaids and sea creatures.
'Maiden' (2018)
- Director: Alex Holmes
- IMDb user rating: 7.7
- Metascore: 82
- Runtime: 97 minutes
This gripping documentary centers on Tracy Edwards, who led the first all-female crew in the Whitbread Round the World Race (now known as The Ocean Race). The yachting event spans 33,000 miles over the course of nine months, representing a seemingly impossible challenge for Edwards and her team of self-proclaimed misfits. One doesn't need to know anything about boating or sports competitions to stay glued to the screen.
'Master and Commander: The Far Side of the World' (2003)
- Director: Peter Weir
- IMDb user rating: 7.4
- Metascore: 81
- Runtime: 138 minutes
Russell Crowe was at the height of his fame when he tackled another historical role for this naval adventure, set during the Napoleonic Wars. It culls from two different source novels and tells the story of a British captain (Crowe), who pursues a French enemy across perilous waters. Co-star (and former Sea Cadet) Paul Bettany was one of the only actors who didn't get seasick during the shoot.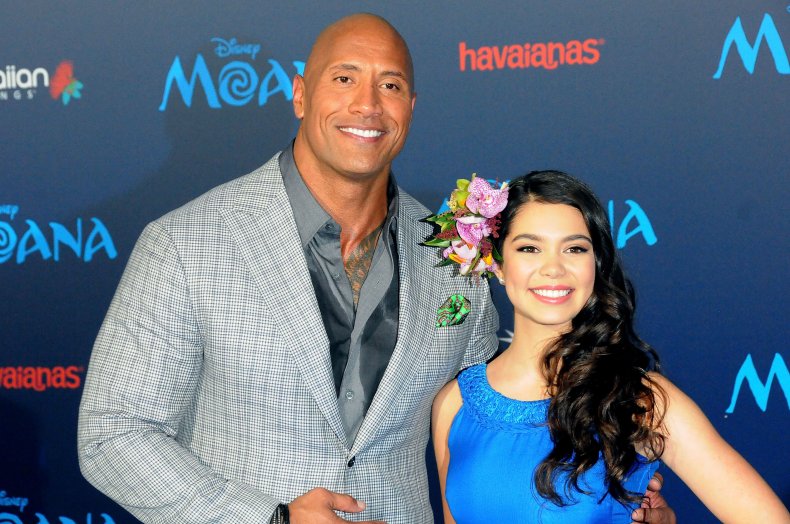 'Moana' (2016)
- Directors: Ron Clements, John Musker, Don Hall, Chris Williams
- IMDb user rating: 7.6
- Metascore: 81
- Runtime: 107 minutes
More than an omnipresent backdrop, the Pacific Ocean is an important character in this computer-animated Disney hit. At the heart of the story is a Polynesian girl named Moana, who must reverse an ancient curse in order to save her community. Heeding the ocean's call, Moana embarks on a thrilling sea-based adventure.
'Pirates of the Caribbean: The Curse of the Black Pearl' (2003)
- Director: Gore Verbinski
- IMDb user rating: 8.0
- Metascore: 63
- Runtime: 143 minutes
A blacksmith (Orlando Bloom) and pirate (Johnny Depp) team up to save a kidnapped woman (Keira Knightley) in this swashbuckling blockbuster. Their subsequent adventure crosses high seas and puts them up against a cursed crew of the undead. A multi-billion dollar franchise was thus born.
'Ponyo' (2008)
- Director: Hayao Miyazaki
- IMDb user rating: 7.7
- Metascore: 86
- Runtime: 101 minutes
Animation wizard Hayao Miyazaki loosely reinterprets The Little Mermaid for this modern-day fairy tale, about the unique bond between a young boy and a goldfish princess. Against her father's wishes, the goldfish begins to take on human attributes. Using its title character as a proxy, the story explores the vast differences between the respective worlds of ocean and land.
'The Poseidon Adventure' (1972)
- Director: Ronald Neame
- IMDb user rating: 7.1
- Metascore: 70
- Runtime: 117 minutes
A massive hit for its time, this ocean-based disaster flick takes place aboard an overturned passenger ship. Flooding water is but one among many obstacles, whereas the survivors must also contend with the ship's structural and mechanical malfunctions. It was followed by a disappointing sequel and a lackluster 2006 remake, both of which flopped.
'The Talented Mr. Ripley' (1999)
- Director: Anthony Minghella
- IMDb user rating: 7.4
- Metascore: 76
- Runtime: 139 minutes
This dramatic thriller sends sociopath Tom Ripley (Matt Damon) to a seaside village in Italy, where he cons his way into the upper class. Its most pivotal moment takes place aboard a boat and involves a violent outburst, leaving one man dead. Author Patricia Highsmith uses water to an even more substantial effect in her source novel (and the adjoining series), where Ripley suffers from aquaphobia.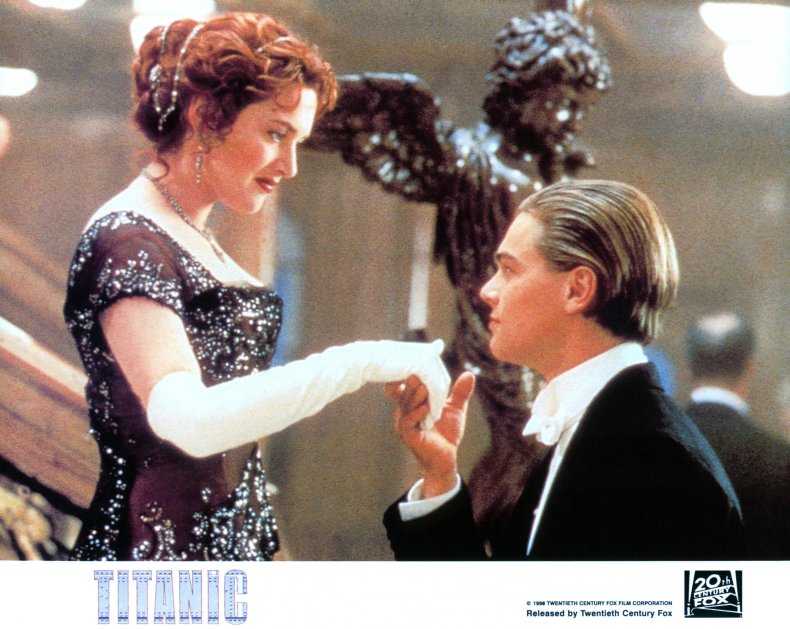 'Titanic' (1997)
- Director: James Cameron
- IMDb user rating: 7.8
- Metascore: 75
- Runtime: 194 minutes
James Cameron's historical epic channels the ill-fated journey of the R.M.S. Titanic through the tale of two star-crossed lovers (Leonardo DiCaprio and Kate Winslet). First, as an iceberg and then a flood, water presents a continual threat to virtually every character in the story. Before turning deadly, however, it does make for quite the majestic backdrop.
You may also like: 100 Best Dramas of All Time