25 Kids at Afghan Hospital Died of Malnutrition in 2 Months, Staff Working Without Pay
The number of deaths in Kabul's main children's hospital show the effects of Afghanistan's growing malnutrition crisis, according to the Associated Press.
The number of Afghans living in near-famine conditions has risen to 8.7 million, up by 3 million from earlier this year, the U.N.'s World Food Program reported Monday. "It's a catastrophe," WFP Executive Director David Beasley said during a weekend visit to Afghanistan.
The famine-like conditions are sending increasing cases of malnutrition to the Indira Gandhi Children's Hospital. And, like that facility, many health centers around the country have restricted service or shut down because of a lack of international funding. This means families with children suffering from malnutrition face additional problems getting help.
Dr. Salahuddin Salah told the AP at least 25 children brought to his hospital over the past two months have died. "Most staff at the hospital, from doctors and nurses to cleaning staff, have not received their salaries in three months," Salah said.
Afghanistan's economy has taken a dramatic decline since the U.S. and other Western nations cut off financial assistance to the government following the Taliban's takeover in August. Since the Taliban cannot access billions in Afghan national reserves money that is held abroad, millions of Afghan workers have not received their salaries for months, the AP said.
For more reporting from the Associated Press, see below.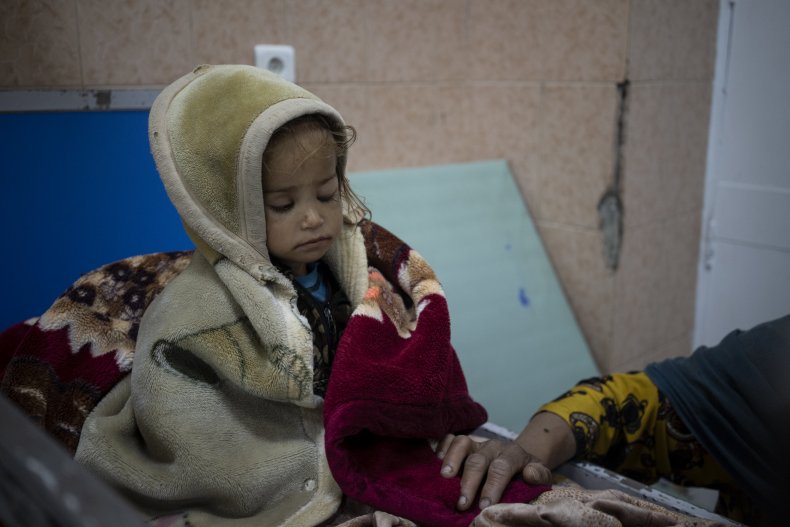 On Monday, when the AP visited the hospital, 18 children were in the malnutrition ward. The ward gets around 30 new cases a week, said Zia Mohammed, assistant director for nursing. "Since two and three months, our malnourished patients have increased day by day," he said.
The WFP said Monday that the number of people on the edge of famine has risen to 45 million in 43 countries. The number is up from 42 million earlier this year.
Afghanistan is the source of most of that increase. Overall, almost 24 million people in Afghanistan, or 60 percent of the population, suffer from acute hunger. An estimated 3.2 million children under age 5 are expected to suffer from acute malnutrition by the end of the year.
A severe drought this year in Afghanistan is one cause for the increasing malnutrition. But more and more people simply don't have money to buy food.
The WFP is rushing in supplies to feed people as the harsh winter sets in, but it says it needs some $220 million a month in 2022 to fund its effort.