25 Memorable TV Friend Groups You Wish You Could Join
First Lady Eleanor Roosevelt said: "Many people will walk in and out of your life, but only true friends will leave footprints in your heart." The sentiment sums up how we feel about our treasured friends—the real ones and the fictional ones we've fallen in love with on TV. Who wouldn't want to hang out at Central Perk and grab a cup of coffee with your buddies from Friends? And of course, you're always in for an eventful night of fun with the ladies of Sex and the City.
To celebrate the joys of friend circles, Stacker thought it would be fun to do a slideshow on memorable TV friend groups. So we perused the most popular television shows and assembled a list of 25, with each series presented in chronological order based on the premiere date.
Whether you watched Gossip Girl to expose the mysterious blogger or waited every week to see Jerry, Elaine, George, and Kramer do nothing in New York, you will have a great time clicking through our slide. After taking a trip down memory lane with your pals, grab the remote for a night with your favorite friends.
You may also like: The best streaming services in 2021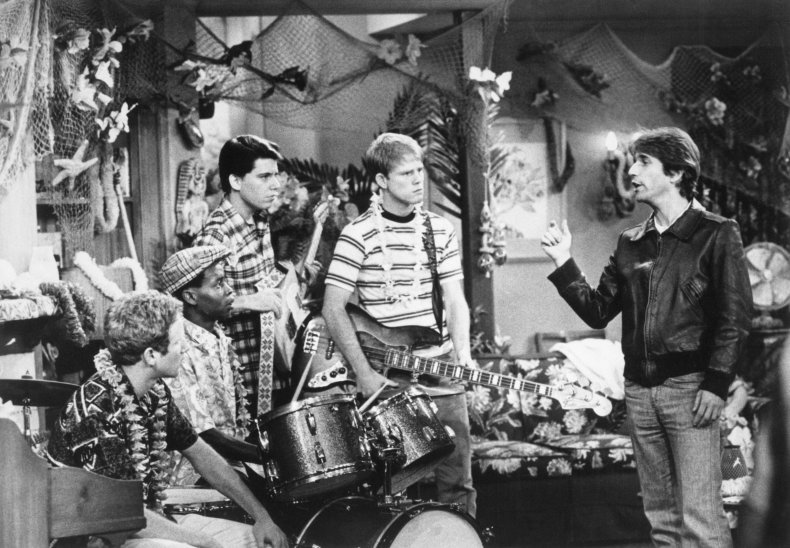 'Happy Days'
- IMDb user rating: 7.4
- Years on the air: 1974–1984
Happy Days was a comedy that circled back to the 1950s and involved a gang of friends including Richie, Potsie, Ralph, and Fonzie. The show, created by Garry Marshall, features Howard and Marion Cunnigham as they navigate their children's teenage turbulence with wit and wonder. Fonzie, played by Henry Winkler, is one of the show's memorable and coolest characters who color outside the lines of conventionality and pushes the gang beyond their bandwidth of comfort.
'Three's Company'
- IMDb user rating: 7.5
- Years on the air: 1976–1984
Three's Company is a groundbreaking comedy about two single women living with an awkward single man in Apartment 201 during an era when co-ed living was not shown on TV. Based on Chris Mann's novel of the same name, Three's Company featured John Ritter as Jack Tripper, Suzanne Somers as Chrissy Snow, and Joyce DeWitt as Janet Wood.
'Cheers'
- IMDb user rating: 7.9
- Years on the air: 1982–1993
Cheers was a comedy set inside the former Bull & Finch Pub in Boston's Beacon Hill, which illuminated the camaraderie inside a neighborhood bar. Fans enjoyed 11 seasons of laughs as the bar's owner, Sam, and his crew got tangled into the lives of patrons including cheers Norm, Cliff, Frasier, and Lilith. Kirstie Alley, Ted Danson, Kelsey Grammer, Woody Harrelson, Rhea Perlman, and Shelley Long were among the show's ensemble cast.
'The Golden Girls'
- IMDb user rating: 7.9
- Years on the air: 1985–1992
Blanche, Dorothy, Rose, and Sophia were the centerpieces of The Golden Girls, the series that showcased the magic and madness of friendship in the golden years. Did you know that Queen Elizabeth was a fan of the show and that NBC's Brandon Tartikoff based the concept on his observations of his aunt's spirited friendship with her neighbor?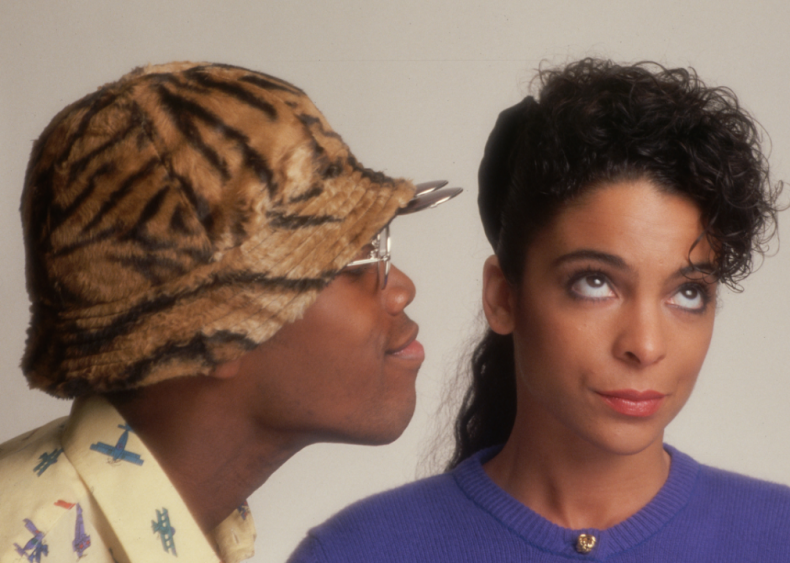 Lynn Goldsmith/Corbis/VCG via Getty Images
'A Different World'
- IMDb user rating: 6.9
- Years on the air: 1987–1993
A Different World shadows Denise Huxtable from The Cosby Show as she navigates life away from her family at Hillman College. The show was significant to Black audiences for addressing racial matters as Denise and her friends—Dwayne, Jaleesa, Maggie, Ron, and Whitley—adjusted to college life while learning to cope with racial, political, and social issues.
'Saved by the Bell'
- IMDb user rating: 7.0
- Years on the air: 1989–1992
Did you know that Saved by the Bell was originally called When the Bell Rings? Bayside High School was the scene of the popular show that featured six friends: Kelly, Jessie, Lisa, Screech, Slater, and Zack. (A reboot from Peacock is currently in the works.)
'Seinfeld'
- IMDb user rating: 8.8
- Years on the air: 1989–1998
Seinfeld was a hit TV show set in New York City that followed the friendships of comedian Jerry Seinfeld and his wacky circle of buddies consisting of Elaine, George, and Kramer. The show tickled audiences' funny bones by finding humor in the absurdities of life's most mundane moments.
'Rugrats'
- IMDb user rating: 7.4
- Years on the air: 1991–2006
Rugrats was an animated children's television series that centered on the banter and adventures of a bunch of talkative toddlers. Fans enjoyed 172 episodes of seeing the world through the eyes of the baby bunch that originally consisted of Tommy, Angelica, Chuckie, Susie, and Phil and Lil.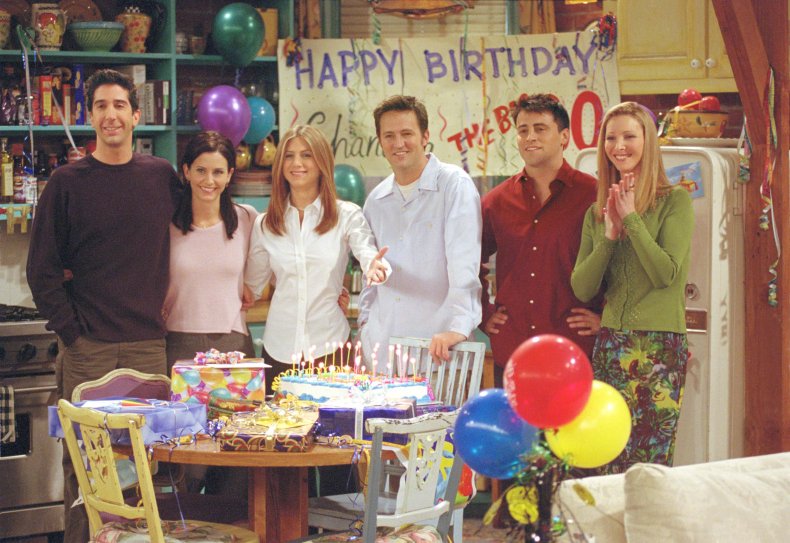 'Friends'
- IMDb user rating: 8.9
- Years on the air: 1994–2004
Friends told the stories of siblings Monica and Ross and their mutual friends Chandler, Joey, Phoebe, and Rachel. Whether they were gathered together at their apartments or at Central Perk, watchers loved watching these friends see each other through moments of tears, love, and laughter. Did you know the show's original moniker was Insomnia Cafe or that the cast negotiated together ultimately leveraging $1 million per episode each?
'Hey Arnold!'
- IMDb user rating: 7.6
- Years on the air: 1996–2004
Hey Arnold! was an animated Nickelodeon cartoon that followed a group of fourth graders as they fumbled through urban life in Hillwood. The show's friend group included Arnold, Helga, Gerald, Phoebe, Harold, Eugene, Rhonda, and Sid.
You may also like: The 35 Best Beers of Every Type
'Sex and the City'
- IMDb user rating: 7.1
- Years on the air: 1998–2004
Sex and the City followed four thirtysomething friends—Carrie, Charlotte, Miranda, and Samantha—as they cruised through life in the Big Apple. This blockbuster series explored the challenges of finding love in New York City and the joys of four gal pals as they rode the rollercoaster of life in high fashion and drama.
'That '70s Show'
- IMDb user rating: 8.0
- Years on the air: 1998–2006
If you grew up in the era when tube socks and tans were in vogue, That '70s Show takes you on a nostalgic walk down memory lane. It centered on a circle of six adolescent friends—Donna, Eric, Fez, Hyde, Jackie, and Kelso—as they bonded in Eric's basement and plodded through their high school years during a time when rabbit ears were still used to fix the tube.
'Freaks and Geeks'
- IMDb user rating: 8.8
- Years on the air: 1999–2000
Freaks and Geeks may have only lasted a single season of 18 episodes, but it garnered an Emmy award for looking at life through the eyes of two siblings, Lindsay and Sam, and their eclectic and awkward friends at William McKinley High School. Its success was due in part to its honest and humorous portrayals of the pains of not fitting in.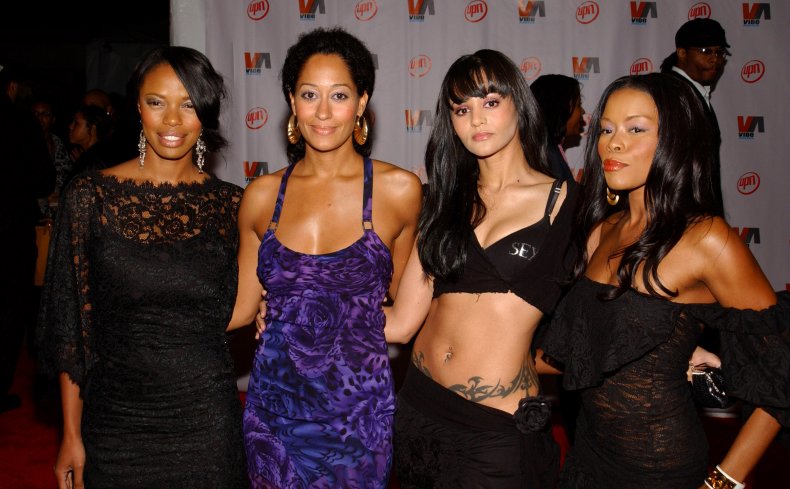 'Girlfriends'
- IMDb user rating: 7.2
- Years on the air: 2000–2008
Girlfriends introduced audiences to the friendship of four Black girlfriends as they explored relationships, careers, and life. Together, Joan, Maya, Toni, and Lynn bonded—and often quarreled—over 170 episodes that opened the door for the world to see their struggles and triumphs in honest and endearing ways.
'Scrubs'
- IMDb user rating: 8.3
- Years on the air: 2001–2010
Scrubs was a popular medical comedy-drama that provided a surprising source of entertainment for fans who couldn't get enough of the behind-the-scenes lives of the employees at the fictional Sacred Heart Hospital. The show gave viewers a glimpse through the eyes of the medical intern John "J.D." Dorian as he learned about medicine and life with his fellow interns, doctors, and nurses.
'The O.C.'
- IMDb user rating: 7.5
- Years on the air: 2003–2007
The O.C. was a hit drama on Fox that followed a group of wealthy teens residing in Newport Beach, California. Fans loved watching all the drama unfold as Ryan and Seth tried to fit in with an elite circle of friends in Orange County.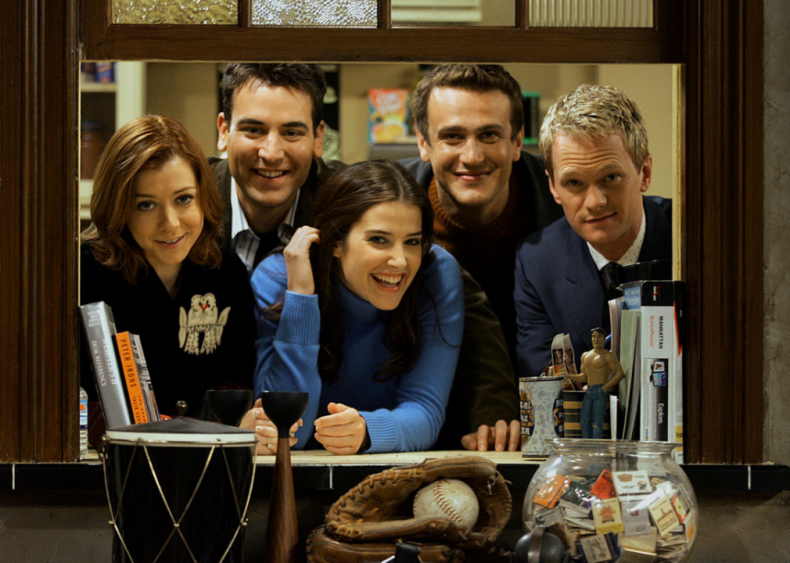 'How I Met Your Mother'
- IMDb user rating: 8.3
- Years on the air: 2005–2014
How I Met Your Mother was a heartwarming series that followed a man named Ted who takes a walk down memory lane to visit his friends Barney, Lily, Robin, and Marshall, and tells his children the tale of how he met their mom. A reboot entitled How I Met Your Father featuring Hilary Duff is in the works.
'It's Always Sunny in Philadelphia'
- IMDb user rating: 8.8
- Years on the air: 2005–present
It's Always Sunny in Philadelphia is a wacky comedy about an Irish pub run by five alcoholic narcissists. Audiences are still enjoying the crazy camaraderie of the five friends who are always scheming at their favorite Philadelphia bar.
'Gossip Girl'
- IMDb user rating: 7.4
- Years on the air: 2007–2012
One could guess that a young adult novel about an anonymous blogger spilling gossip about her privileged high school pals would be the talk of the town. Gossip Girl fans loved the drama between Serena and Blair and their Upper East Side circle that included Nate, Chuck, and Dan.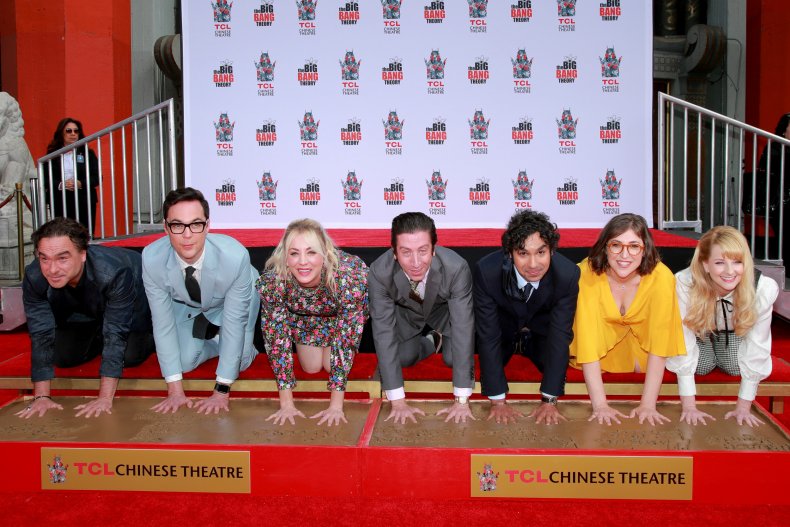 'The Big Bang Theory'
- IMDb user rating: 8.1
- Years on the air: 2007–2019
Science meets humor in The Big Bang Theory, a show about an unlikely friendship between roommates and fellow physicists Sheldon and Leonard; the across-the-hall neighbor, Penny; engineer Howard; and astrophysicist Raj. The group would later expand when Bernadette and Amy joined the gang.
You may also like: 100 Best Comedy Films of All Time, According to Critics
'Community'
- IMDb user rating: 8.5
- Years on the air: 2009–2015
Community was a hilarious sitcom that revolved around a study group at Greendale Community College. The show was based on writer Dan Harmon's own community college experiences.
'The League'
- IMDb user rating: 8.2
- Years on the air: 2009–2015
The League was a sitcom about the lives of a group of friends who play fantasy football. Along with NFL events, the show focused on the crew following the games.
'Parks and Recreation'
- IMDb user rating: 8.6
- Years on the air: 2009–2020
Did you know that the original idea for Parks and Recreation was actually an offshoot of The Office? The hilarious sitcom was centered on city government employees in the fictional town of Pawnee, Indiana, and consisted of a star-studded cast including Amy Poehler, Chris Pratt, Aziz Ansari, and Rashida Jones.
'New Girl'
- IMDb user rating: 7.7
- Years on the air: 2011–2018
Fans familiar with the comedy New Girl will attest to its hilarious portrayals of a group of bachelors and the teacher who moved in and turned their world upside down. It was easy to fall in love with the friendships Jess forged with Nick, Schmidt, and Winston.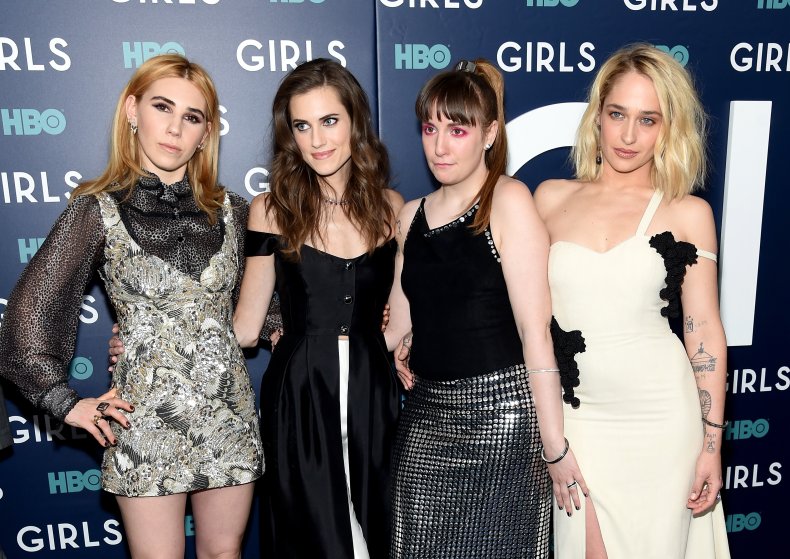 'Girls'
- IMDb user rating: 7.3
- Years on the air: 2012–2017
Lena Dunham's comedy-drama, Girls, paid tribute to the pains of being a twentysomething woman trying to figure out life and love in New York City. Most fans took fondly to Dunham's character, Hannah, and her gang of girlfriends—Marnie, Jessa, and Shoshanna—as they stumbled through young adulthood with a refreshingly raw sense of humor and transparency.