25 Percent Of Staff Test Positive For Coronavirus At Iowa Tyson Foods Plant, Production Resuming On Wednesday
Close to 600 people employed by a Tyson Foods plant in Storm Lake, Iowa, have tested positive for the new coronavirus, accounting for slightly more than one-quarter of the facility's staff.
This is the latest outbreak reported by Tyson Foods, which confirmed additional virus cases among employees in Arkansas and a second Iowa plant in Council Bluffs on Monday and Tuesday.
The outbreak at Tyson's pork facility in Storm Lake is one of the largest so far identified by the company throughout the pandemic. According to a statement released on Tuesday, 591 of 2,303 staff members tested positive for the respiratory syndrome during facility-wide evaluations administered late last month. According to Tyson, more than 75 percent of positive cases were asymptomatic.
Tyson's statement also confirmed plans to resume limited production at the Storm Lake plant on Wednesday, as previously scheduled. The facility temporarily suspended activity for deep cleaning and sanitation due to concerns about transmission. During that time, the company said all workers who had not been tested for the virus by the county's health department or personal health care providers received tests onsite at the Storm Lake plant.
Tyson, one of the world's largest meatpacking corporations, began conducting similar procedures at other plants across the U.S. in April, after a handful of initial outbreaks were reported. The company now publicly shares results of facility-wide diagnostic assessments, which it initiates based on the quantity of virus cases confirmed in a given area.
"Our top priority is the health and safety of our team members, and we continue to take strong action to ensure they feel protected in their community and when they come to work," said Tyson's SVP of Health and Safety, Tom Brower, in Tuesday's statement, referencing Storm Lake's test results. He noted that Tyson follows protocols outlined by the Centers for Disease Control and Prevention that determine a timeline for employees to return to work after contracting the virus.
As of Tuesday, virus outbreaks had been confirmed among staff at Tyson facilities in at least eight U.S. states, including Iowa, according to the company's reports. Though many temporarily suspended production for sanitation and testing purposes, all plants have since reopened. After multiple meatpacking corporations closed their plants due to virus outbreaks in April, President Donald Trump invoked the Defense Production Act to categorize processing facilities as critical infrastructure, requiring them to remain open through the pandemic.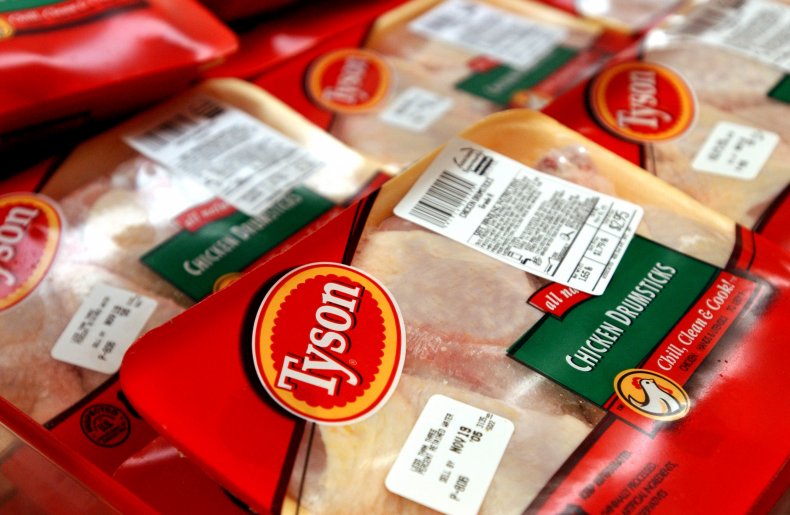 Last week, a statement from the United Food and Commercial Workers (UFCW) International Union estimated at least 44 employees of meatpacking facilities across the country had died after testing positive for the new coronavirus, while more than 3,000 had tested positive. The statement called for increased worker safety measures to reduce the likelihood of future outbreaks.
Newsweek reached out to Tyson Foods and UFCW for additional comment but did not receive replies in time for publication.