25 Products That Will Make Your Backyard the Envy of the Neighborhood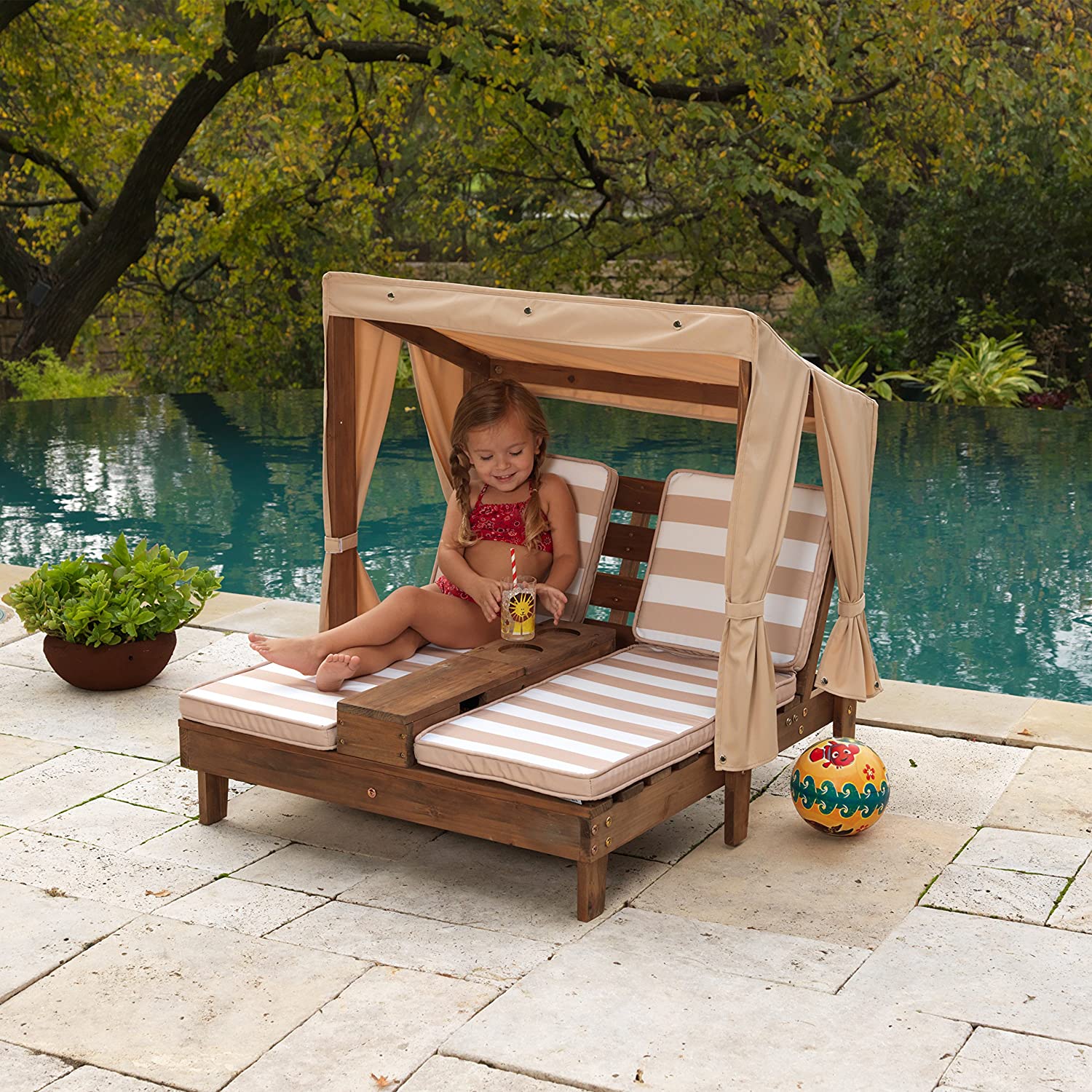 Boring backyard? Not anymore! In the wake of the coronavirus global health crisis, more and more people are realizing just how much of an investment a yard is. After all, with nowhere else to go last summer, we needed our outdoor spaces as outfitted with fun things to do and as many comfy chairs to sit on as possible! The rise of the backyard is a trend even HGTV's Rock the Block star Jeremiah Brent is seeing. In a collaboration with Yelp, Brent offered up some insight on Yelp's Top Backyard Trends for 2021.
"To put it simply: we've never been more ready for summer," Brent explains. "Over this past year, our outdoor spaces have truly become our haven. Through a little bit of intentionality and connections to the right resources, there are so many beautiful ways to transform your backyard into a timeless escape for your family."
Backyard-related searches are also on the up and up. Terms like "patio heaters," "outdoor lighting" and "outdoor deck" are some of the highest-searched phrases. So, with the right products, even the tiniest slab of grass can be transformed into an oasis, a fun zone or at night, even a family-friendly movie theater.
25 Backyard Products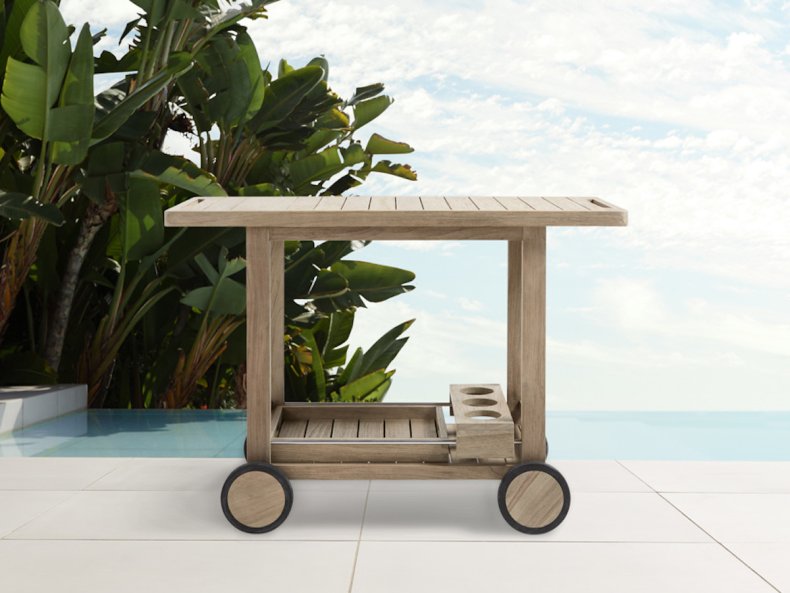 Alfresco dining and entertaining is one of the top backyard-related trends on the report from Yelp and Brent. What's an alfresco meal without a beverage? Stock the Hamptons Outdoor Bar Cart with your drink (or drinks!) of choice and literally, let the good times roll.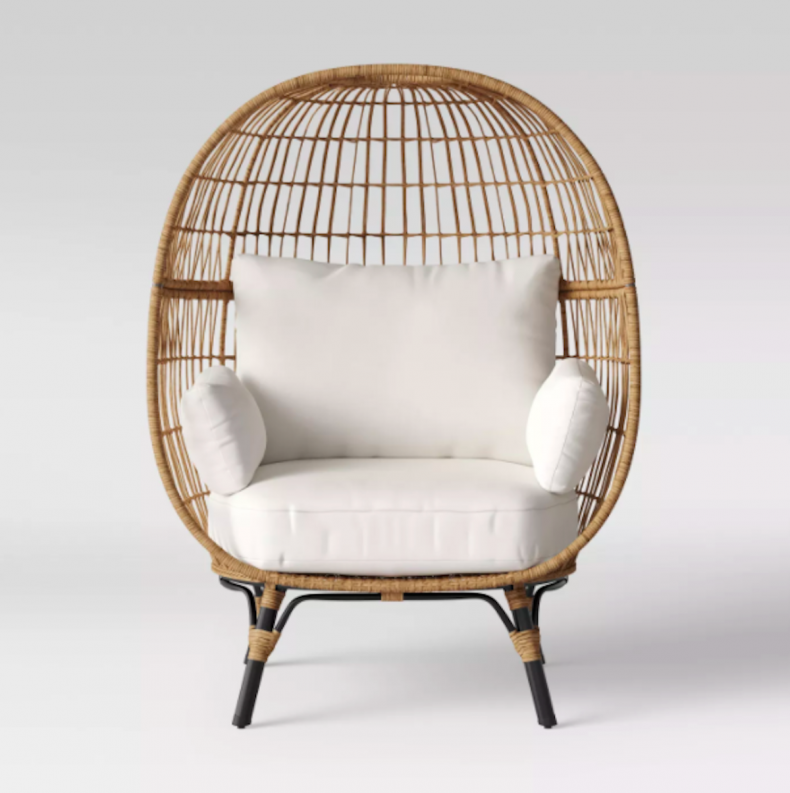 The fan-favorite Opalhouse Southport Patio Egg Chair sells out pretty quickly from Target, proving it's a patio must-have. (Or come wintertime, bring it inside and use it as extra seating in your living room.) Comfortable, on-trend, and made of weather-resistant wicker and water- and fade-resistant cushions, this egg chair will quickly become the best seat in the house ... or more so, out of it.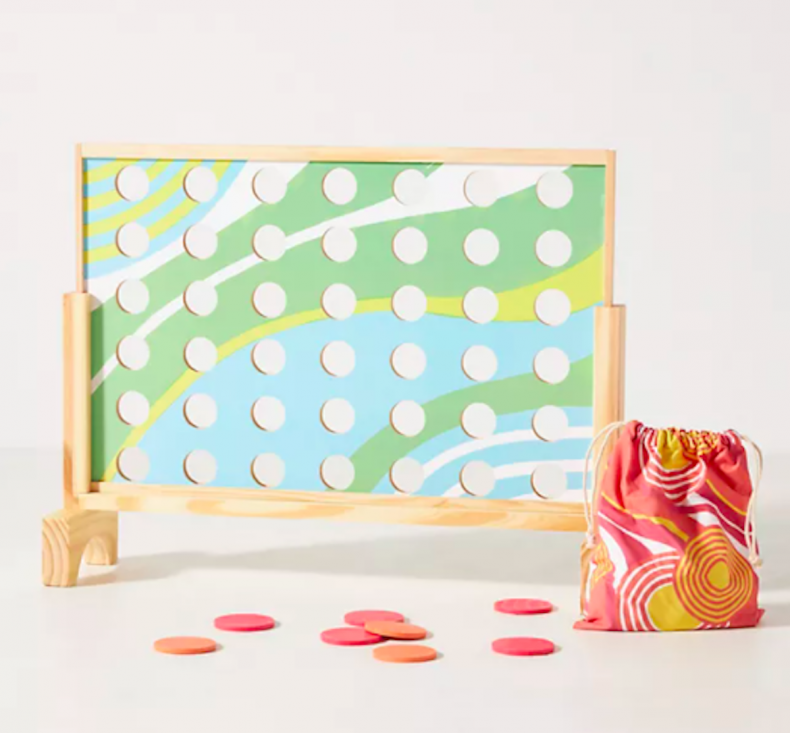 A fun and bright take on the classic four-in-a-row game, this lifesize yard game comes from a new collaboration from Vera and Anthropologie.
Buy at Anthropologie for $79.95.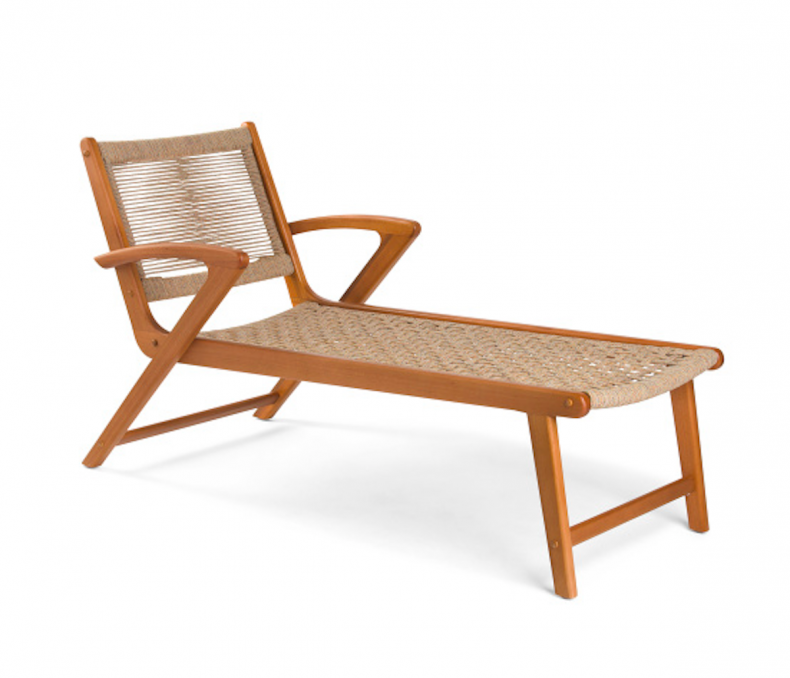 Pool loungers are notoriously expensive but when it comes to poolside comfort, you can't skimp out. After all, what better way to transform your outdoor space into a backyard oasis than with resort-worthy lounge chairs? The Dafi Indoor Outdoor Sun Lounge Chairs from TJ Maxx feature a woven, neutral design that can fit in with just about any decor aesthetic.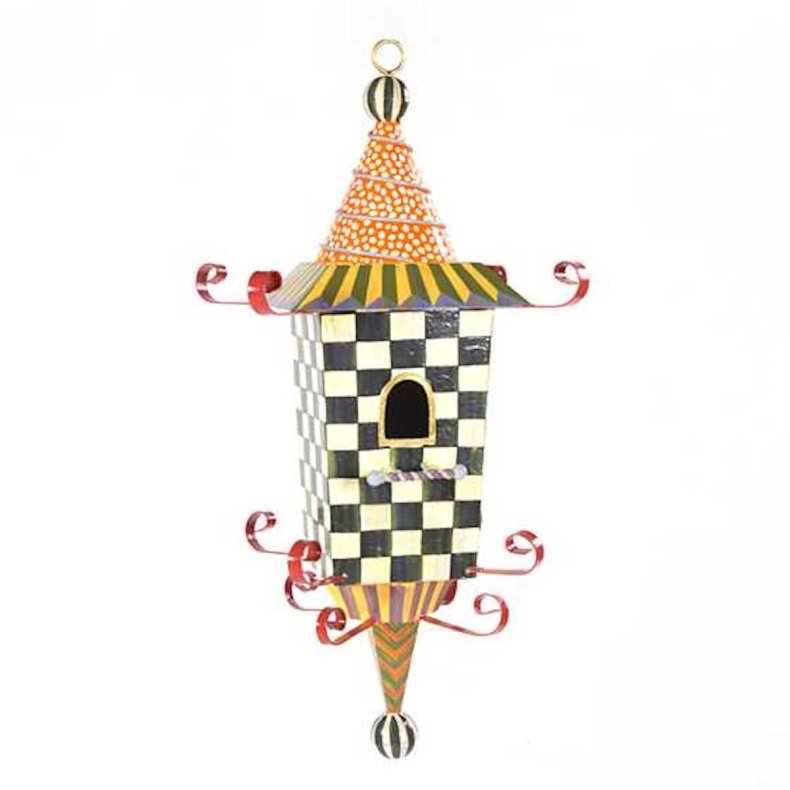 MacKenzie-Childs is for the birds. Seriously. With the brand's classic Courtly Check black-and-white pattern and a few other quirky designs in bold colors, the Pagoda Birdhouse is a simple way to add a bit of style to your backyard bird-watching.
Buy at MacKenzie-Childs for $248.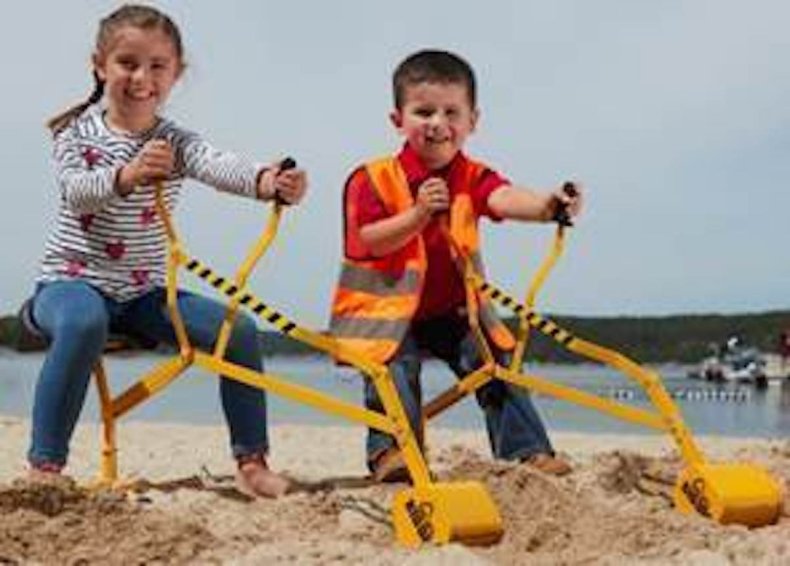 The Big Dig is big fun for kids! Recommended for kids ages three and up and made by Reeves Toys, this digger toy makes a great asset to any backyard sandbox, but is also portable enough to bring to the beach. When the crane arm is fully extended, it reaches up to 33 inches and can dig down 15 inches deep.
Buy at Tractor Supply for $39.99.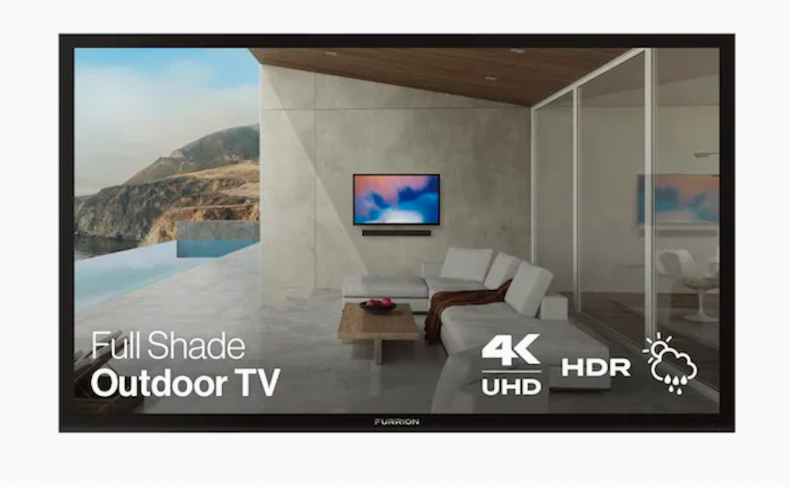 If you're trying to bring all the best parts of the living room outside, then you for sure need a TV. Not any television will work, of course—the Furrion Aurora Full Shade 4K UHD LED Outdoor TV is made to brave the elements. With a unique weatherproofing that shields the TV from the harsh effects of UV rays, dirt, insects, humidity, and extreme changes in temperature, the Furrion Aurora Full Shade 4K UHD LED Outdoor TV works best in full shade and features an ambient light sensor with auto-brightness control that automatically adjusts to the lighting.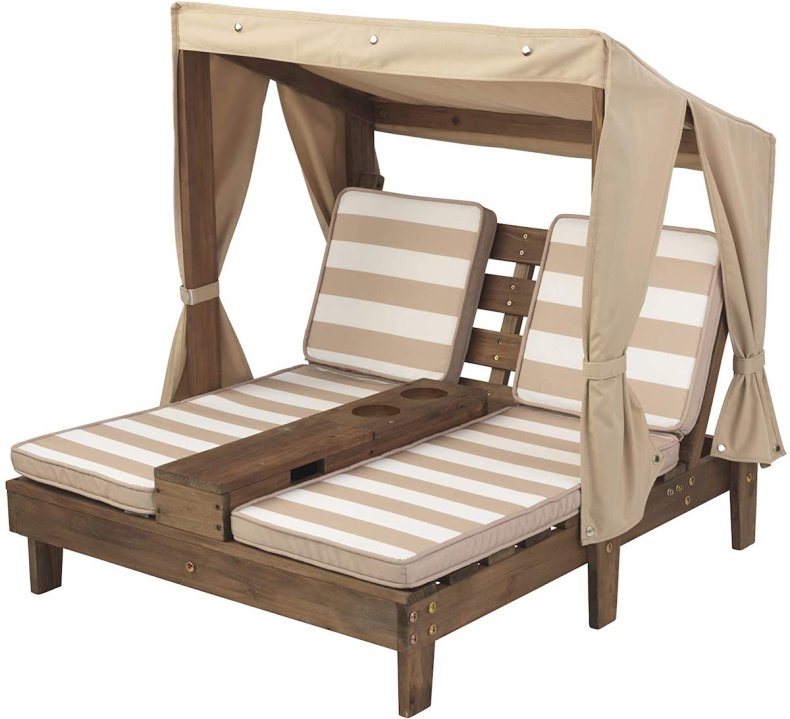 If you think grown-ups are the only ones that enjoy a comfortable lounger, think again. Designed specifically for kids, this mini dual lounger is outfitted with all the essentials: a cabana top, two cup holders, trendy striped cushions, and of course, interior storage for toys. Life doesn't get any sweeter than this, kids.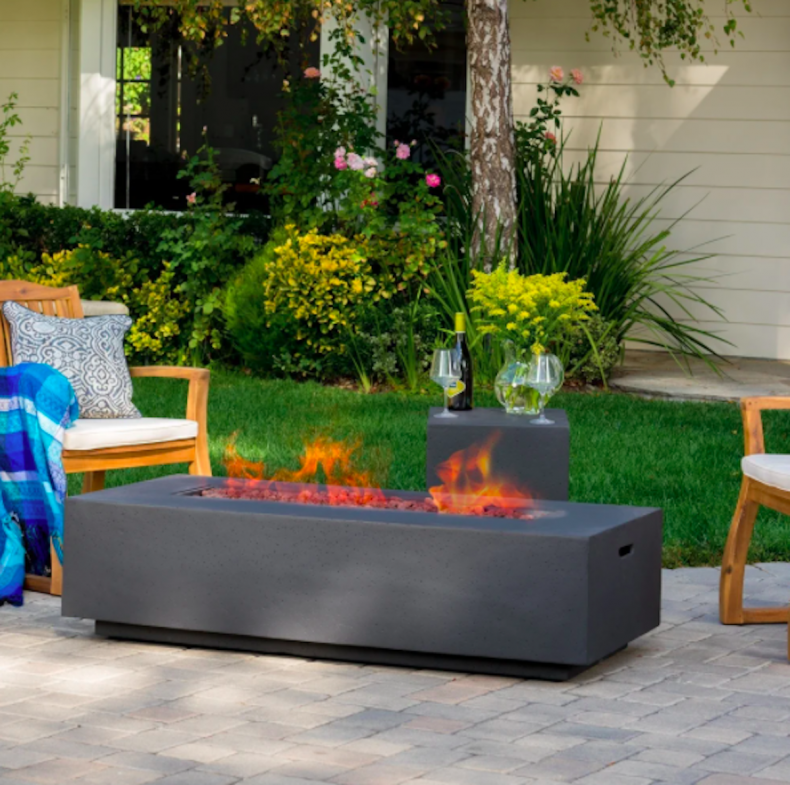 To add that "living room" feeling to your outdoor space, a fire table is a worthy investment. The term "fire tables" increased by 76 percent in searches in the last year and this metal-and-concrete one is well-rated by Overstock.com users. Featuring a near-perfect star rating, one reviewer wrote: "We were looking for a rectangular fire table to place between two matching couches on our back patio. It was important to have a hidden propane tank and liked the external cover as it allowed the table to be lower in overall height. Our style is more transitional/modern and needed a fire table that fit with that style. The Aidan Rectangular Fire Table checked all the boxes with fairly reasonable price."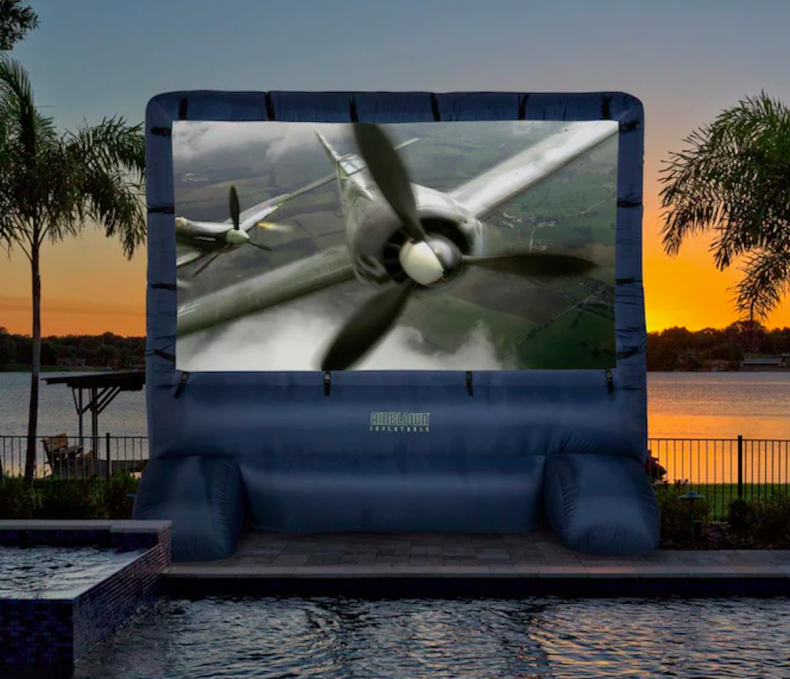 Backyard or drive-in movie theatre? Turn your outdoor space into an AMC with the Gemmy Airblown Inflatable Movie Screen—popcorn not included. You'll still need to purchase a projector separately (or make a crude one with a toilet paper roll and a smartphone if you're into DIY-ing) but this portable, inflatable movie screen self-inflates and then deflates easily to fit into a storage bag.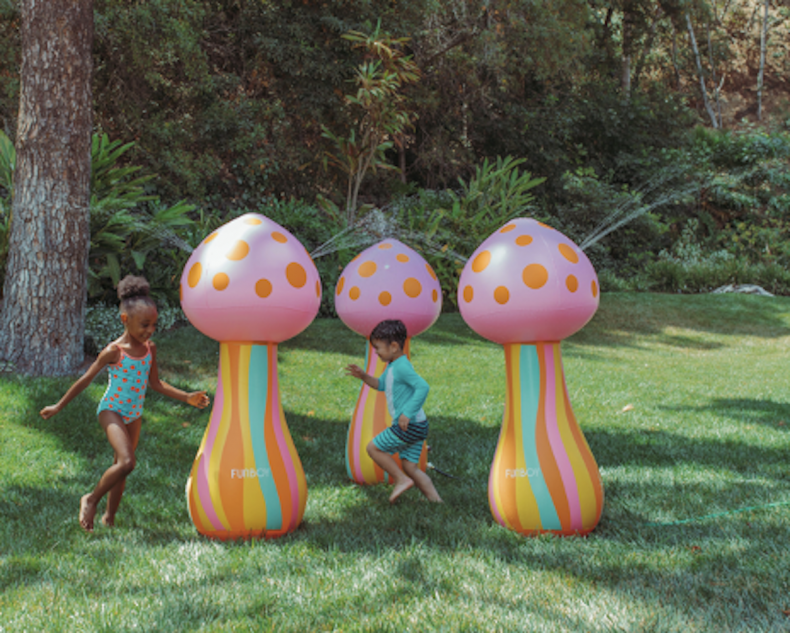 Stay groovy this summer. The Mushroom Sprinkler from iconic luxury pool float brand Funboy means hours of fun for both kids and adults alike as the summer temperatures spike. With dual sprayers at the top of the mushroom that spray down in two different directions and a classic bobber style—it wobbles back and forth but doesn't fall down—three of these bad boys make your own psychedelic mushroom forest that will be the envy of the entire neighborhood. Plus, Funboy's running a discount code right now—save $28 with the discount code 'Trippy' at checkout when buying three 'shrooms.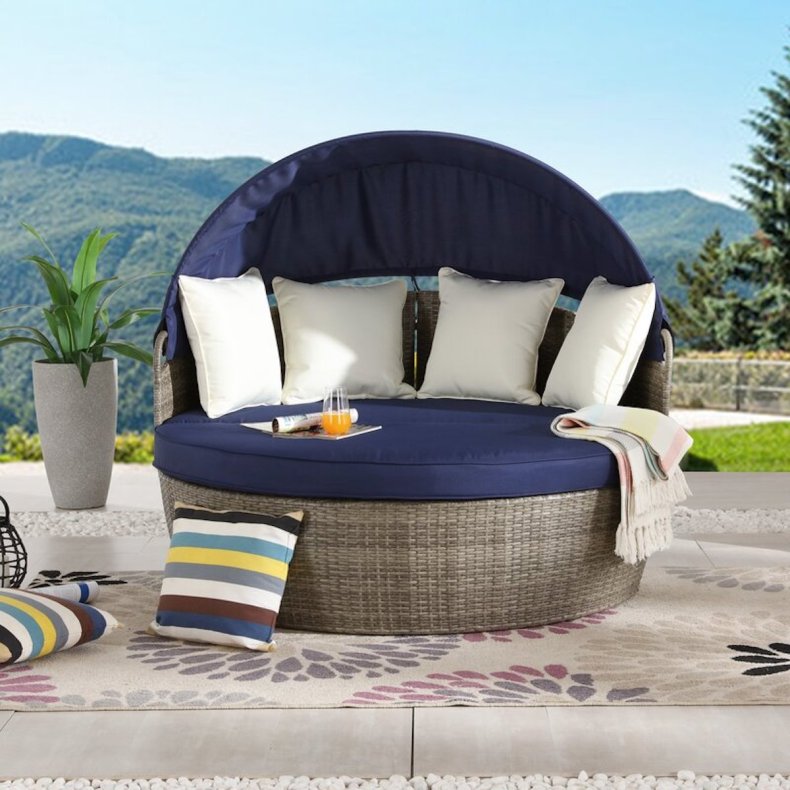 Transform your backyard into a resort-worthy paradise with just one product—the Latitude Jarrott 59" Wide Outdoor Patio Daybed with Cushions. A three-piece set, this cabana-style daybed is the ultimate upgrade from a lounge chair that can fit up to four people comfortably.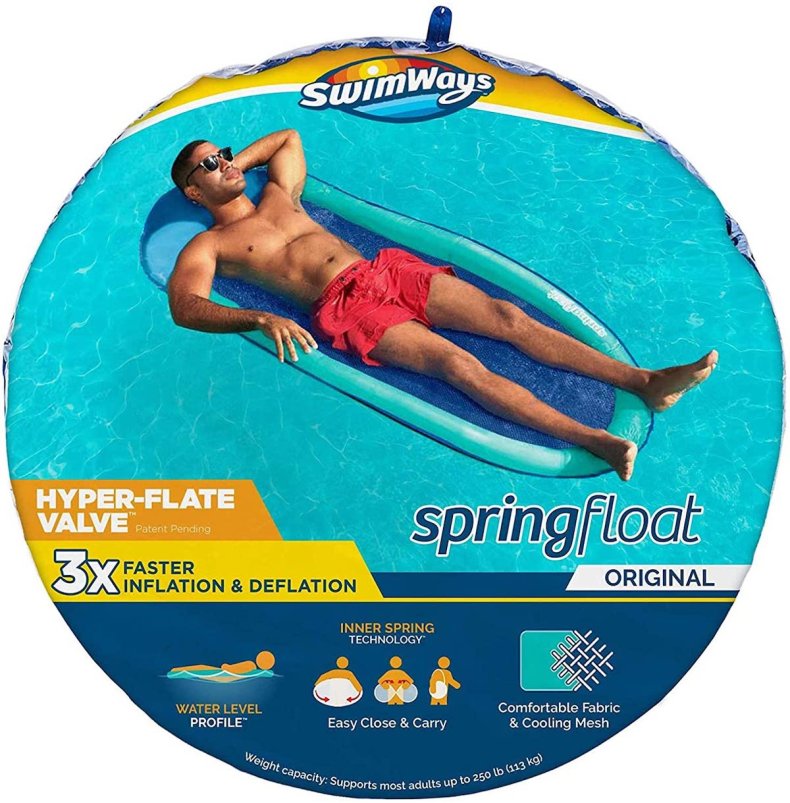 Stop wasting your time blowing up large inflatables and get a Swimways float outfitted with a hyper-flate feature that inflates (and deflates) up to three times faster. You'll love the Swimways Spring Float Original for its comfortable, cooling mesh that lets just enough water in your float and the ease with which it closes up and can be transported—to the beach, to a friend's pool, or wherever.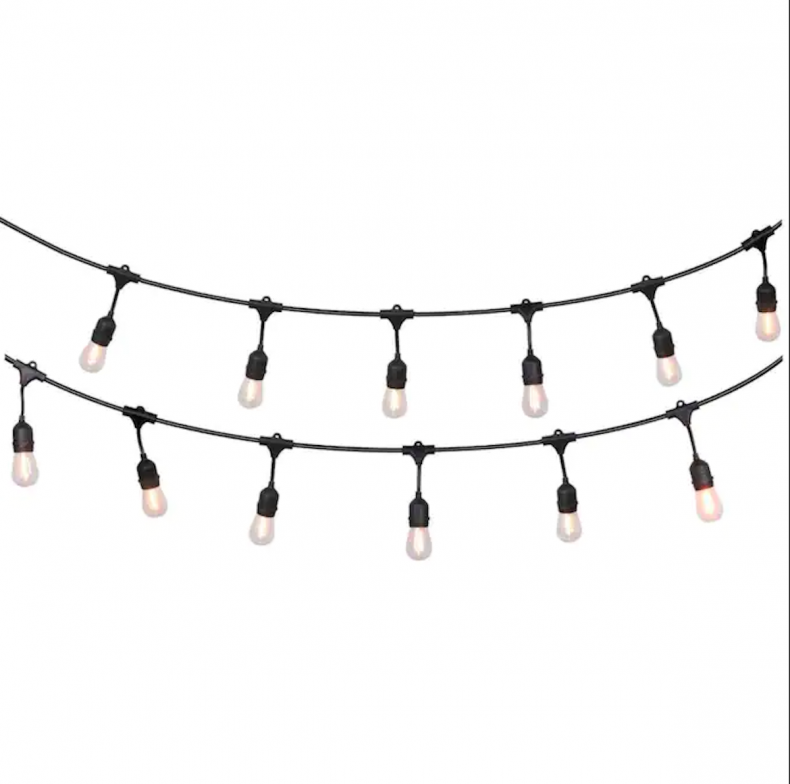 These bestselling Edison vintage-style commercial grade lights are beloved for good reason. The light bulbs themselves are LED and provide a light, white glow. They're also designed to be water-resistant so that you can enjoy them even in the rain or in a splash zone (as in, close to the pool).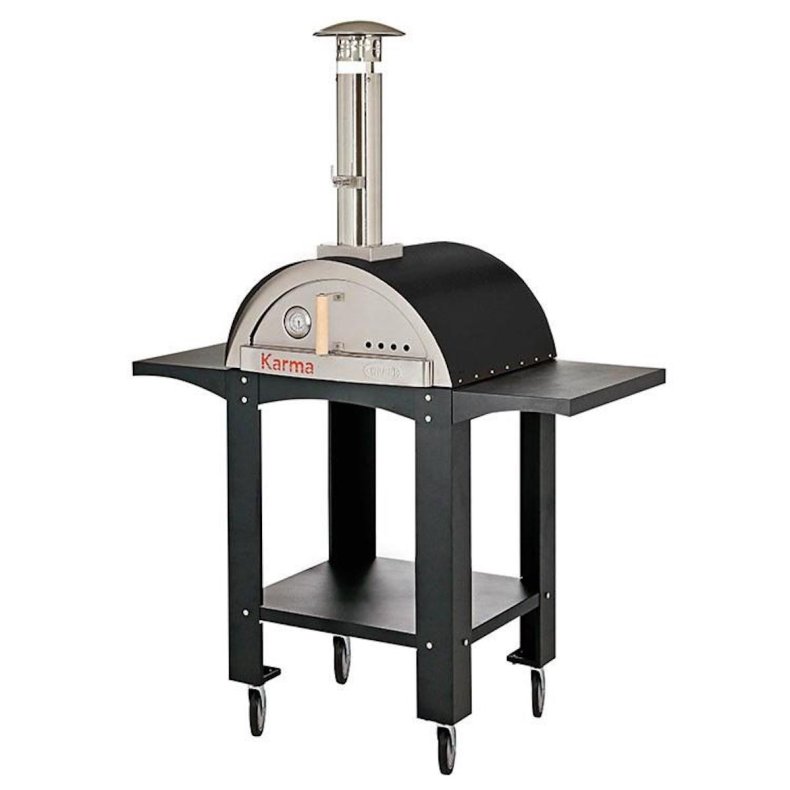 Also popular in the alfresco dining searches is the outdoor pizza oven. With searches for these ovens increasing by 193 percent over the past year, it's clear: Everybody wants one. And as sure as pizza contains both sauce and cheese, you can bet that once you cook some 'za in the Karma 25 Wood-Fired Oven, you'll never resort to the microwave again.
Buy at Riverbend Home for $1,299.99.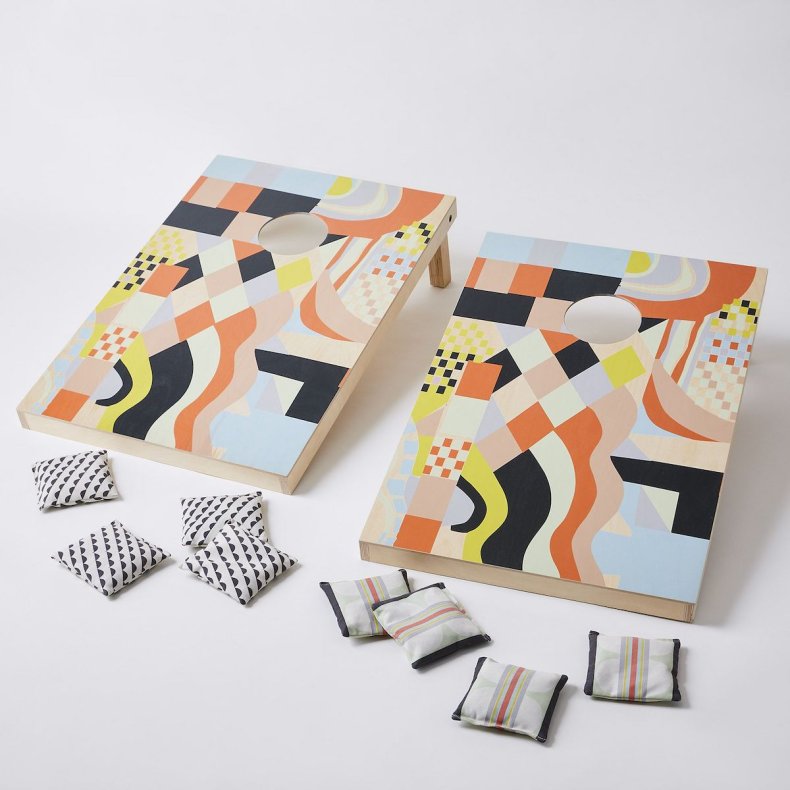 For the hardcore cornhole players who take the game incredibly seriously, there's this beautiful pattern-adorned wooden set from Food52. Featuring fold-up legs that make it easier to store and baltic birch wood that's UV-resistant, it also comes with eight bean bags with two different designs.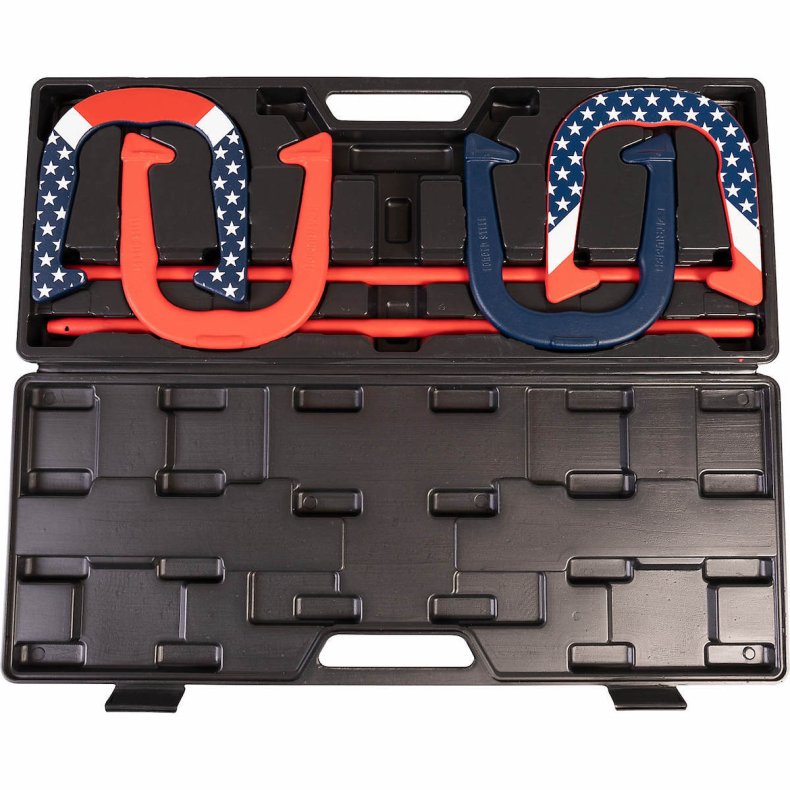 If horseshoe is more your speed, you can't do much better than this patriotic set. You'll find yourself using it well beyond just Memorial and Independence Days—after all, Americana is always in style.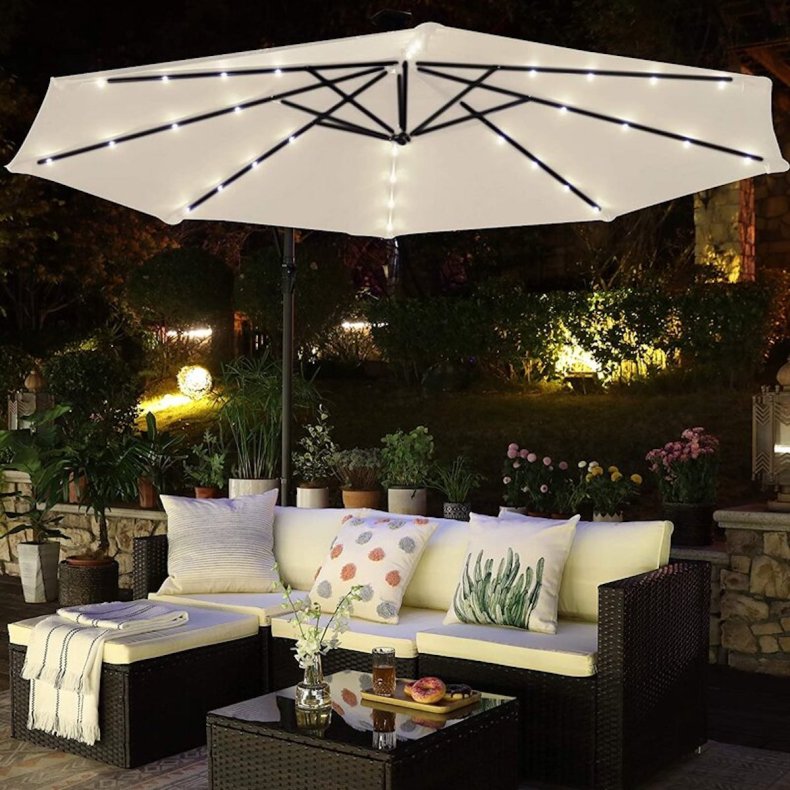 If you're new to cantilever umbrellas, be prepared to be obsessed with this one because not only does it arch directly over the space you're sitting in better than a standard up-and-down umbrella can, it's also outfitted with LED lights for nighttime use.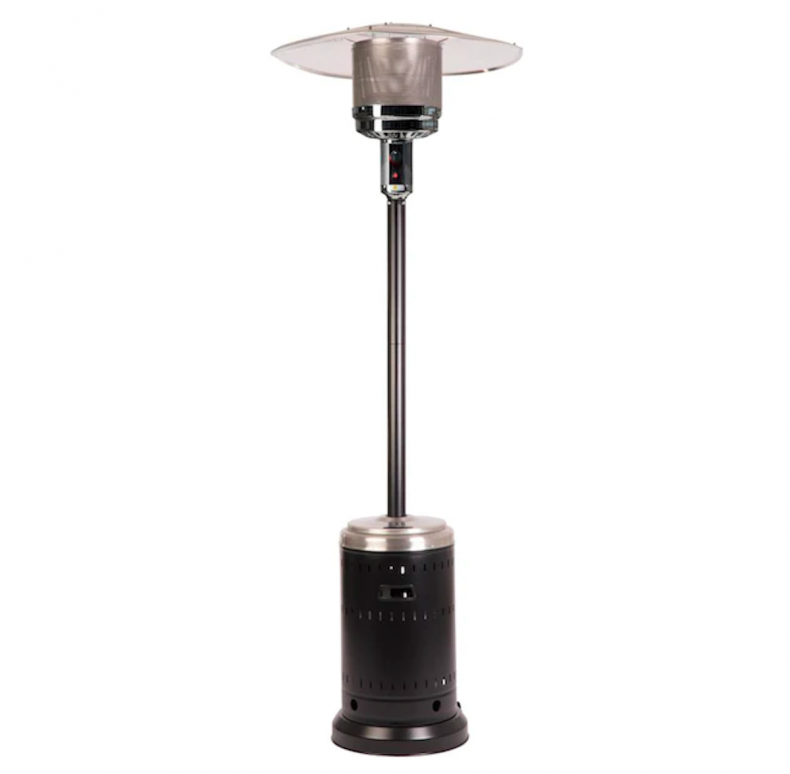 For more "outdoor living room" vibes, complete the look with the Fire Sense Onyx and Stainless Steel Finish Patio Heater. It's not only on-trend—according to the Yelp report, searches for "patio heaters" increased by 263 percent in the last year—but it also makes your outdoor space usable year-round.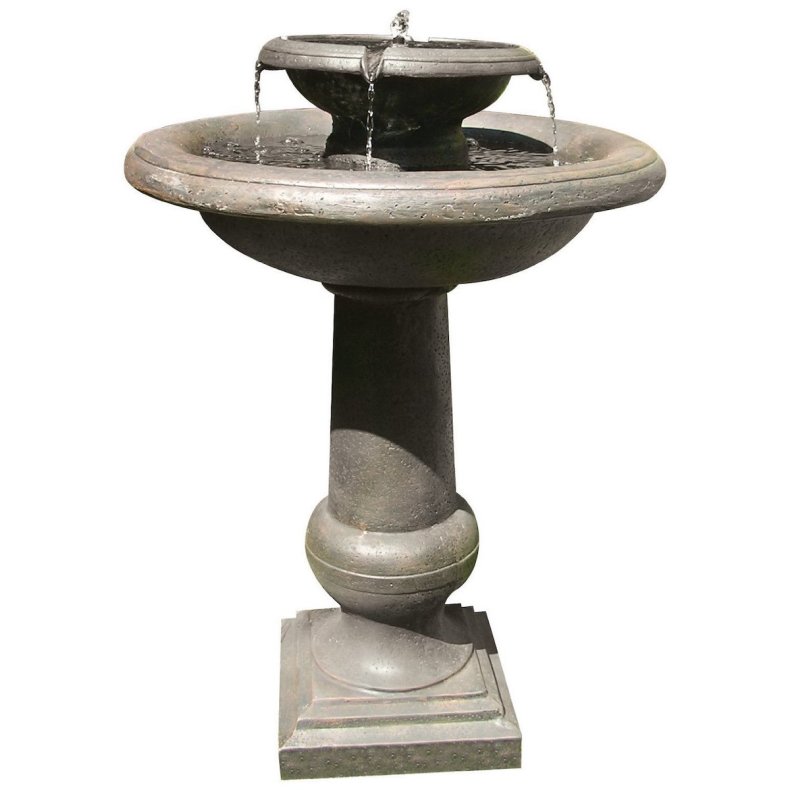 One of the more surprising backyard trends making the rounds this year is water features, which searches for were up 46 percent from March 2020 and 62 percent from March 2019. The Smart Solar Oiled Bronze Finish Chatsworth Solar On Demand Fountain is one of the most convenient water features there is, thanks to it being powered by solar energy. Part-fountain, part-birdbath, this bubbler even comes with a rechargeable and replaceable solar battery pack.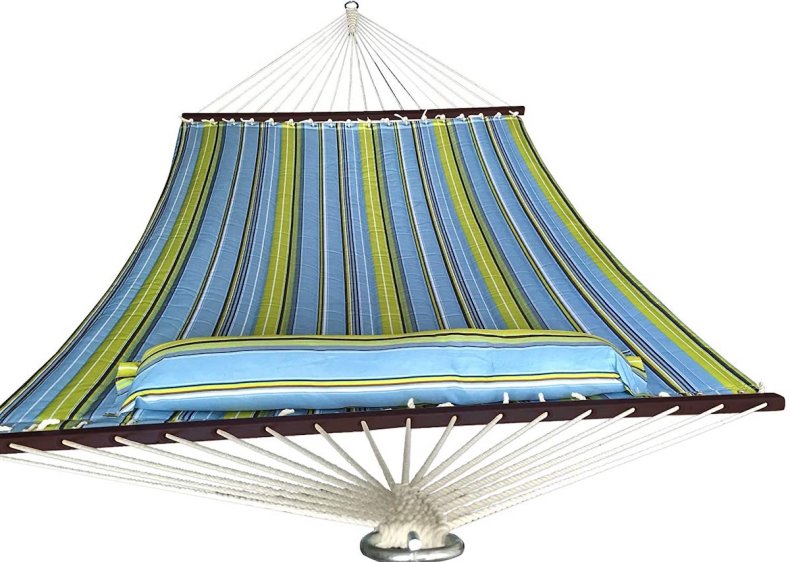 This blue and green polyester hammock from SueSport is a quick and easy way to add extra seating to any yard. Adhere it by both hooks to two trees and use it as a calm space to read, nap or enjoy the sun.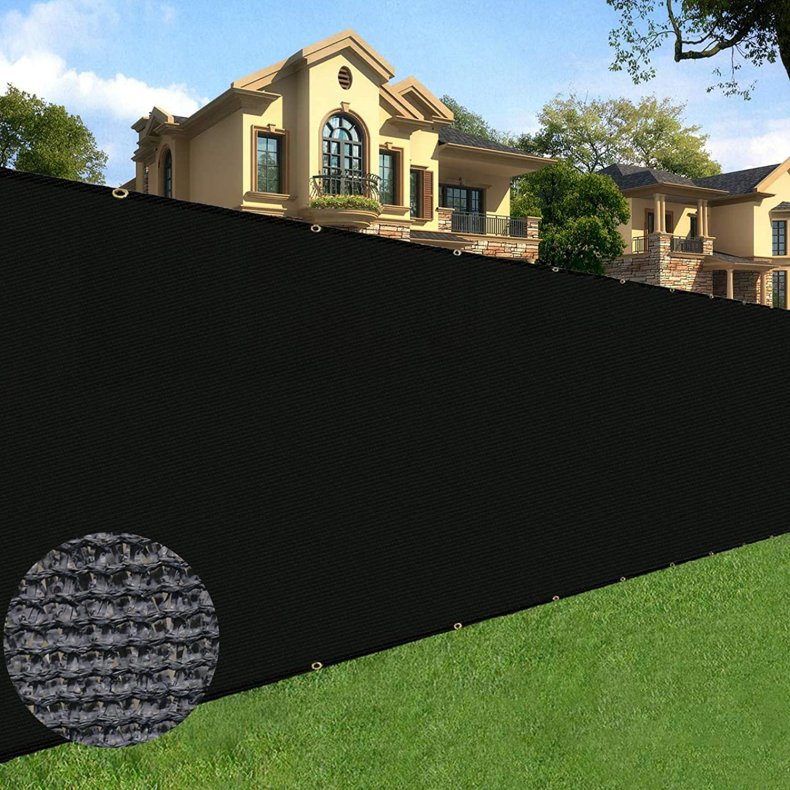 Once you've made your yard into your own oasis, you may find you need more privacy than ever before. Keep the neighbors from peeking in on your pool parties with the Sunnyglade Privacy Screen Fence Heavy Duty Fencing Mesh. It's an inexpensive privacy solution that can be added to wood retaining walls, wire fences and more. In addition to concealing what goes on in your own private space, this fence with more than 4K reviews on Amazon also works to minimize noise and block dogs from seeing neighbors they may bark at.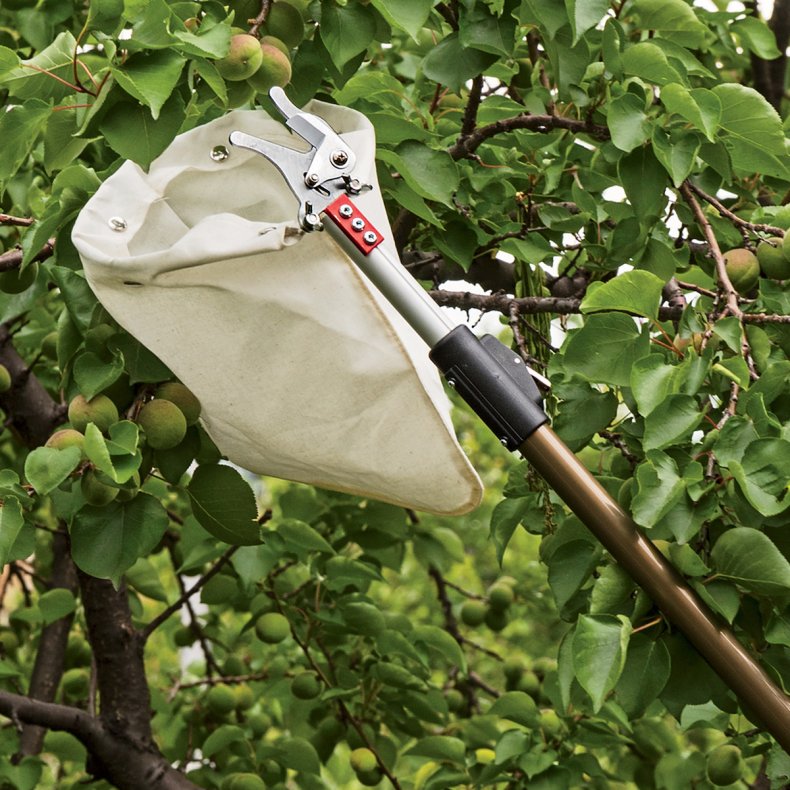 If you're lucky enough to have a yard full of blossoming fruit trees, then you know the struggle of trying to reach up to pick your homegrown bounty. Whether it's apples, pears, lemons or limes you have to stand on your tippy-toes to pick, the Telescopic Fruit Picker from Garrett Wade can help make things a bit easier.
Buy for $79.90 at Garrett Wade.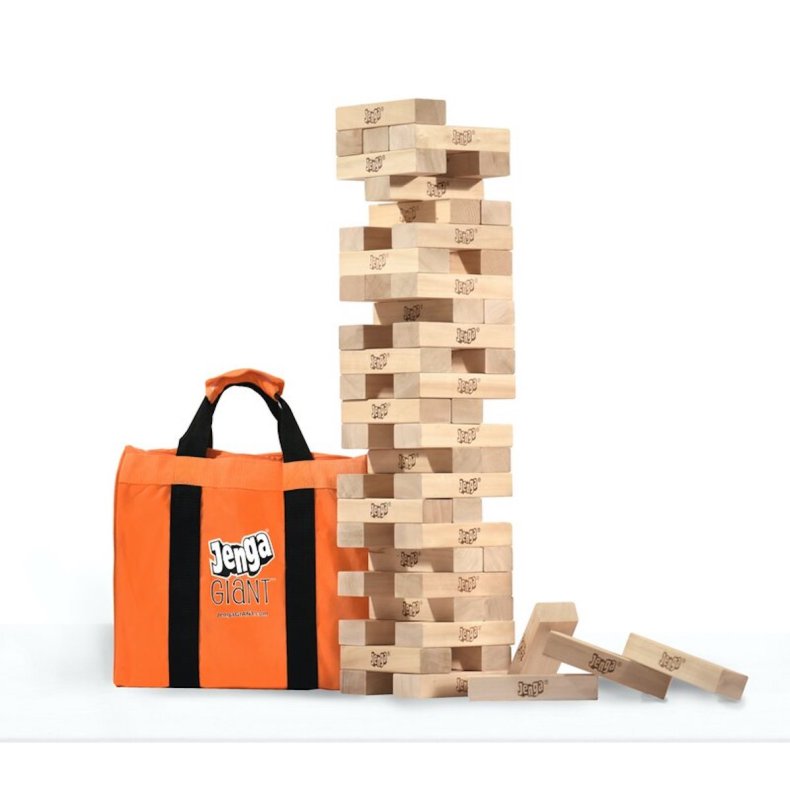 A classic family activity, the Jenga Giant Hardwood Game is the perfect way to take the board games to the yard and keep the fun going.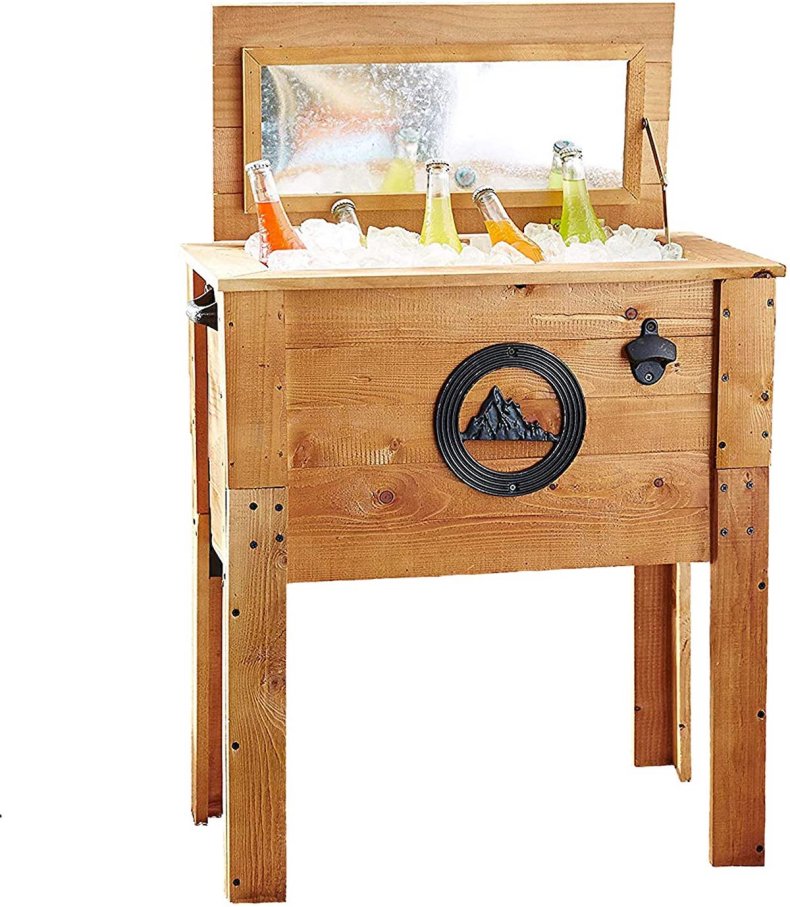 Featuring a farmhouse-esque wooden exterior, the Backyard Expressions Rustic Outdoor Beverage Cooler for Patio keeps ice and up to 45 cans colder for longer. It also includes a convenient drainage spout and bottle opener as well as side handles that make it easily transportable.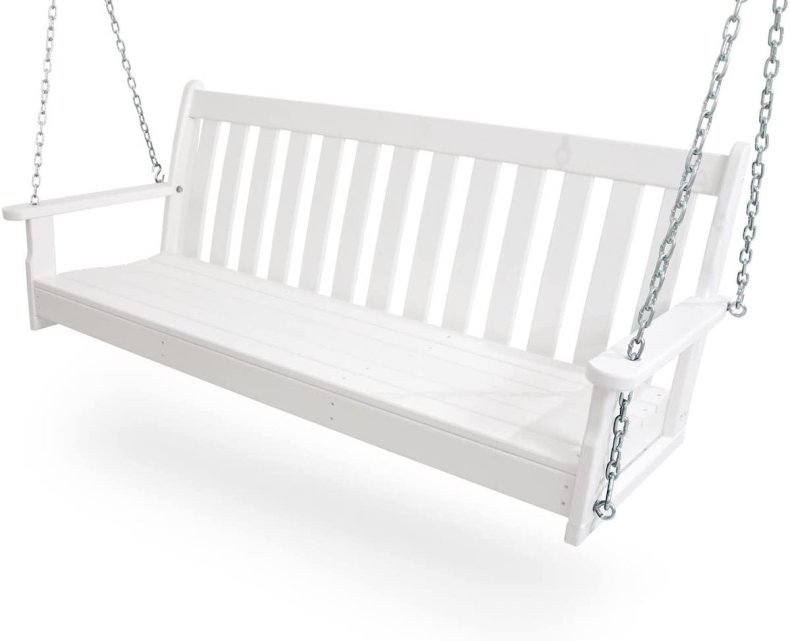 Add a little something extra to your backyard porch area with the Polywood Vineyard 60" Swing. Durably-made from recycled plastic containers like recycled milk hugs and detergent bottles, this swinging bench is weatherproof, won't spliter, crack, chip, peel or rot when exposed to the elements. With near infallability like that, you can rest assured you'll have this swing for a long, long time—so, you know you're getting the most bang for your buck. The bench itself has a 4.8-star rating and one Amazon.com reviewer wrote, "Love it. I find it very comfortable (without a cushion), and don't have any issue with the back of it pressing into my back... Looks great (not exactly like wood but close enough and I won't have to keep painting it). Very sturdy. Hangs on the front porch of our 1905 home. We use it every day and love it."
Newsweek may earn a commission from links on this page, but we only recommend products we back. We participate in various affiliate marketing programs, which means we may get paid commissions on editorially chosen products purchased through our links to retailer sites.