It's time to get both excited and jealous. Excited because you'll find something amazing for every kid you know among the more than two dozen gadgets showcased on this list.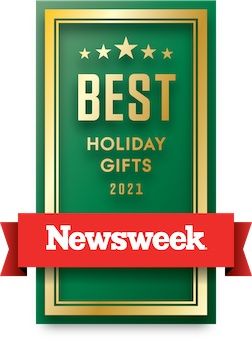 And jealous because you're bound to recall your own childhood wistfully and imagine how much cooler it might have seemed if you'd somehow gotten to play with any of these ingenious devices back then.
While most of these techie toys are aimed squarely at entertaining and/or teaching children, several are appropriate for kids of all ages. The main goal is simply that these potential presents both figuratively and literally light up the recipient. The prices listed may fluctuate due to the latest deals and discounts.
PowerUp 4.0
Epitomizing simple sophistication, the PowerUp 4.0 kit is a hobbyist's dream. It adds DIY flair to flying paper airplanes in a decidedly modern way. Controlling the gyro-stabilized motor via your smartphone, the companion app not only facilitates bona fide loops and barrel rolls but reports flight performance and suggests future improvements. And along the way, a carbon fiber body and nylon reinforced nose help your planes survive their various aviation escapades to fly yet again.
Buy at PowerUp Toys for $71.19.
HeyKube
HeyKube is a smart twist on the classic Rubik's Cube. It uses a spinning light in the center square of each face to direct you on how to solve the puzzle one rotation at a time, without the need for an app. It does have a companion app that can take you through the seven-stage process it follows throughout every solution. But if you get lazy, don't worry. No matter how much you mix it up, you can always solve this rechargeable cube in the dark in just a few minutes.
VTech KidiStar DJ Mixer
Who needs two turntables and a microphone? The VTech KidiStar DJ Mixer features a wide array of lighting and sound effects, 15 built-in songs and the ability to pipe in other music via audio cable or Bluetooth. Add in some funky vocal tags and kids can record and play back their masterful mashups through the headphone jack or on-board speaker, for countless hours of musical exuberance.
Buy at Walmart or Amazon, from $49.99.
AirFort
In the world of temporary play structures, AirFort—now available in a dozen cool designs—negates the need for the traditional wrangling of blankets and stacking of couch cushions. It uses a standard 20-inch box fan (purchased separately) to instantly inflate this roomy, silky cocoon, which hovers just above the ground. Kids take friends, snacks, flashlights and whatever else they need inside the dome. And, separated from the fan by a safety mesh panel, they feel a very slight breeze while they play, hide or just hang out. Best of all, when it's time to clean up, it packs back into its own sack in seconds.
Buy at AirFort or Amazon, from $49.95.
PlayShifu Plugo Farm
It's never too early to learn about running a business. With the Plugo Farm, kids develop a sense of managing their resources, keeping customers happy and taking care of animals. The system utilizes cute figurines that interact with an Android, Fire or iOS tablet running the companion app. The kit includes a farm base, five crops, four animals, one tractor, a bucket, fodder, eight flags, one manager and a foldable magnetic game pad. But PlayShifu also offers a cheaper version ($34.99) without the game pad, in case this isn't your first Plugo system.
Buy at PlayShifu or Amazon for $59.99.
Gabb Watch
Every kid wants a phone. And now you can give them one, without having to worry about their losing it or your having to mess with parental controls. The Gabb Watch is super safe, because kids can only call or be called by the up to 10 contacts you set in the app on your phone. Likewise, they can send messages in the form of either canned texts (you can create and edit) or recording impromptu short voice clips. You're able to actively track their location in real time, opting to be informed when they enter or leave certain areas (i.e., home and school). And as a final bonus, it includes a proprietary game that lets them earn points by taking care of a variety of virtual pets. Oh, and it also tells time.
Buy at Gabb Wireless for $99.99.
3Doodler Start+ Essentials 3D Printing Pen Set
Feeding plastic strands through an easy-to-grip rechargeable pen that doesn't get hot to the touch, youngsters ages 6 to 13 can safely and creatively explore the world of three dimensional designing and drawing. The 3Doodler is visual, tactile and teaches them to solve problems. And while this fun Steam kit comes with everything they need to get started, additional kits help kids build more advanced structures such as roller-coasters and other more complex feats of engineering.
Buy at 3Doodler or Amazon for $49.99.
PlayShifu Tacto Electronics
With Tacto Electronics, PlayShifu figured out how kids can gain an understanding of circuitry without risking real-life electric shocks. That's because this system uses no live wires, just physical figurines interacting with an app running on a compatible tablet. Through STEM puzzles and story-based games, kids ages 6 to 12 learn how to build over 50 gadgets. All the while, the only thing they'll spark is an interest in tinkering.
Buy at PlayShifu or Amazon for $49.99.
Onanoff BuddyPhones Cosmos+
Honoring BuddyPhones' dual primary directives, the Cosmos+ are designed to be safe for kids (with volume limited to 85 decibels) and to easily share one audio source with another set of headphones (using their BuddyLink system). But they build on that foundation by adding active noise cancellation, a voice-enhancing study mode and a removable boom microphone. Though the Cosmos+ can be used wired, they're rated to last a full 24 hours over Bluetooth. And as a bonus, these youthful cans are available in six kid-friendly colorways.
Jooki Star Bundle
This second generation of the popular Jooki kids' speaker uses an app and special tokens to play audio. In the app on your phone, you associate the songs, playlists and podcasts that you want with particular tokens or figurines. (This rockin' Star Bundle includes eight tokens and five figurines, plenty for the whole family.) Then, when your child touches an associated token or figurine to the speaker, it immediately begins playing that audio content—in fact, through near-field wireless technology (NFC), it actually starts playing just a little bit before touching the speaker. Best of all, this newest iteration is able to assign Spotify playlists to tokens and figurines. So kids can start playing their favorite artist or station all by themselves and adjust the volume and track via the screen-free speaker's intuitive controls.
Air Hogs Gravitor
Gravitor isn't quite a drone. Flip a switch and it automatically hovers. Or you can tilt its antenna when launching it, and the thing will whirl and swerve about the room for a bit before finding a place to hover fairly stably. Another way to control it is by placing your hand under its spinning propeller to encourage it to hover higher. But other than that, it's pretty much just a highly spirited rogue aircraft.
Buy at Walmart or Amazon for $18.24.
Lovebox
Lovebox is essentially a Wi-Fi connected wooden cube with a removable lid that allows kids to send your phone digital photographs, drawings, stickers and short messages. When you reply or send them a new message, the physical heart on the outside spins around until the lid is opened. To show they like your message, they spin the heart and it sends you an animated flourish of hearts back in the app. It's a fun way to help kids too young for a phone still feel connected to relatives. Different boxes feature different designs. You can also buy the "spinnies" separately. And they're currently offering a deal on buying multiple Loveboxes, in addition to a 20 percent discount on Black Friday.
Moonlite Storybook Projector 'Frozen' Gift Pack
Created by a real-life mother-daughter combo based on their nightly reading sessions, the Moonlite projector uses the flash on your phone to throw storybook images from circular reels onto the wall or ceiling. In addition to single story and starter pack versions, it's now available in a variety of gift packs—which each come with five story reels—including an Eric Carle collection and stories based on the characters from Frozen and the Winnie the Pooh.
Air Hogs Jump Fury
Crazy stunts and zero damage? That's what this Air Hogs wild remote-controlled racer offers, thanks to super soft wheels. True to its name, in addition to a barrage of flips, spins and wheelies, Jump Fury is able execute leaps almost 2 feet into the air. So it might not be the first thing you let them reach for right before a fancy dinner party. But for hours of indoor play, this rechargeable RC car is just the ticket.
My Little Morphée
Named after the Goddess of Sleeping, My Little Morphée offers kids a way to focus, calm down, relax and fall asleep. This app-less, screen-less device offers toddlers and pretweens 192 soothing thoughtfully designed music tracks, nature sounds and meditative journeys. One of the two keys controls the animal totem they want to choose as their guide through such self-exploratory topics as generosity, happiness, confidence and curiosity. The other main control selects what universe they want to be transported to. All that's left is to select a shorter or longer session and it's off to slumber they go.
Buy at Morphée or Amazon for $99.99.
WowWee Got2Glow Fairy Finder
Just a quick heads-up: Your house may be currently infested with dozens of fairies. But don't worry, they're harmless, virtual and playful. And you can try to catch them with the Got2Glow Fairy Finder. There are a few ways to find fairies by taking this colorful light-up jar around the house. And when you do catch fairies, you can interact with them. If you want, you can even catalog them using QR codes, with a little help from the optional app. But before you attempt to collect the more than 30 fairies available across four levels of rarity, the trickiest part may be actually finding this fun virtual scavenger hunt gadget in stores, because it's already proving to be quite popular this season.
Buy at Walmart or Amazon for $34.88.
Learning Resources Coding Critters MagiCoders
Blazer the Dragon and Skye the Unicorn want to teach your tiny tot how to code. Each of these Coding Critters MagiCoders comes with its own set of accessories, most importantly a "magic" wand. The toddler programs how these special creatures should move, and they obediently scoot around on the floor accordingly. It's a great way to get younger kids interested in beginning to explore STEM skills.
Buy at Learning Resources or Amazon for $54.99.
Goodtimer
Kids crave positive reinforcement. And the Goodtimer gives it to them via 32 tokens, a rechargeable light-up timer and a system that rewards good behavior. They earn tangible incentives that matter to them based on actions and parameters they help establish. It's not exactly a toy per se, but kids really seem to enjoy how it gamifies creating healthy habits. Since each child needs their own device, Goodtimer offers a per-unit discount for families who buy multiple devices at once.
Educational Insights Artie Max the Coding Robot
If you're looking for a STEM toy for little kids, this one is pretty cool. Artie Max is a robot that can draw. Just insert three markers into its back facedown, do a little coding on your computer, and it recreates all sorts of colorful patterns. Best of all, this remote controllable robot features smart sensors, line detection and built-in tutorials to help teach your up-and-coming young programmers six major coding languages.
BriteBrush Baby Shark Edition
Yes, this toothbrush plays the infamous Baby Shark song. And it also plays treasure hunt games. But it also actually encourages healthy oral hygiene. The handle is packed with sensors that can detect tilts and movements to assess (and report back to the parent via a node that lights up) whether the child has done a good job brushing. Is it possible to game the system? Probably. But by the time your kids figure out how to, their choppers will be white and sparkly. Other BriteBrush versions include the Game Brush (which offers several additional games) and an edition featuring Sesame Street's lovable Elmo character.
Buy at Walmart or Amazon for $19.96.
Pebble Gear 'Toy Story' Tablet
When you're not looking, they come to life. This refers duly to the animated stars of the Toy Story movies and your kids after you hand them this 7-inch tablet. It's kid-friendly both in its themed bumper case—also available in Cars, Frozen, and other familiar Disney themes—and the content curated for it. Each Disney tablet is filled with exclusive books, games and other features that fit its theme. And they all come with a year of free access to Gamestore Junior, with over 500 apps handpicked by the Pebble Gear team.
Buy at Pebble Gear for $99.99.
Razor Crazy Cart Shift
According to the Razor Crazy Cart Shift's specifications, it's able to go up to 5 miles on a single charge. But it'd be nearly impossible to verify that figure due to the fact that it's made specifically to avoid going in a straight line. This shifty little three-wheeler is able to drift, glide and seemingly endlessly spin around—which it can do on a dime. In low mode, it can go a couple of miles per hour, but in high mode it reaches a respectable 8 miles per hour, plenty fast for kids that low to the ground. And in case you're wondering, yes, they do make a bigger, stronger, faster version for adults.
T9 Interstellar Agent
Earlier this year, Robosen and Hasbro announced an actual self-transforming Optimus Prime robotic toy. And while that nostalgically droolworthy version nearly immediately sold out, its similarly sophisticated cousin, T9 Interstellar Agent, is actually available. You can initiate its highly satisfying transformation either from among 10 voice commands—which can also start it dancing, waving or shooting pretend bullets at you. But doing so the app is where it gets interesting. Because T9 is such a highly articulated robot, you can program him to do push-ups or turn into a truck and drive around. In other words, if you (that is, ahem, the special kid on your list) want an übercool transformer you can program, this is definitely the robot to requisition.
Pix Mini Backpack
These days, tech is in everything, even backpacks. And that doesn't just refer to the items toted around inside, but the knapsacks themselves. That's the case with Pix's Mini Backpack, which—when plugged into a USB outlet or powered by a portable battery—is able to display pictures, messages and simple animations uploaded wirelessly from a phone or tablet to its flexible, waterproof LED panel. The app contains some preset pics available for purchase and allows the user and/or wearer to create their own, pixel by pixel and frame by frame. The result is a highly personalized and engaging bag that's way more than just a book carrier.
Buy at Pix or Amazon for $169.
Segway Ninebot S Kids
The world of self-balancing scooters has come a long way since Segway first pioneered it several years ago. Now they offer a fun-looking ride designed specifically for people ages 8 and up who range between 43 and 70 inches in height and 44 to 132 pounds in weight. It's able to traverse pavement and packed dirt terrain on an angle less than 15 degrees. Its many safety features include ambient lights, nonslip tires, three riding modes (with top speeds of roughly 4, 6 and 9 miles per hour), self-balancing optimized for children and real-time voice safety reminders. The app features remote control, lighting settings and other personalization. And of course, it packs a built-in Bluetooth speaker. Because every self-respecting tween needs tunes at the ready when they roll.
Newsweek may earn a commission from links on this page, but we only recommend products we back. We participate in various affiliate marketing programs, which means we may get paid commissions on editorially chosen products purchased through our links to retailer sites.