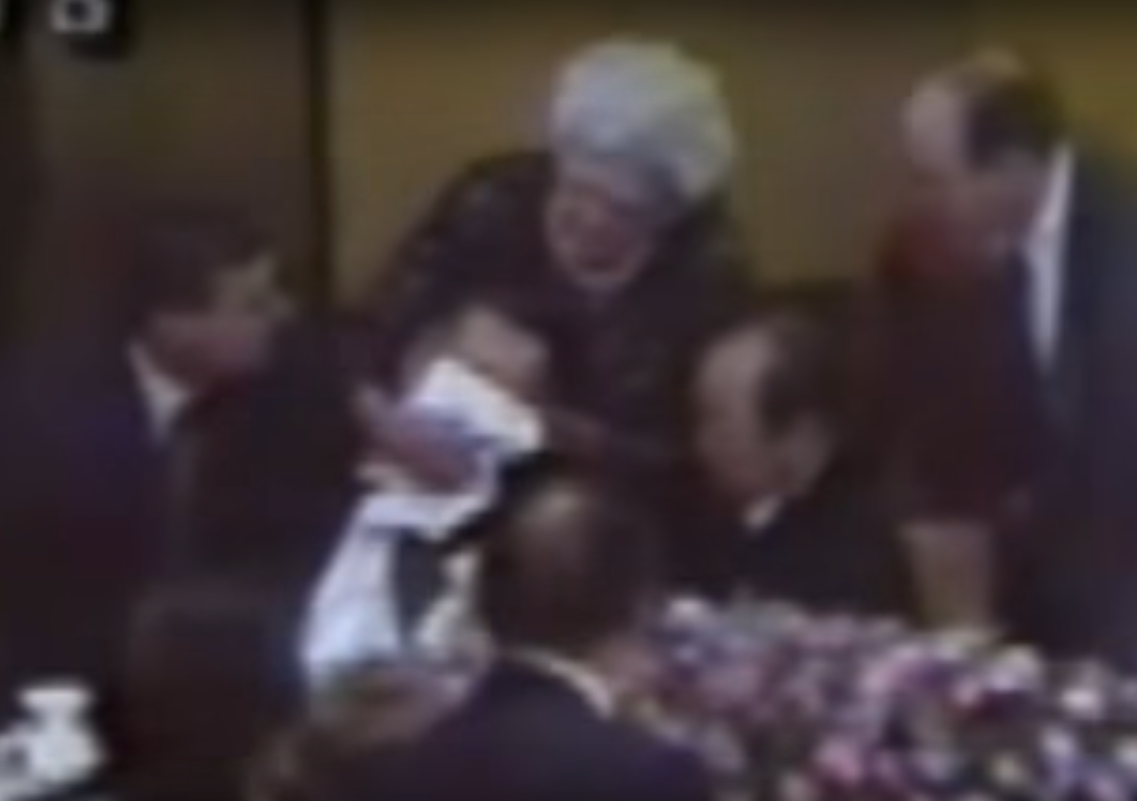 Twenty-five years ago, George H.W. Bush made history: He became the first sitting president to vomit on the prime minister of Japan. On January 8, 1992, in the middle of a 12-day trip through Asia, the 41st president became nauseated and lost his lunch during a state banquet. ABC News obtained and aired a video of the moment (which you can watch above), and Bush's blunder became instant fodder for headline writers and late-night comedians. (Saturday Night Live famously spoofed the incident, with Dana Carvey playing Bush.) Here is how Newsweek covered the story in 1992.
He had traveled through 16 time zones in 10 days and had just been creamed by the Emperor of Japan at tennis. As he stood in the receiving line before a state dinner in Tokyo last week, President Bush had to excuse himself to go into the bathroom and throw up. Most ordinary men would have called it a night and headed for bed. But Bush, ignoring the advice of his doctor, doggedly returned to his duties. Still, the Secret Service was quietly warned that he might not make it through the meal.
He didn't. Between the second course (raw salmon with caviar) and the third (grilled beef with peppery sauce), the president pushed back in his chair and fainted. His chin slumped to his chest, his body reeled to his left, and he vomited onto the pants of his host, Prime Minister Kiichi Miyazawa. Horrified, Barbara Bush leaped to her feet and held a napkin to her husband's mouth, and a Secret Service agent vaulted over the table to catch the president before he tumbled. As Prime Minister Miyazawa cradled the head of his guest, Bush's entourage gently lowered him to the floor. The president's eyes fluttered open, and he quipped to his personal physician, Dr. Burton Lee, "Roll me under the table until the dinner's over." The panicky moment passed; within a few minutes, Bush was on his feet, white as a sheet, but gamely smiling.
"Just the flu, just the flu," said the president's men, and that's all it was—a passing stomach bug, and not another heart-skipping atrial fibrillation of the kind that struck the president last May as he jogged at Camp David. Hoping to avoid further embarrassment for the president, Japanese public television kept under wraps last week a tape of Bush losing his dinner all over the prime minister. Newsweek has viewed a copy of the entire tape, and it clearly demonstrates that the sight of Bush passing out and vomiting was truly frightening to those around him, especially to his normally stoic wife. Even the snippet that was publicly aired, showing the president prostrate and gray with nausea, shocked the American people. The image brought to mind the picture of Jimmy Carter, staggered by heat exhaustion as he stumbled along in a road race near Camp David in 1979. That grisly picture became a metaphor for a failed presidency; it haunted Carter right through his loss to Ronald Reagan in 1980. Democrats, naturally, were eager to make the videotape of Bush's Tokyo collapse tell a similar story. "He's almost a metaphor for a sick, wobbly economy looking for a Japanese pill to make him recover," said Mike McCurry, an advisor to presidential candidate Senator Bob Kerrey of Nebraska.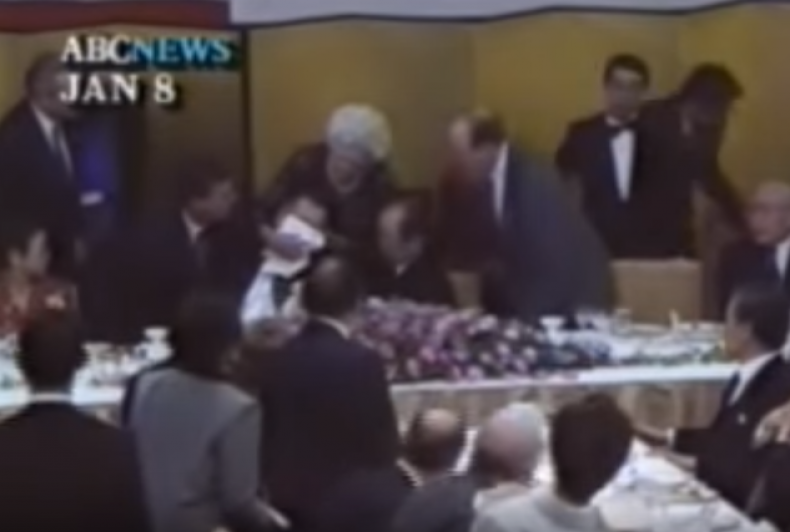 Symbolism aside, Bush returned home to some depressingly real numbers. As the longest recession since 1981-82 dragged into its 19th month, unemployment climbed over 7 percent last week, the highest figure since January 1986. Eight out of 10 Americans told a New York Times/CBS News survey that the economy was in bad shape. Bush's personal approval rating dropped to 48 percent, and only 23 percent approved his handling of the economy. Significantly, that is the lowest level recorded since the Carter administration.
Once known as a good-luck president, Bush seemed star-crossed on his 12-day swing through Asia. In Australia, he flashed crowds the V for victory sign, not realizing that to Australians, a backhanded two-finger gesture is obscene. In Singapore, he praised the regime of Prime Minister Goh Chok Tong—the same week that the strongman showed his people who was in charge by outlawing the sale of chewing gum. In Japan, he was mocked as a traveling car salesman by the local press.
At home, Bush's trip was widely regarded as a failure. The president actually accomplished more than the American press gave him credit for. But there was something slightly desperate about the picture of an American president, traveling 26,000 miles with 18 overpaid American CEOs (estimated average compensation in 1991: $3.1 million) at taxpayer expense to beg for "jobs, jobs, jobs" from the Japanese. Presidential elections often turn on questions of strength, and the Democrats sensed a chance to revive the wimp factor. In a TV spot aired last week in New Hampshire, Kerrey declared, "If I'm president, the time for begging is through." It is possible that Bush's trip will spur a new round of protectionist rhetoric.
Bush's case of the flu will not slow down his frenetic pace. Over the next 10 days, he is expected to visit the Midwest, the South, New Hampshire and possibly California. All are necessary stops for a president on the road to re-election. But right now, it is a road lined with sullen voters, who have lowering expectations for the future and little confidence in their leaders.
This article originally appeared in the January 20, 1992, issue of Newsweek with the headline, "A Case of Political Flu." Bill Powell contributed reporting from Tokyo.