250 Belgian Officers Involved In Manhunt For Soldier Accused Of Taking Weapons, Threatening Virologist
A total of 250 officers and military personnel in Limburg, Belgium, are searching for a heavily armed soldier who went on the run after he took weapons from a military base and violently threatened a renowned virologist.
A manhunt for 46-year-old Jürgen Conings began Tuesday after the suspect fled his Limburg home a day earlier.
According to the Brussels Times, police said Conings is a professional soldier who armed himself with several weapons after making threats against Belgian virologist Marc Van Ranst. He is believed to be carrying a rocket launcher, a machine gun and an ordinary pistol.
On Tuesday, Conings' car was found abandoned in Limburg with heavy weaponry including four anti-tank rocket launchers and ammunition. The vehicle was found near the Hoge Kempen National Park, prompting local officials to close the park and investigate the area.
"In consultation with the National Crisis Centre, I have indeed ordered the closure of the Hoge Kempen National Park," Limburg Governor Jos Lantmeeters said, according to the Times. By Wednesday, Conings was suspected to be traveling on foot in the vast park, which encompasses more than 46 miles of forest.
As many as 250 police officers and military officials began doing sweeps of the area on Wednesday, while a Federal Police helicopter has been deployed to circle above Conings' home.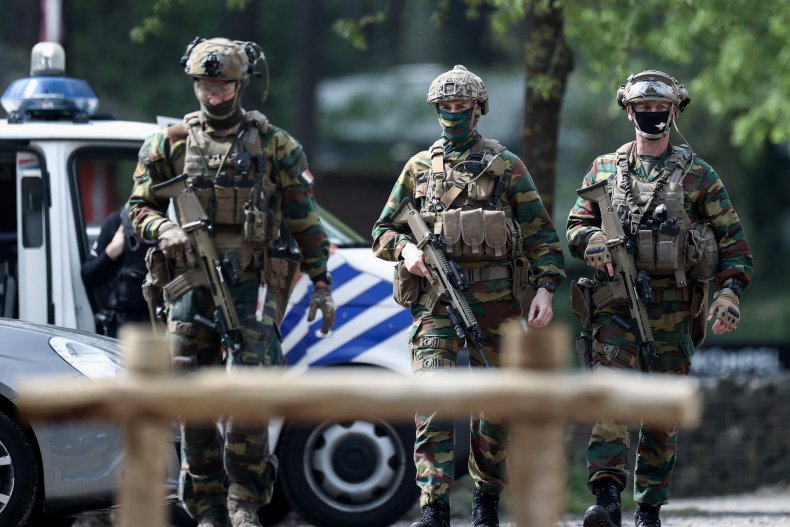 Police said Conings remains a high threat level to both himself and the community. Prosecutors fear he may commit violence and have notified the public to avoid coming into contact with Conings.
"If found, the police should be informed immediately, without contacting the person involved," a federal police notice said Wednesday. "Jurgen Conings is asked to report to the nearest police department as soon as possible."
Police said Conings has a history of far-right extremist views, has been placed on a list of potential "terrorists" compiled by OCAM, an organization responsible for assessing the threat of terrorism in Belgium.
Before disappearing Tuesday, Conings left behind a note containing threats to Van Ranst, and several state and public figures, Al Jazeera reported. In his letter, Conings said he would not be taken alive.
Officials said Van Ranst and his family have since been moved to an undisclosed safe location, where they will stay until Conings is in police custody.
Belgium Prime Minister Alexander De Croo has reacted strongly to the manhunt, saying that it is "unacceptable that someone on the OCAM list is active in Defense, and gets access to weapons," the Times reported.
De Croo has called on the army's defense and security services to conduct and investigation and come up with a proposal to "prevent such a thing from ever happening again."
Newsweek contacted the Belgian federal police for additional comment, but did not hear back in time for publication.