26 Brussels Cops, 7 Horses Hurt at 'Festival' Opposing COVID Restrictions
Police in Brussels dispersed thousands of people partying and ignoring COVID-19 safety protocols in the city's Bois de la Cambre park on Thursday.
At least 26 police officers and seven police horses were injured as festival-goers threw glass bottles at police, striking at least one officer in the head, Brussels police spokesperson Ilse Van de Keere told reporters.
Amid warming temperatures and pandemic-induced fatigue, a crowd of between 1,500 and 2,000 people gathered in one of the Belgian capital city's largest parks to attend "La Boum," a fake festival advertised on Facebook that promised a lineup of popular DJs.
The event's organizers reportedly made it clear that "La Boum" was actually an April Fool's Day prank, according to the The Brussels Times. But attendees, mostly young people, still flooded the park by Thursday afternoon, many of whom were not wearing protective face masks and ignoring social distancing protocols.
The Brussels Times reported that police planned to be in the park on April 1 and April 2 after learning of "La Boum" and had communicated via social media that the event was "unauthorized and fake," and that attendees would be subject to arrest and prosecution.
Law enforcement also issued additional alerts via social media about a similar festival reportedly organized in the city's Cinquantenaire Park on April 2: "the event LABÎME announced on social media, which was to take place in the Cinquantenaire Park in Brussels on 2/4 is fake news."
Brussels Mayor Philippe Close had addressed rumors of the festival in a Twitter post earlier Thursday and said that any residents who do not obey police were subject to action from law enforcement. He then thanked the police and "the people who have been following the rules for over a year."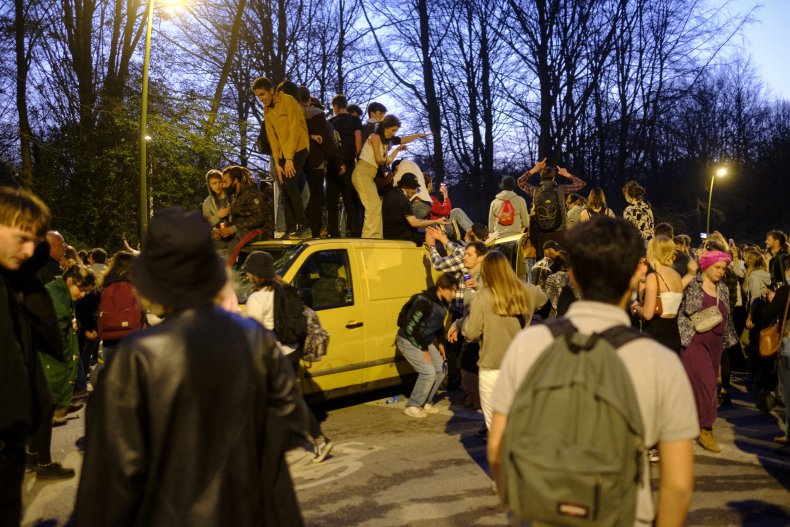 According to RTBF, Close has since faced criticism from city leadership for providing only "vague answers" before the festival that "betrayed signs of unpreparedness or flagrant lack of anticipation."
But festival-goers arrived despite the warnings. Within a few hours of "La Boum" commencing, police moved in on the crowd, spraying water, riding horses and leading dogs into the festival-goers.
Van de Keere told reporters that police started clearing the packed park at about 5 p.m. and were still evacuating attendees more than two hours later.
Eight members of the crowd were injured, some of the damages caused by other festival-goers. Van de Keere added that there were no reports of any severe injuries to festival attendees as of Friday morning.
Twenty-two people were arrested, 18 without charges. Four of the people arrested were charged with rebellion, assault and battery against the police, as well as non-compliance of COVID-19 safety measures, according to the Brussel's public prosecutor's office.
One attendee of "La Boum" told the Flemish newspaper De Morgen that they were protesting against Belgium's policing of COVID-19, saying the city's measures were "excessive" and "enough is enough."
On March 24, Belgium announced stricter measures to reduce pressure on overwhelmed hospitals and contain the spread of the virus, Politico Europe reported. The government had pulled back COVID-19 restrictions, allowing larger outdoor gatherings. As cases spiked, groups meeting outside were limited to four people and visits to homes of friends or family were prohibited.
Brussels also has a nightly curfew of 10 p.m., a public mask mandate and all cultural events, bars, cafes and restaurants are ordered to be closed.
Belgian Interior Affairs Minister Annelies Verlinden said the situation was a "slap in the face for all those who are doing their best to respect the coronavirus measures."
Virologist Steven Van Gucht condemned the festival-goers. He said on Flemish radio that "letting go too soon" risks "thousands of extra deaths," given that many people in the country are yet to be vaccinated.
As of Thursday, the Brussels Times reported that 14 percent of the adult population in Belgium had received at least one dose of a COVID-19 vaccine. But through the last week of March, new cases increased 15 percent compared to the week before, with nearly 5,000 new cases every day.
"There is no justification for breaking the rules," Belgian Prime Minister Alexander De Croo responded to the news of the event via Twitter on Friday morning, writing that the situation was "unacceptable" and expressed support for the injured police officers.
"I understand the fatigue of the virus, but the rules are made for a reason," De Croo wrote. "They apply to everyone. Hospitals are filling up. Being in solidarity today is the key to our freedom tomorrow."
Newsweek has reached out to Van de Keere for comment but did not receive a reply by publication time.
Newsweek, in partnership with NewsGuard, is dedicated to providing accurate and verifiable vaccine and health information. With NewsGuard's HealthGuard browser extension, users can verify if a website is a trustworthy source of health information. Visit the Newsweek VaxFacts website to learn more and to download the HealthGuard browser extension.