A coronavirus outbreak at the State Capitol in Jackson, Mississippi, has resulted in 36 people testing positive for the disease, a state health official said Wednesday.
Hundreds of employees at the Capitol were tested Monday after at least eight lawmakers had contracted the virus in recent days, State Health Officer Dr. Thomas Dobbs said during a news conference Tuesday.
"Because of how many people they've been around, we want to go ahead and offer testing to pretty much everybody in the Capitol -- staff and legislators -- so we can go ahead and get people diagnosed and isolated as quickly as possible," Dobbs said.
Mississippi Lieutenant Governor Delbert Hosemann and House Speaker Philip Gunn have both publicly acknowledged testing positive for COVID-19. Hosemann presides over the 52-member Senate and Gunn presides over the 122-member chamber.
Dobbs announced during a press conference Wednesday that the results showed that 26 of the 36 people who had tested positive are state legislators.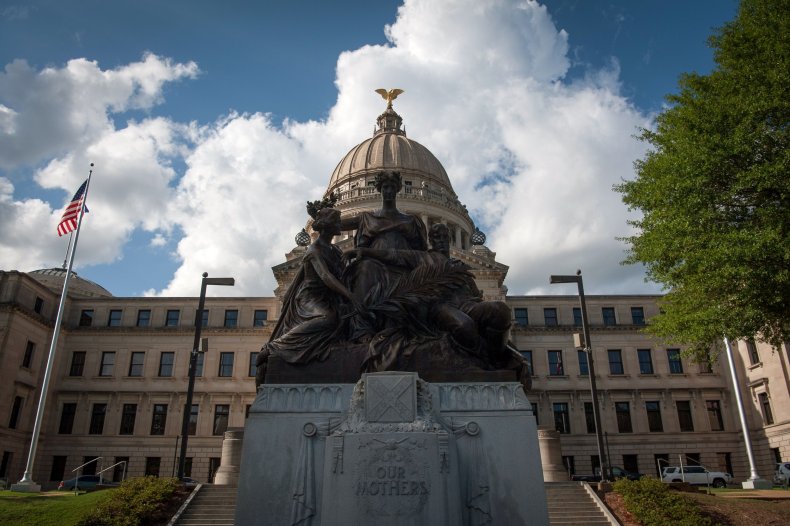 State Representative Earle Banks confirmed Wednesday that he had tested positive for the virus, WAPT reported. Banks said that he had worn both a face shield and mask while inside the Capitol, according to WAPT.
But Banks sits next to state Representative Bo Brown in the House chamber. Brown had received his positive test result July 2 and had informed Gunn of the news that night, the Clarion Ledger reported.
Health officials are "continuing to work" on the outbreak at the Capitol, Dobbs said.
Dobbs also announced Wednesday that the state was reporting an additional 674 coronavirus cases and 30 new deaths.
Dobbs was not surprised with the state's current upward trajectory, because "nothing's really happened that would diminish the spread of disease in Mississippi," he said during Wednesday's news conference.
The health official added that the continued increase in positive cases is placing the state's hospital system under significant stress.
"Within the Jackson area and other places, we've seen zero ICU beds day after day after day in numerous hospitals," Dobbs said. Hospitals will stop allowing elective surgeries to take place in an effort to clear up more beds for coronavirus and other ICU patients, he said.
Dobbs said during a news conference Tuesday that hospitals were already having to send some patients out of state to receive treatment.
"My greatest fear is starting to be realized, because there are people at ERs now across the state who can't get a bed," he said.
The Mississippi State Department of Health had no additional comment regarding the Capitol outbreak beyond what Dobbs had said during Wednesday's news conference, Elizabeth Grey, a spokeswoman for the department, told Newsweek.
Update (07/08/20, 9:45 p.m.): This article has been updated to include a comment from the Mississippi State Department of Health.