260-Foot Black Lives Matter Mural Vandalized in Michigan
A Michigan-based mural dedicated to the Black Lives Matter (BLM) movement has been destroyed with white paint and a tag with the name of a notorious white supremacist group.
On Sunday, a 260-foot, yellow BLM mural that stretched down a street was defaced at Riverside Park in Ypsilanti, Michigan with the phrase "Patriot Front" and paint covering the words "Black Lives"
Patriot Front, designated a "white nationalist hate group" by the Southern Poverty Law Center, has ties to the anti-Semitic Vanguard America (VA), and was formed after the deadly "Unite the Right" rally in Charlottesville, Virginia in 2017.
The BLM piece was one of two murals that were painted by roughly 80 members of the Ypsilanti community. Both murals were unveiled on Juneteenth.
Ypsilanti community organizer and activist Trische' Duckworth, who helped spearhead the idea for both murals. told Detroit-based news station WDIV that "the damage speaks for itself on the amount of hatred they had to produce something like that."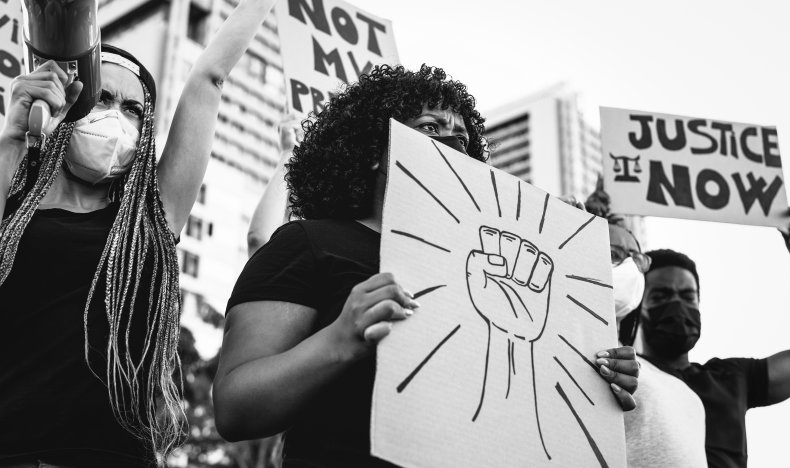 Duckworth, the founder and executive director of Survivors Speak, said that when she arrived at the park on Sunday, the paint on the mural was still fresh.
"This group may have paint, but we have more paint," she said. "This group doesn't have what we have—we have love, community and togetherness and that's what's going to get us through."
Though the incident was reported to law enforcement, there aren't any cameras within the vicinity of the park. Members of the community have since reached out to donate security devices in the hopes of catching any future vandals.
Duckworth said that she and the creators of the mural knew it was a possibility that it could be destroyed by anti-BLM individuals.
"What shocked me is they didn't do it sooner, to be honest," Duckworth said. "This is the America that we live in right now."
"This actually shows just how much a state of an emergency that we are in as a community and it's my hope that everybody will get all hands on deck to fight for racial equity in America because this shows that we have a lot of work today," she added.
Duckworth told the news outlet that the aftermath of the vandalism was extremely emotional for the activists.
"We cried together and we embraced each other yesterday," Duckworth continued. "I'm very scared. I don't get scared often. I'm very alarmed at what could happen. They were very intentional to only blot out 'Black Lives' and not 'Matter.'"
Ypsilanti mayor Lois Richardson has stated that the city should paint over the mural, but Duckworth is suggesting that she along with City Council should "slow down and craft a thoughtful response to this that includes the community."
Newsweek has reached out to Richardson for comment but did not receive a response in time for publication.