28 Election Workers in Missouri's Second-Largest County Test Positive for COVID as State Reports Over 4,200 Cases
Missouri's second-largest county saw a coronavirus outbreak among its election board after more than two dozen workers tested positive for the disease amid a statewide spike in cases.
At least 28 employees of the Jackson County Election Board have tested positive for COVID-19, Tammy Brown, the board's director, told the Associated Press on Tuesday. Eight full-time and 20 part-time employees received their positive diagnoses over the past two and a half weeks.
Most of them are doing well and recovering at home, but two of the part-time workers are hospitalized, with one in intensive care, Brown told the AP. She believes they most likely got infected by voters.
Jackson County is Missouri's second-largest county, behind St. Louis County. Jackson is home to Kansas City, but the city has its own election board, according to the AP. Even so, the Jackson County board would've handled votes cast by nearly 200,000 residents. Out of them, more than 60,000 people chose to vote absentee or via mail-in ballot, Brown said.
But many of those people would've passed through the board's main office or the absentee voting office in the days leading up to the November 3 election to pick up or drop off their ballot.
"We had thousands and thousands of voters through there every day," Brown said. "People who requested mail-in and absentee ballots were walking in their applications and then walking in their ballots also."
While the election board asked voters to wear face coverings and to not come inside the building if they felt ill, Brown thinks "several people didn't adhere to it," she told the AP.
The board also offered drive-thru voting for residents who had COVID-19 or were in quarantine after coming into contact with an infected person. Part-time workers initially managed the drive-thru line, but after so many of them became ill, full-time election board staff members were put on duty, according to the AP.
While infections relating to the election board outbreak were reported to the Jackson County Health Department, Brown questioned whether it will be possible for the department to conduct contact tracing given that the employees came into contact with thousands of voters, she told the AP.
Kayla Parker, a spokeswoman with the Jackson County Health Department, told Newsweek in an email that the department is currently going through the disease investigation process with cases and contacts relating to the election board outbreak. As per guidelines from the Centers for Disease Control and Prevention, people are considered "contacts" when they are within six feet of an infectious person for 15 cumulative minutes or more.
"The majority of voters and visitors of the [Jackson County Election Board] will not meet this criteria, and should not be concerned," Parker wrote. "If individuals self-determine that they meet this criteria, they should quarantine for 14 days after the exposure and monitor for symptoms."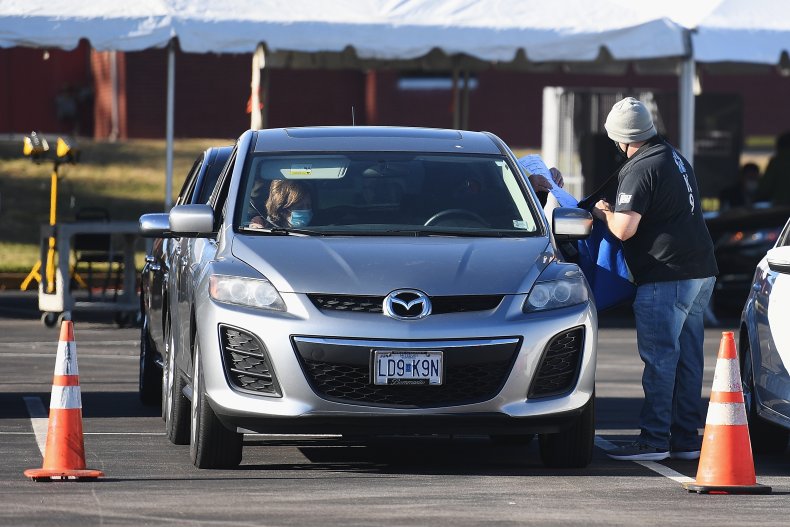 Jackson County has recorded a cumulative total of 12,407 COVID-19 cases and 147 deaths as of November 10, according to the health department. The county is seeing a seven-day average of nearly 168 new cases per day, with the metric rising sharply within the last two weeks alone.
Statewide, the Missouri Department of Health and Senior Services reported 4,256 new COVID-19 cases for a cumulative total of 216,697 cases. The department reached a new daily high of coronavirus-related deaths at 146, although the majority of those deaths occurred within the last several weeks, according to local station KSDK. More than 2,000 patients are hospitalized across the state for coronavirus-related illnesses.
Missouri is part of a nationwide trend of rising coronavirus statistics. Daily cases numbers along with positivity, hospitalization and fatality rates have all shot upward in a number of states in recent weeks, with the U.S. reporting more than 100,000 new COVID-19 cases for the seventh day in a row.
Update (11/11/20, 12:28 p.m.):This article has been updated to include a comment from the Jackson County Health Department.