29 Protestors Arrested In Portland After Throwing Rocks, Eggs At Police
Protesters in Portland, Oregon threw rocks and eggs at police officers Sunday, leading to 29 arrests outside of the Penumbra Kelly Building.
According to a press release issued by the Portland Police Department, the protests began at around 8:30 p.m. local time, when a "mass gathering formed at Laurelhurst Park, Southeast Cesar E Chavez Boulevard and Southeast Stark Street."
The protesters began marching to the Kelly Building and according to police, there were approximately 150 people participating in the march and protest. In addition to the protesters, there were a number of vehicles that supported them by blocking traffic, police said.
"The drivers were warned by officers to move their vehicles. When they did not, the drivers were arrested and the vehicles towed," the release states.
According to the release, many of the protesters were wearing heavy protective gear, such as helmets, gas masks, goggles and external armor, some others also brought shields.
"Although officers were stationed far back in the parking lot, individuals in the crowd began throwing numerous rocks, eggs, and other items at officers. Some of the items struck police vehicles," the department wrote in the release.
After police were hit with some of the projectiles, officers warned the protesters to stop, telling them that anyone "who is involved in criminal behavior including throwing projectiles is subject to arrest, citation, and/or the use of crowd control agents."
As the situation escalated, police declared the protest an unlawful assembly at around 10:40 p.m. local time, which was announced to the protesters over a loudspeaker, telling them to leave the area and move west. According to the release, "Few, if any, people in the crowd complied with the direction."
"Officers moved the crowd and made several arrests. Two separate arrestees were in possession of loaded handguns. One was illegally possessed and resulted in an additional criminal charge. Other arrestees had knives, rocks, and at least one had an expandable baton," the release states, adding that officers recovered "homemade 'spike strip' devices made from foam noodles and nails."
Most of the crowd dispersed from the area at around 1:30 a.m. local time, the release states.
The full list of the 29 arrests made and charges filed can be found here.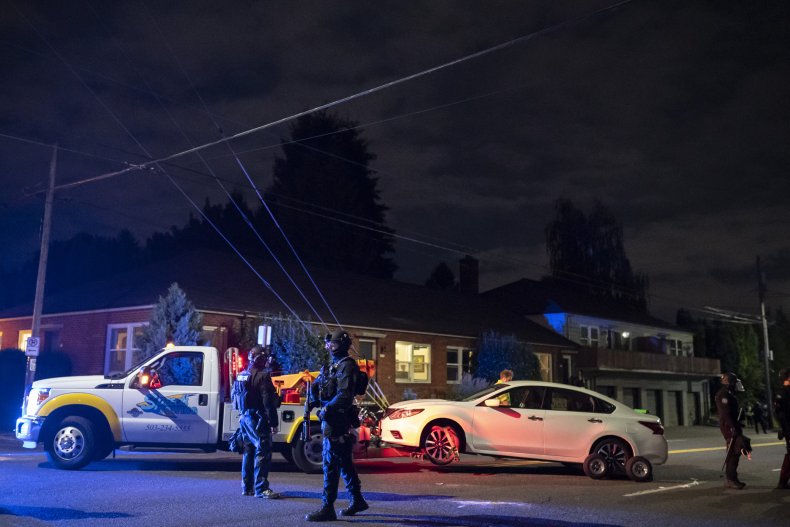 The protests on Sunday night come shortly after a fatal shooting during a clash between a group supporting President Donald Trump and counter protesters in Portland. A picture from the scene published by Getty Images, showed the victim of the shooting wearing a hat that featured the Patriot Prayer logo, which is described as a far-right organization by the Southern Poverty Law Center.
Protests have continued to take place in Portland and across the U.S., following the death of George Floyd and the shooting of Jacob Blake.
The Portland Police Department told Newsweek they habe no further comment at this time.