29-Year-Old Accused of Stabbing Parents To Death Inside Their Washington Home
Washington police have reportedly arrested a 29-year-old man in connection with the brutal deaths of both of his parents, who allegedly died from massive stab wounds.
According to a Facebook post from the Pierce County Sheriff's Department in Washington, a team of officers responded to a 911 call early on Sunday morning regarding a domestic dispute at a Bonney Lake home.
"At 9:26 [a.m.], on Sunday, May 30, a 911 caller reported a stabbing ... The caller said there was a fight between a father and son and a male was on the ground," the post read.
A report from KOMO-TV noted that a neighbor placed the emergency call after he claimed to have heard yelling outside his residence. When he looked into the street, he told police that the suspect stood "covered in blood" over his father's body.
The anonymous neighbor also allegedly had the man at gunpoint when he realized the gravity of the situation before the suspect escaped and ran into the house. The tv station reported that the neighbor then heard the screams of the mother from inside.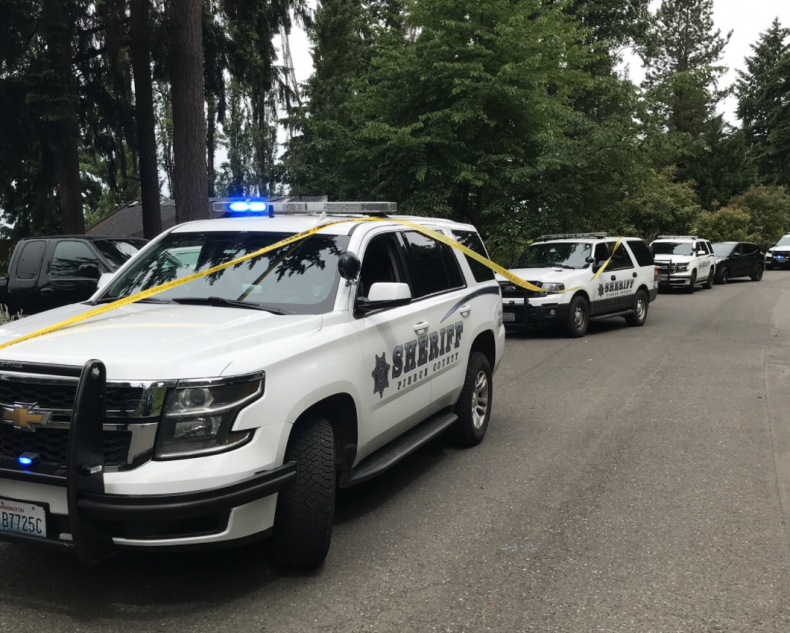 Upon the arrival of Pierce County law enforcement, the man apparently surrendered without a struggle and was taken into custody upon the discovery of his parents.
Additional comment from the Pierce County Sheriff's Department on Twitter confirmed the deaths of the unnamed husband and wife, ages 59 and 61, respectively.
"His mother has been pronounced dead at the scene and his father was taken to the [local] hospital but also passed away," the department tweeted.
Neighbor Autumn Rizzo, who herself noted she did not witness the crime, shared with KIRO-TV that the Bonney Lake and Sumner areas are reeling from the crime.
"It's really unexpected for this neighborhood," Rizzo said. "We're so quiet ... [It's pretty intense stuff. We didn't expect this to happen at all."
Although the motive for the double homicide was not immediately clear, KOMO reported that the unidentified 29-year-old became enraged during a dispute with his father prior to the stabbings.
The Pierce County Sheriff's Department noted that the unnamed suspect was taken into custody on murder charges. Newsweek confirmed the 29-year-old is being held without bail on two counts of murder in the first degree with the Pierce County Booking Office. However, the sheriff's department was not immediately available for further comment on the ongoing investigation.