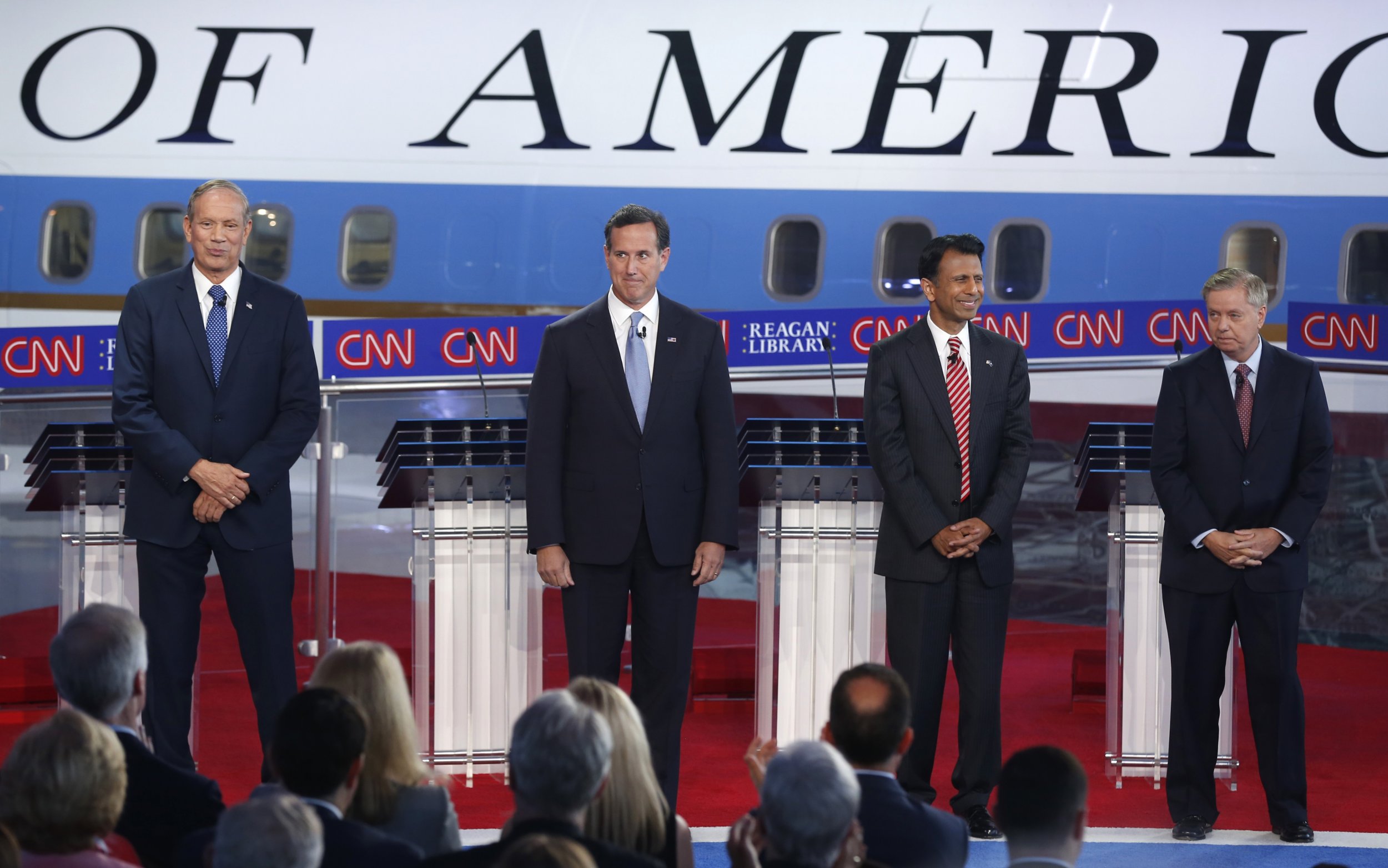 In an 'undercard' debate that signals a slowly winnowing Republican presidential field, Louisiana Governor Bobby Jindal, former New York Governor George Pataki, South Carolina Senator Lindsey Graham and former Pennsylvania Senator Rick Santorum faced off on CNN on Wednesday evening. All four candidates are currently polling at 1 percent or less in national polls.
Rick Perry and Carly Fiorina, who were both on stage for the first GOP presidential debate in August, did not appear in the second debate of the 2016 election cycle. Former Texas Governor Rick Perry suspended his campaign on September 11, and Fiorina polled well enough after the August debate to earn a place in CNN's main debate. Also missing: former Virginia Governor Jim Gilmore, who was bumped because of low polling.
Debate coverage:
7:45 p.m. The candidate pose for a group photo with their higher polling GOP competitors as CNN gears up for the second debate of the evening.
7:41 p.m. The candidates are asked what they offer that their competitors don't. Pataki touts his conservative record in New York, an otherwise blue state, while Santorum calls himself an outsider, saying "I went to Washington [and] shook things up." Jindal says he is "angrier at the Republicans in D.C. than I am at the president," calling Obama a socialist who at least "fights for what he believes in." "If you want someone to make incremental change, vote for someone else," he says. "Our leading candidate gets his policy ideas from watching television," Graham says, going on to compare Donald Trump to a cartoon character.
7:33 p.m. Jindal argues that the Senate could kill the Iran deal by eliminating the filibuster, but Graham explains that it still wouldn't be able to overcome a veto. "The world is the way it is…the goal is to get [Obama] out of there," he says. The debate turns to the funding of Planned Parenthood and the potential of a government shutdown. "We can't shut the government down because it will make the Republican Party look bad going into the election," Graham says.
7:31 p.m. Brief Putin cameo: The Russian president's involvement in Syria is raised. Graham says Putin's presence in Syria is the result of "a weak and unqualified commander in chief who doesn't understand the role America plays in the world."
7:25 p.m. The candidates are asked about their opposition to the U.S. deal with Iran. Graham calls the deal a "nightmare for Israel" and says he would authorize a strike against Iran's nuclear facilities if he had to. Pataki says he would "reject this deal on day one," and says Hillary Clinton shouldn't have supported the deal in part because she was a New York senator on September 11, 2001. Her work as secretary of state "reduced the Middle East to flames," he says. "If you poll Iranians and Iraqis, Shiites in the region, more than two-thirds of them believe that the end of the world is going to come about in their lifetime," Santorum says. "I'm going to stop a war. A nuclear Iran as The End."
7:17 p.m. Tapper points out that Santorum is the only candidate on stage who has proposed increasing the federal minimum wage. Graham says doing so would kill jobs, and suggests the free market, in which competing businesses would result in higher wages and greater job competition, would be a better solution. Santorum counters that less than 1 percent of Americans make the minimum wage. "The answer is: Republicans don't believe in a floor wage in America. Fine, you go ahead and make that case to the American public. I won't....If you're gonna talk to 90 percent of American workers…they work for a living. And Republicans are losing elections because we don't wanna talk about them."
7:11 p.m. Tapper asks about taxes on the wealthy, specifically whether hedge fund managers should have to pay higher taxes. Pataki says yes, calling the tax code thousands of pages of "incomprehensible gobbledygook," and Graham and Santorum second that sentiment. Jindal alludes to a broader rejiggering of the tax code, saying no American should be paying higher taxes.
7:09 p.m. It took an hour, but Benghazi is raised. Graham rhetorically asks Hillary Clinton "where the hell" she was that night, while also noting that he's one of few candidates to not have said nonstop negative things about the former secretary of state.
7:03 p.m. Tapper keeps the conversation on the Supreme Court, specifically on Chief Justice John Roberts, whom Graham and Santorum voted to confirm. Republicans need to make sure "we don't lose the judiciary for decades to come," Graham says, adding that "the court's at stake." Jindal says he will appoint "judges that are actually consistent with my values." The question is highly relevant for the next president: three justices—Scalia, Ginsburg and Kennedy—are over 80.
6:58 p.m. The conversation turns more officially to Kim Davis's incarceration. "Freedom of conscience" is the "trunk from which all other rights come from," Santorum says, adding that he would pass a "First Amendment Defense Act" that would provide for government officials who do not want to be complicit in acts that go agains their faith. Santorum says the Supreme Court was "abusive" and "superseded their authority" with its decision on same-sex marriage. "Wow...We're going to have a president that defies the Supreme Court because they don't agree?" Pataki counters. "If we do that, we don't have the rule of law." Jindal piles on, saying [facetiously] that he'd like the left to give Republicans "a list of jobs that Christians are not allowed to have." Graham adds: "Whether you're the wedding-cake baker or the gay couple…radical Islam would kill you all if they could."
6:51 p.m. The candidates are asked about Ahmed Mohamed, a ninth-grader who was arrested Wednesday after building a clock that school administrators thought was a bomb. Jindal cricitizes the arrest, but says he's "glad the police are careful."
"The biggest discrimination going on right now is against Christian business owners," Jindal says, referencing Kim Davis, a Kentucky town clerk who was arrested and subsequently released from jail after refusing to issue same-sex marriage licenses in Rowan County.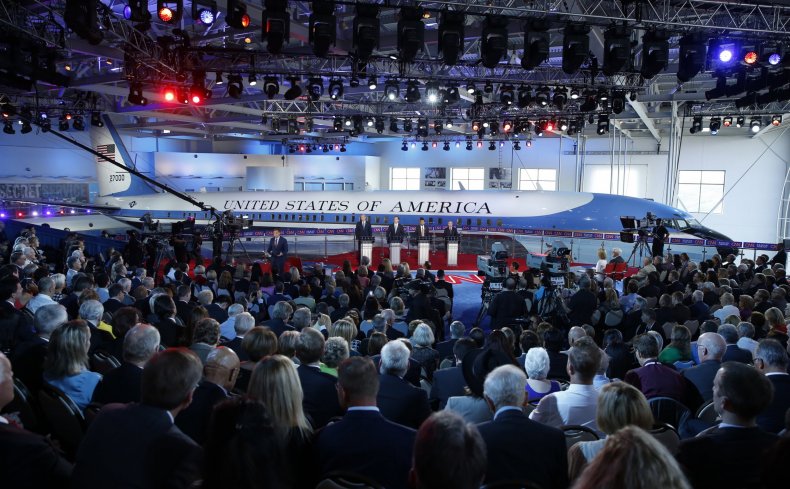 6:46 p.m. The debate turns to ISIS and how each candidate would contend with the group. "We're gonna pull the caliphate up by the root; we're gonna kill every one of those bastards we can find," Graham says. "In the Islamic world [ISIL] is seen as a legitimate caliphate," Santorum adds. Graham's question on whether the other candidates are willing to commit to American ground forces in Syria goes unanswered.
6:39 p.m. The candidates are asked about birthright citizenship. "I don't think we should tell that child that was born in America that we're going to send them back," Pataki says, suggesting that illegal immigrants do 200 hours of community service as a pathway to citizenship. The question devolves into a debate between Graham and Santorum, with the former touting the importance of legal immigration to benefits like Social Security and Medicare. "Strom Thurmond had four kids after he was 67; if you're not willing to do that, we need to come up with a new immigration system."
6:38 p.m. The conversation turns to immigration with a focus on Santorum and Jindal. "This debate should not be about what we're gonna do with someone who's here illegally," Santorum says. Jindal says he's not for amnesty, never has been and never will be. Santorum counters that the immigration debate should focus on wages for American workers, suggesting that many new jobs since 2000 have been taken by immigrants.
6:34 p.m. Graham is asked whether his long tenure in politics might be considered a liability in the race; he turns the conversation to the military. "It's an all volunteer force," Graham says. "When you vote for commander in chief, they are stuck with your choice. We've had one novice as commander in chief; let's don't replace one novice with another."
6:31 p.m. Pataki is asked about a tweet in which he said he would not support Donald Trump. He stands by his refusal to support Trump, while also emphatically denying that he would vote for a Democratic candidate like Hillary Clinton. "Donald Trump is not going to be the Republican nominee; I guarantee it," Pataki says. "He will do for America what he did for Atlantic City."
6:29 p.m. Graham is asked why Trump is polling so much better than candidates with arguably more traditionally conservative values. "If you looked at polling in 2012 and 2008 at this stage…we'd have President Perry and President Giuliani," he replies.
6:26 p.m. Jindal is asked about his having called GOP frontrunner Donald Trump a narcissistic egomanaic. "Let's stop treating Donald Trump like a Republican," he replies. "He's not a conservative…He believes in Donald Trump." This particular attack on Trump—that he is not a "real conservative"—is likely to be echoed by other candidates throughout the night, though it has yet to resonate with GOP voters.
6:23 p.m. In introductory remarks, the candidates tout their qualifications for the presidency. Santorum credits himself with "[fighting] to end welfare as we know it," while Jindal says he had the "backbone...to make sure we don't turn the American dream into the European nightmare." Graham, who notes that he is the only candidate to serve in the military during Ronald Reagan's presidency, says he is "running for president to destroy radical Islam."
Related: Who to follow on Twitter for CNN's 'undercard' GOP debate
Previous coverage: