The massive snowstorm that rocked the Northeast over the weekend continues to extract a toll with at least four deaths being linked to the bomb cyclone. According to police in Long Island, New York, two men died in the same town, Syosset, during the storm on Saturday, each in a separate incident related to snow shoveling.
Shoveling snow is known to be a common cause of injuries and worse. Speaking with USA Today earlier this month, one expert estimated that thousands are injured and dozens suffer heart attacks each year while clearing away snow. A study conducted on shoveling-related incidents from 1990 to 2006 reported over 1,600 deaths, all of which were the results of cardiac episodes.
At around 2:30 p.m. on Saturday, rescue crews went to the home of a 75-year-old man in Syosset. The man, whose name has not been released to the public, reportedly collapsed while shoveling snow dumped by the storm, according to PIX 11 News. Firefighters responding to the incident attempted to resuscitate the man before taking him to a nearby hospital, where he was pronounced dead.
Later that evening, around 10:40 p.m., another call came in about another Syosset man who had seemingly collapsed while shoveling snow. Upon arriving at the house, first responders found the man, 53, lying on the ground, unresponsive, and with a shovel nearby. He was also taken to a nearby hospital where he was pronounced dead. His identity has also not been disclosed by authorities.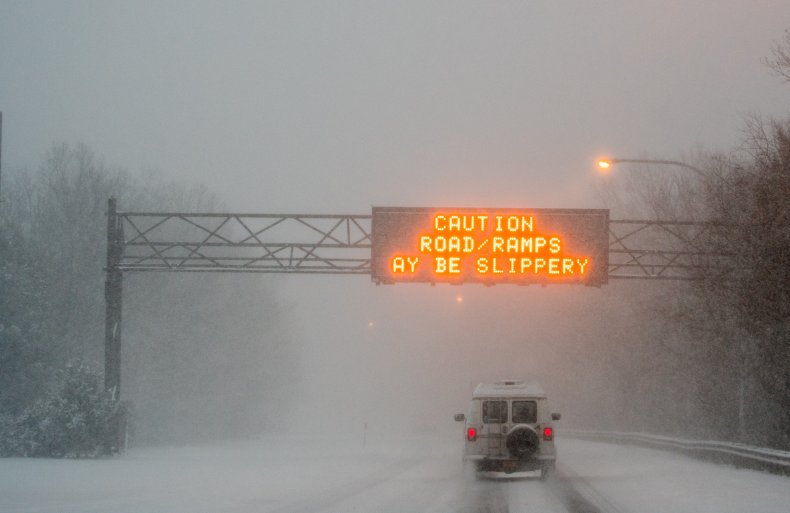 Police said that there is no criminal activity suspected in either incident. As of Sunday, the investigations into the deaths were still ongoing, according to PIX 11.
Also on Saturday, another snow-related death was reported in the town of Cutchogue, roughly 60 miles east of Syosset. Around 8:30 p.m., an unnamed man, described by police as elderly, reportedly collapsed into a swimming pool while shoveling snow. First responders pulled him from the pool and administered CPR.
The man was then taken to Stony Brook Eastern Long Island Hospital where he was pronounced dead, according to ABC 7 New York.
One other death related to the storm was also reported in Long Island. According to NBC New York, a snow plow driver in Uniondale found an elderly woman dead in her car on Saturday morning. Her cause of death is not yet known, but police believe that she may have suffered from a sudden medical issue and was unable to get help fast enough due to the snow.
Long Island was one of the regions hit the hardest by the winter storm over the weekend, with high winds and blizzard conditions. Some parts of Suffolk County reported as much as 2 feet of snow.
In general, medical professionals urge people over 45 to take it easy while shoveling snow, while some urge people over 55 to avoid it altogether. While some healthy people can handle the task at any age, the recommendation comes due to the general prevalence of heart issues in older adults.
"It's like doing a stress test," Dr. Luke Laffin, a cardiologist with the Cleveland Clinic, told USA Today. "I mean, it's peak exercise."
Updated, 10:30 a.m., 1/31/2022: Updated with information about additional death on Long Island linked to snowstorm.