3 Hospitalized After 'Intentional' Explosion on Christmas Morning in Nashville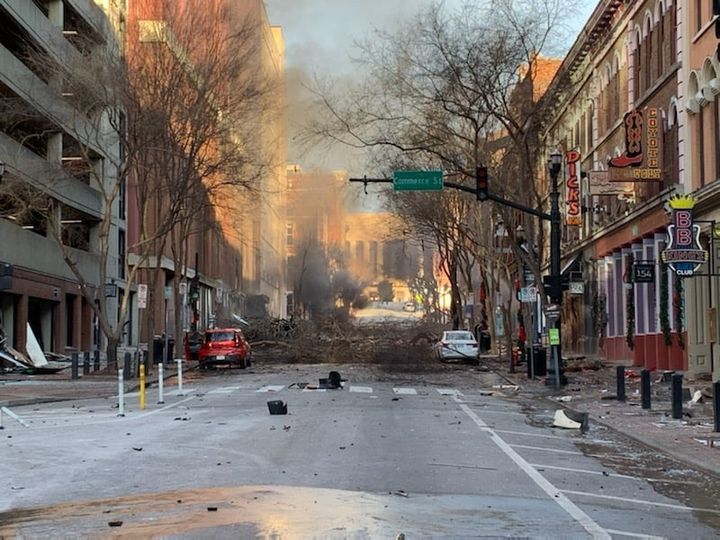 At least three people have been hospitalized after an "intentional" explosion on Christmas morning in Nashville, Tennessee, local police said.
The explosion took place around 6:30 a.m. as police officers were already on the scene following reports of a suspicious vehicle. "An explosion linked to a vehicle occurred at 6:30 this morning outside 166 2nd Ave N downtown. Investigation active by MNPD & federal partners," the Metro Nashville Police Department said via Twitter on Friday morning.
In a follow-up post, the police said that the FBI and the Bureau of Alcohol, Tobacco, Firearms and Explosives were on the scene investigating.
"MNPD, FBI & ATF investigating the 6:30 a.m. explosion on 2nd Ave N linked to a vehicle. This appears to have been an intentional act. Law enforcement is closing downtown streets as investigation continues," the police said, sharing an image from the blast.
"FBI Memphis, in coordination with our state and local partners, is taking the lead in the investigation of the explosion in Nashville, TN," the FBI told Newsweek in an emailed statement.
Police said that at least three people were injured and hospitalized due to the blast, The Tennessean reported. Mayor John Cooper told reporters that the downtown area where the blast occurred was largely empty due to the Christmas holiday. News Channel 5 Nashville reported that the injuries were not believed to be serious and that they included one first responder suffering from hearing loss after the blast.
"It looks like a bomb went off," Cooper said. Although he emphasized the structural damage to the buildings in the area, Cooper suggested it was somewhat fortunate that the explosion took place on Christmas when most people were at home with their families and not in the downtown area.
The mayor's office referred Newsweek to Cooper's social media for further comment. On Twitter, Cooper wrote: "The cause of the explosion is under investigation with help from federal authorities. MNPD will share updates as they become available and is restricting downtown traffic. Be safe Nashville. Thank you to our emergency personnel for your quick response."
The Nashville Police did not immediately respond to Newsweek's request for comment. On Twitter, the department said that it had dispatched canine unites to sweep the downtown area for possible additional explosives. "Traffic downtown is restricted," police said in the post.
The downtown area has been sealed off and police and the mayor have urged the public not to come to the area. Cooper told reporters that there is lots of broken glass and debris, but does not appear to be major structural damage. He thanked the police and fire department for doing an "excellent" job in responding to the situation.
"I'm sure it will take awhile to piece together all the events of this morning," Cooper said. He said it would be "awhile" to clear the debris and to inspect the surrounding buildings to check for any significant structural damage. Multiple water mains were broken and flowing water streams could be seen in footage from the blast.
Tennessee's Governor Bill Lee post to Twitter about the blast on Friday morning as well.
"Early this morning, an explosion occurred in downtown Nashville around Second Avenue and Commerce Street. Federal, state and local law enforcement partners are on the scene to investigate what we believe was an intentional act," Lee wrote.
"We will supply all of the resources needed to determine what happened and who was responsible. Please join @MariaLeeTN and me in praying for those who were injured and we thank all of our first responders who acted so quickly this morning," he added.
Judd Deere, deputy White House press secretary, told Newsweek in an emailed statement that President Donald Trump had been briefed on the blast.
"President Trump has been briefed on the explosion in Nashville, Tennessee, and will continue to receive regular updates. The President is grateful for the incredible first responders and praying for those who were injured," Deere said.
Updated December 25, 2020 at 12:13 p.m. ET: A statement from the White House has been added.
Updated December 25, 2020 at 11:58 a.m. ET: Further information has been added to this developing news story.