3 Houston Emergency Rooms Close Amid COVID Surge
A health care system in Houston closed three of its emergency rooms Monday in response to the strain the current COVID-19 surge is placing on its workers.
Memorial Hermann announced the temporary closures in a statement shared with local media outlets on Monday and confirmed those locations with Newsweek on Tuesday.
"As COVID-19 continues to rapidly surge in the Greater Houston area, and with hospitalizations exceeding prior surge volumes, our workforce is being pushed to the limit," the statement said. "We are actively pursuing all solutions to help ease the burden on our hardworking frontline staff and ensure that we continue providing safe, high-quality care to all those who need it."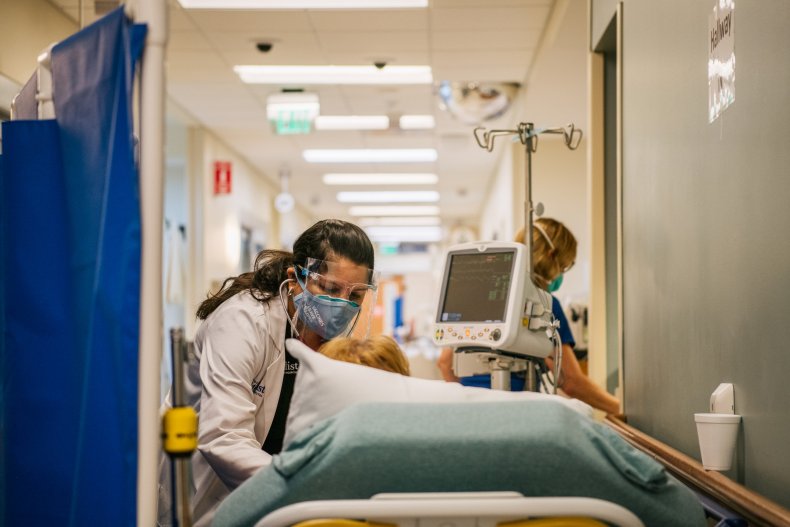 The 24-hour emergency rooms at Convenient Care Centers in Kingwood, Sienna and Spring are listed as closed "until further notice" on Memorial Hermann's website. Each care center's emergency room page says patients who were until Monday receiving treatment at one of the impacted locations will be either discharged or transferred to a location that is still open. Individuals who would have sought out treatment at one of the three emergency rooms were encouraged to seek treatment at another emergency room nearby.
The temporary closures were implemented so staff members could be shifted to other locations "where their help is critically needed," according to Memorial Hermann.
"It also eliminates the need to transfer these patients to the main hospital for admission, if necessary," the health care system's statement said.
Kathryn Williams, a member of Memorial Hermann's communications team, told Newsweek that while the three emergency rooms are closed, other services offered at the Convenient Care Centers in Kingwood, Sienna and Spring remain available. It is not yet known when the three emergency rooms will reopen or if other emergency rooms may need to be added to the list of temporary closures.
"We are continually monitoring the situation and will keep adjusting our response to the current surge, as necessary," Williams said.
Earlier this month, Memorial Hermann implemented a ban on visitors at all of its facilities due to the "alarming rate" of virus infections in Houston and other parts of Harris County. As of Monday, the seven-day average of new COVID-19 infections in Harris County was about 310 per 100,000 residents. At that rate, the county remained under its "severe" COVID-19 threat level, which is defined as a situation in which "outbreaks are present and worsening and public health capacity is strained or exceeded."
By Monday, Harris County Public Health reported a total of 479,547 infections since the pandemic began. Nearly 58 percent of Harris County residents were partially vaccinated against the virus and less than 48 percent were fully vaccinated by the start of the week, according to county health data.