3 Key Takeaways From Joe Biden's Phone Call With Vladimir Putin
U.S. President Joe Biden encouraged Russia to de-escalate growing tensions with Ukraine during a Thursday phone call with Russian President Vladimir Putin.
Biden told Putin that the United States and its allies will "respond decisively" if Russia escalates tensions by further invading Ukraine, White House press secretary Jen Psaki said in a statement released Thursday evening.
De-escalation in Ukraine, support for diplomatic talks during next month's Strategic Stability Dialogue, and "de-escalation rather than escalation" were the key points of Biden's conversation with Putin, according to Psaki's statement about the call.
Biden was expected to push for de-escalation during the call, a U.S. senior administration official told reporters on Wednesday. In addition to addressing concerns about Ukraine, Biden "expressed support for diplomacy" ahead of the discussions between U.S. and Russian officials that are scheduled to take place starting January 10 in Geneva, Switzerland.
"President Biden reiterated that substantive progress in these dialogues can occur only in an environment of de-escalation rather than escalation," Psaki said.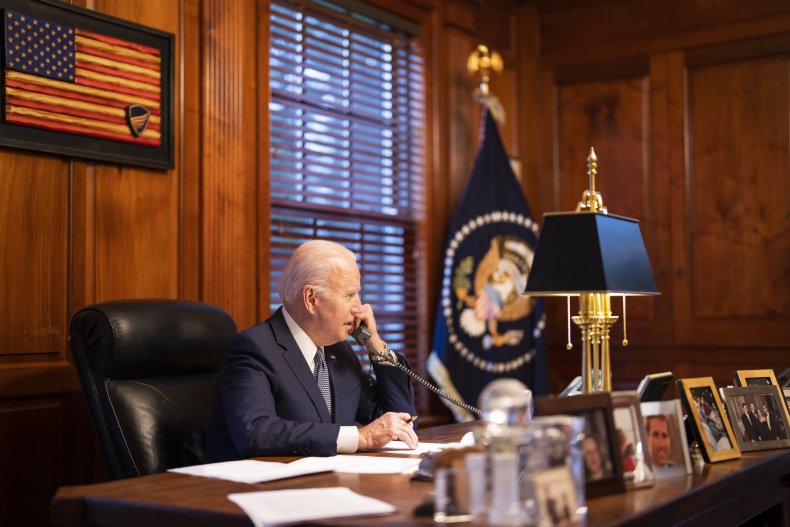 The White House said Thursday's call began at 3:35 p.m. ET and lasted for about 50 minutes. It was the second call this month between Biden and Putin, who held an earlier video call on December 7.
Later Thursday, another U.S. senior administration official held a background call with reporters about the presidents' "serious and substantive" call, which they said sought to set the "tone and tenor" for upcoming diplomatic conversations. That official said Biden "laid out two paths" for the U.S. that they added would "really depend on Russia's actions in the period ahead." The first path was identified by the official as one of diplomacy and the second was "more focused on deterrence," which they added would include "serious costs" if Russia invades Ukraine further.
The official told reporters Biden and Putin also talked about "the importance of pragmatic, results-oriented diplomacy" in regards to the nations' scheduled meetings next month.
"President Biden was very clear that the United States will be operating on the principle of 'nothing about you without you': no conversations about issues that are of ultimate concern to our partners and allies without the full consultation and participation of our partners and allies—which President Putin said that he understood," the official said.
The U.S. will continue discussions with its allies in the days leading up to those January conversations in Geneva, they added.
A senior Biden administration official told reporters the day before the presidents' call that Biden intended to reiterate calls for Russia to de-escalate its military presence along the border of Ukraine. The president planned to stress that the U.S. is "prepared for diplomacy" but is "also prepared to respond if Russia advances with a further invasion of Ukraine," the official said.
That response could include "severe" sanctions, reinforcement of the North Atlantic Treaty Organization's (NATO) force posture, and further assistance to Ukraine if an invasion by Russian troops occurs.
Yuri Ushakov, Putin's foreign affairs adviser, told The Associated Press that Biden warned Putin during the call about the possibility of additional sanctions if Russia escalates the situation in Ukraine. Putin responded by saying that action would break ties between the two nations, according to Ushakov.
Biden also planned to tell Putin that the U.S. was prepared to pursue diplomacy, according to the official.
"President Biden will make clear that there is a diplomatic path to deescalating tensions in the region if President Putin is interested in taking it," they said Wednesday.
Russia has in recent weeks asked NATO to refuse membership to Ukraine and other Eastern European countries that were previously part of the Soviet Union. The country has also instructed the U.S. and allied countries to remove or reduce their military support for Ukraine.
On Wednesday, U.S. Secretary of State Antony Blinken spoke with Ukraine President Volodymyr Zelensky by phone. After the call, Zelensky tweeted that the U.S. said it will provide "full" support against "Russian aggression."
The requests Russia made earlier this month are expected to be part of the discussions scheduled to begin on January 10. The Biden administration official told reporters on Wednesday that Biden and Putin were also expected to talk about those anticipated discussions during their Thursday call.
Update 12/30/21, 8 p.m. ET: This article has been updated to include additional information from a senior official with the Biden administration.
Update 12/30/21, 6:11 p.m. ET: This article has been updated with additional information and background.