3 Kids, 1 Woman Found Dead in 'Gruesome' Slayings; Manhunt Underway
Fort Wayne, Indiana, police are searching for Cohen Bennett Hancz-Barron, a 21-year-old they suspected of being involved in the murder of a woman and three children.
Police responded to a home on Gay Street on Wednesday morning after receiving a call for an "unknown problem." When officers arrived, they found four people had been killed, including three children who Fort Wayne police spokesman Jeremy Webb identified as being "very young."
Webb told Newsweek that police haven't identified what the relationship is between the woman and the three children, so it's unclear if she was their mother at this time. He called it a "gruesome" scene, which he said was in reference to the fact that three children were murdered. He did not elaborate on how the victims were killed.
When police arrived on the scene they found family and friends who had information regarding what may have transpired. Webb told Newsweek a family member or a friend dropped the suspect's name. Police found some evidence to substantiate Hancz-Barron as a suspect.
"I don't think they witnessed it, but they seemed to have an idea of who had done it," Webb said.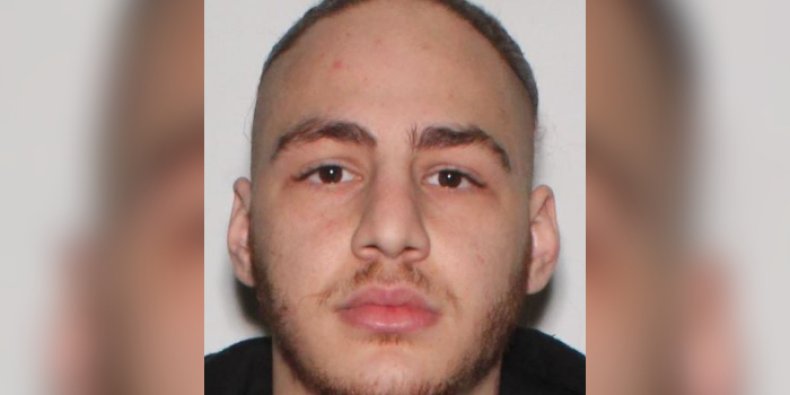 Police were called to the scene at 10:45 Wednesday morning, but Webb believes the murder happened around five or six a.m., so that's when someone may have seen the suspect leaving. He had yet to look into whether police had been called to the address previously.
Hancz-Barron was last seen driving a black Ford F-159 truck with stock rims and a license plate that said "RASHAD." Police believe the car was stolen earlier Wednesday morning. He is described as being 6 feet tall and about 250 pounds and may have recently dyed his hair red.
Police are asking the public for help in locating him and warned that he is considered "armed and extremely dangerous."
"We do know that he did know the victims, but we don't know what the relationship was," Webb told reporters.
Given that the car was stolen, Webb told Newsweek it's possible that Hancz-Barron dumped it somewhere and is now in a different vehicle. They also don't know if he's still in town or if he left the area.
Anyone who sees him or knows something about the murder can dial 911, contact Crime Stoppers or use the P3 mobile application. Webb explained that people often prefer using the application to submit tips because it's not only completely anonymous, but it's strictly the information they provided and there's no recording of their voice.