3 Major U.S. Airlines Have Banned Over 1,200 Passengers for Not Wearing Masks
As the coronavirus pandemic continues to spike throughout the U.S., several airlines are enforcing strict safety measures aboard an aircraft, with the majority of them requiring a face covering at all times throughout a flight. Three major U.S. airlines—Delta, United and JetBlue—have banned a total of more than 1,200 passengers from future flights for refusing to wear a mask on board.
In a Wednesday statement, Delta CEO Ed Bastian said that nearly 700 passengers were placed on a no-fly list so far for refusing to comply with the airline's face covering policy, which Bastian considers "one of our most important safety tools." Delta's policy states that "customers and employees are required to wear a face mask or appropriate cloth face covering over their nose and mouth throughout their travel," and cites guidelines from the Centers for Disease Control and Prevention (CDC) that recommend wearing masks to slow the spread of COVID-19.
But Delta isn't the only airline banning passengers as a consequence for noncompliance: United and JetBlue also have ongoing no-fly lists naming 435 and 88 passengers, respectively. That means more than 1,200 customers have been banned from flying at least one of those airlines for this reason.
A spokesperson for United Airlines told Newsweek that the ban will be enforced "for at least the time that United's mandatory face covering policy is in effect." It is unclear whether Delta or JetBlue will make their no-fly list permanent.
A JetBlue spokesperson said that the airline—the first in the U.S. to require face coverings on flights—reviews passengers' eligibility to fly JetBlue in the future if they don't comply with the requirement.
"We are extremely grateful to our crewmembers who are focused on ensuring our customers are complying with our face covering requirements and to our customers who tell us how important this requirement is toward keeping one another healthy and safe," the spokesperson told Newsweek in an email. "As we have said previously, customers who do not comply are reviewed for future travel eligibility on JetBlue."
Both Southwest and American Airlines noted that they don't track mask noncompliance for public release. A spokesperson for Southwest Airlines mentioned that the company's approach is to prevent people who won't wear masks from boarding the plane in the first place, informing them of the mandatory face covering policy prior to travel.
"Southwest also communicates this policy in pre-trip communications and expects compliance to this policy as a measure to prevent the need to ban a customer from future travel," the spokesperson said.
Meanwhile, American Airlines spokesperson Curtis Blessing told Newsweek that the majority of passengers follow the appropriate safety measures on board.
"We expect our customers to comply with our policies when they choose to travel with us, and we take action when that is not the case, but the vast majority of our customers have supported and welcomed our continuing efforts to strengthen our face covering policy based on the CDC's guidance," Blessing said.
"American, like other U.S. airlines, began requiring customers to wear a face covering while on board aircraft beginning May 11," he continued. "We have since strengthened our policy to require face coverings be worn at airports and on board, and announced in June that we may deny future travel for customers who refuse to wear a face covering for the duration of this requirement."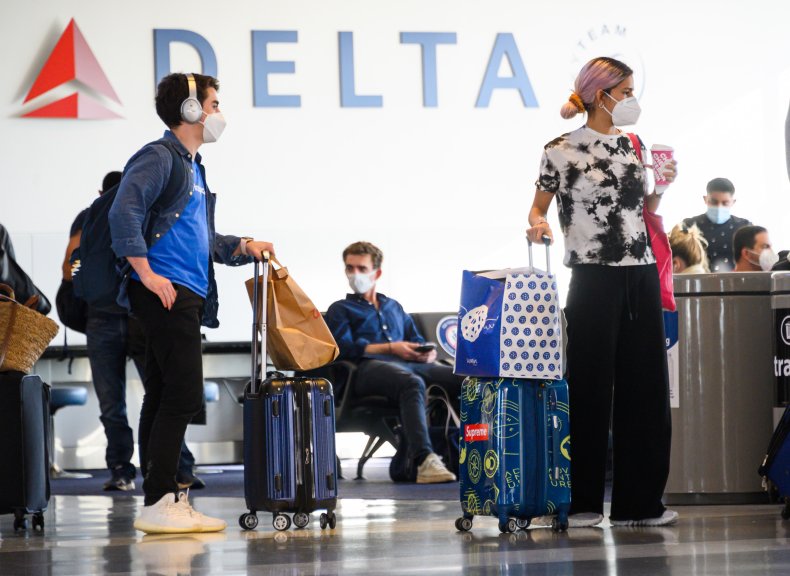 All aforementioned airlines have extra face masks available on board and clean the aircraft before every flight, according to their respective websites. Delta doesn't currently sell the middle seat in order to maintain social distancing.
United Airlines announced Wednesday that it will be extending its cancelation of change fees for basic economy tickets and international tickets to March 31, 2021, following Delta, American and Alaska Airlines announcing their plans to permanently eliminate change fees on international flights.
In Wednesday's statement, Bastian noted that Delta will play "an active role" in the vaccine distribution process, which is expected to begin in the U.S. next week. He says that Delta will start "effectively and quickly transporting vaccines at home and around the world" in light of drug companies Pfizer and Moderna applying for emergency use authorization for their coronavirus vaccines from the Food and Drug Administration following results showing 95 and 94 percent efficacy, respectively.
"The vaccination of our people will be a decisive turning point towards restoring our normal lives, both at Delta and within our families and communities," Bastian said.
"To that end, we've refined our pharmaceutical delivery protocols to ensure safe and swift distribution of vaccines as they reach final approval," he added.