The three white men accused of violating Ahmaud Arbery's civil rights and targeting him because he was Black were convicted of a federal hate crime on Tuesday in Brunswick, Georgia, the Associated Press reported.
Father and son Greg and Travis McMichael and their neighbor William "Roddie" Bryan had been charged with attempted kidnapping and interference with rights, which is a hate crime, CNN reported. Prosecutors had alleged that they targeted Arbery because of his race.
The defendants were found guilty on all counts, and the McMichaels were also convicted of an additional charge for using and carrying a firearm during a violent crime, according to CNN.
The McMichaels and Bryan have all already been convicted of murder for Arbery's death and sentenced to life in prison. All three men had pleaded not guilty to the charges in the hate crimes trial, AP reported.
In February of 2020, the McMichaels grabbed guns and pursued Arbery in a pickup truck after seeing him running in their Georgia neighborhood. Bryan joined the father and son in his own pickup and ultimately took the cellphone video of Travis McMichael fatally shooting Arbery, AP reported.
The guilty verdict came the day before the second anniversary of Arbery's death, which occurred on February 23, 2020. His mother, Wanda Cooper-Jones, already recognized the timing of the conclusion of the hate crimes trial, CNN reported.
"The anniversary date is the 23rd, and hopefully we'll have a good verdict by the 23rd," she said.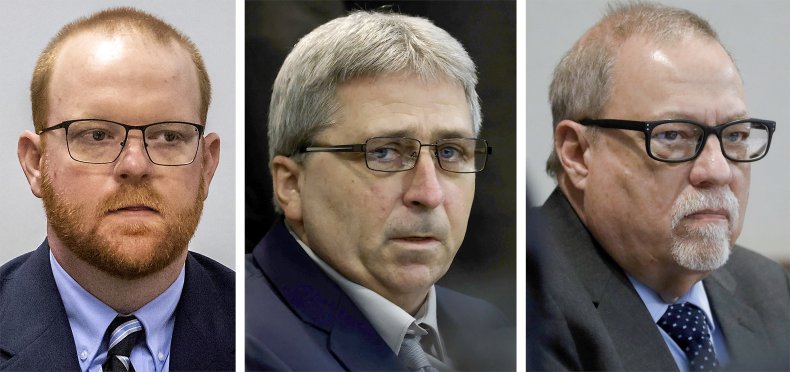 During the weeklong trial, prosecutors presented text messages and social media posts in which Travis McMichael and Bryan used racial slurs and made derogatory comments aimed at Black people, AP reported. Because Greg McMichael's phone was encrypted, the FBI wasn't able to access its contents.
Some of the witnesses who testified detailed comments they allegedly heard the McMichaels make in person. One woman said during the trial that Greg McMichael once said, "All those Blacks are nothing but trouble," after she commented on the death of civil rights activist Julian Bond, AP reported.
Defense attorneys argued that the defendants didn't pursue and kill Arbery because of his race, but because of their suspicion, albeit a false one, that Arbery was responsible for crimes in their neighborhood.
Arbery's death, particularly the footage taken by Bryan that was leaked online, helped spur a nationwide conversation and protests against racial injustice in the U.S.
As the guilty verdicts were read in the courtroom, Arbery's father, Marcus Arbery Sr., bowed his head and shook his fists in triumph, AP reported.
After emerging from the courthouse with Cooper-Jones and attorney Ben Crump, Marcus Arbery told reporters that his son "was a kid you can't replace, because of the heart he had."
"I'm struggling with that every day," he said. "It hurts me every day."
Cooper-Jones said that the family will never actually get to experience "victory because Ahmaud is gone forever," but also said that he will "now begin to rest in power."
Update 2/22/22, 12:58 p.m. ET: This story has been updated with additional information and background.