3 Million People Could Be Eligible for a Stimulus Check in These Four States
More than 30 percent of people who may be eligible for a stimulus check but have yet to claim one are concentrated in four states: California, Florida, Texas and New York.
Six months after the IRS started sending out the relief payments allocated under the Coronavirus Aid, Relief and Economic Security (CARES) Act, 9 million people who haven't received a payment may be eligible. As a final effort to ensure everyone who is eligible for a payment receives one, the IRS will send letters to these people, and it shared a state-by-state breakdown to help local leaders engage in their communities.
California, the state with the highest number of potentially unclaimed payments, had 1,186,896 people on the IRS' list. Texas had the second-highest number of people who have yet to claim payments they may be entitled to receive, at 796,525, followed by Florida and New York with 567,425 and 537,726, respectively, for a total of 3,088,572.
"The IRS continues to work hard to reach people eligible for these payments.... Time is running out to claim a payment before the deadline," IRS Commissioner Chuck Rettig said in a statement.
People receiving the letter typically aren't required to file federal income tax returns, most likely because they have very low incomes, the IRS said. However, that doesn't disqualify them from a payment, and the IRS urged them to use the Non-Filer tool to register for a payment before the October 15 deadline. The tool is designed for people with incomes below $12,200 or married couples filing jointly with incomes below $24,400.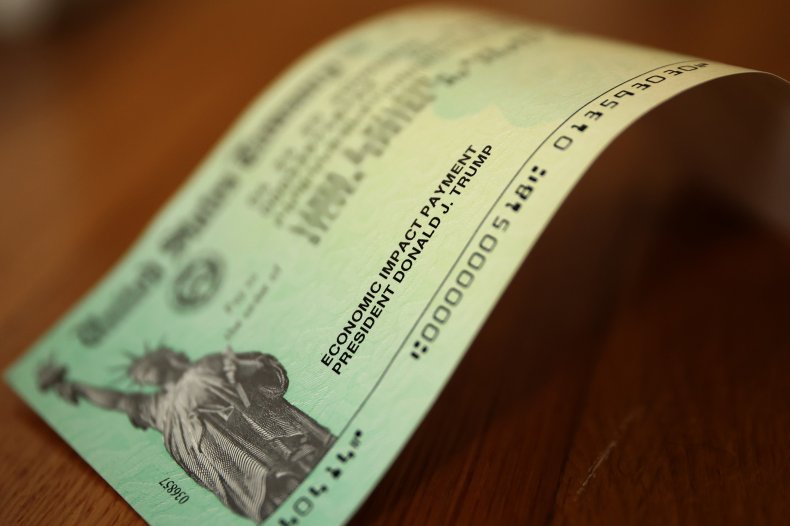 Receiving a letter doesn't guarantee a person is eligible for a payment, and the person must still be a U.S. citizen or resident alien, have a work-eligible Social Security number and can't be claimed as someone else's dependent.
Under the CARES Act, eligible people with incomes below $75,000 received a $1,200 payment, with $2,400 allocated for joint filers with incomes of $150,000 or less. People with children under 17 could receive a $500 payment for each child, and the same payments are allocated for people using the Non-Filers tool.
Talks of a second stimulus check started shortly after the CARES Act was passed in March, and it's a measure that both Democrats and Republicans agree on. However, other provisions of a future package, including aid to state and local governments, put negotiations into a stalemate.
After more than a month of no progress, the Problem Solvers Caucus, a bipartisan group of lawmakers, released a proposal of their own that blended desires from both sides of the aisle. Under the proposal, people would receive another $1,200 check, and a provision of the measure allows for a third payment in March if economic conditions warrant.
Although it is encouraging that bipartisan lawmakers signed onto the proposal and Speaker Nancy Pelosi plans to keep the House in session until a deal is reached, White House chief of staff Mark Meadows said state and local funding is still a stumbling block. If a deal is reached, payments could start going out the week after, Treasury Secretary Steve Mnuchin said.
To speed up the timeline for receiving their first payment, the IRS recommended that people using the Non-Filers tool choose to receive the money through direct deposit. In the event there's another round of payments, direct deposit can significantly reduce the time a person has to wait to receive the funds.
Newsweek reached out to the IRS for comment but did not receive a response in time for publication.
3 Million People Could Be Eligible for a Stimulus Check in These Four States | U.S.