3 Minneapolis Officers Charged in George Floyd's Death Hours After Family's Attorney Demands Arrest Before Memorial
Three former Minneapolis police officers–Tou Thao, J. Alexander Kueng and Thomas Lane–were charged with aiding and abetting second-degree murder and aiding and abetting second-degree manslaughter for George Floyd's death on Wednesday, and charges against former officer Derek Chauvin were elevated to second-degree murder.
Ben Crump, Floyd's family attorney, called for charges to be filed against the remaining three men earlier in the day. During a press conference at a makeshift memorial erected at the site of Floyd's death, Crump demanded justice and said they expect all the officers would be arrested before the memorial on Thursday.
"We cannot have two justice systems in America–one for black America and one for white America," Crump said. "We must have equal justice for the United States of America and change is going to come in the tragic canon of George Floyd."
Floyd's death has sparked days-long protests in cities nationwide and while daytime demonstrations have largely been peaceful, a starkly different scene emerges at night. Rioters set fire to buildings and cars, looted stores and shut down roads, and multiple officers and civilians have died in connection to the eruption of violence.
Some state and local officials deployed the National Guard to help mitigate the situation and President Donald Trump issued a warning on Tuesday: gain control or I will. If a city or state doesn't take the necessary actions to "defend the life and property of their residents," Trump said on Monday that he'll deploy the military and "quickly solve the problem for them."
"All Americans were rightly sickened and revolted by the brutal death of George Floyd," Trump said. "...But we cannot allow the righteous cries and peaceful protesters to be drowned out by an angry mob."
On Monday, Floyd's brother, Terrance Floyd, called for peace while speaking at the memorial site. He acknowledged people were upset but added the caveat that they're not "half as upset as I am." So, if he's not "blowing stuff up," or "messing up my community," he questioned why others were engaging in destructive behavior.
"Y'all doing nothing because that's not going to bring my brother back at all," Terrence said. "My family is a peaceful family. My family is God-fearing."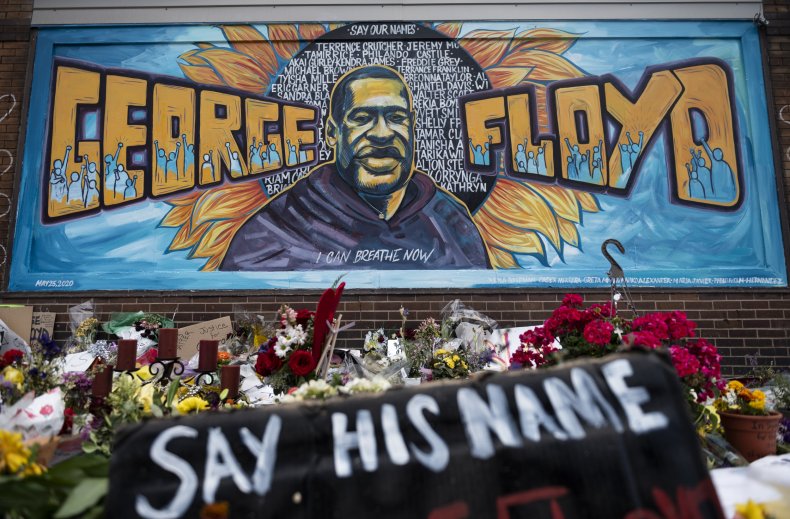 Instead of expressing their anger by destroying property, he encouraged people to vote and educate themselves to make change happen.
Crump called Floyd's death the "tipping point" to change in America. It's the moment when, in his opinion, the world will see if America "truly believes in the words of Thomas Jefferson."
"That we hold these truths to be self-evident that all men are created equally that they're endowed by their creator with certain inalienable rights that amongst them are life, liberty and the pursuit of happiness," Crump said, paraphrasing the preamble of the Declaration of Independence, written by Jefferson. "In America, that means black people too."
All four officers involved were fired from the Minneapolis Police Department on May 26, one day after Floyd's death. The termination did little to squelch demands for justice and after days of urging patience and cautioning against jumping to charge, Hennepin County Attorney Mike Freeman announced on Friday that Chauvin was charged with third-degree murder and second-degree manslaughter.
He said they have enough admissible evidence to "prove the case beyond a reasonable doubt," but wouldn't share details on the "final piece" that made the charges possible.
Under Minnesota sentencing guidelines, third-degree murder is punishable by 12 and a half years in prison. Second-degree murder doubles that amount of jail time to 25 and a half years.
Newsweek reached out to Thomas Kelly, Chauvin's attorney, but did not receive a response in time for publication.
Frustrations abounded over the lack of charges against the other three officers and Freeman said they started with Chauvin because they felt he presented the biggest threat, as he was the one who was filmed kneeling on Floyd's neck. Crump and Floyd's family advocated for Chauvin to face first-degree murder charges.
When it comes to culpability, Minneapolis Police Chief Medaria Arradondo agreed with Crump and said they're all equally guilty.
"Being silent or not intervening, to me you're complicit, So I don't see a level of distinction," Arradondo said. "Mr. Floyd died in our hands so I see that as being complicit."
An independent autopsy and the Hennepin County Medical Examiner both ruled Floyd's death to be a homicide. However, they differed on how it happened. The Hennepin County Medical Examiner's report said the 46-year-old died of "cardiopulmonary arrest complicating law enforcement subdual, restraint and neck compression," and found "significant conditions" of "fentanyl intoxication" "arteriosclerotic and hypertensive heart disease" and "recent methamphetamine use."
The independent autopsy, conducted by Dr. Allecia Wilson and Dr. Michael Baden on behalf of Floyd's family, determined he died of "mechanical asphyxiation." Baden said he found no underlying conditions that contributed to his death and that he was in good health.
"He died because he was starving for air," Crump said on Tuesday. "It was supposed to be the police that were meant to protect and serve George Floyd because George Floyd was an American citizen and George Floyd was a human being. George Floyd deserved humanity."