3 Navy Sailors Stationed Aboard USS George H.W. Bush Died by Suicide Last Week, Four Since July
The United States Navy said it is investigating three apparent suicides in the last week, and another from July, all from members assigned to the aircraft carrier USS George H.W. Bush. None of the alleged suicides happened on the ship, and no supervisors or officers have been relieved of duty.
The Navy said that none of the four members served in the same departments, and that there is no motive at this point. The spokeswoman for the commander of Naval Air Force Atlantic told the Navy Times it appears there is no connection between the four deaths.
"The sailors did not serve in the same departments, and there does not appear to be a connection between their deaths," Cmdr. Jennifer Cragg said.
The USS Bush is currently in a 28-month planned dry dock at Norfolk Naval Shipyard in Virginia for extensive maintenance and repairs to prep the ship for more seafaring duties. The ship arrived for dry dock maintenance on February 21 this year, according to another Navy Times report.
The rash of suicides began in July when Norfolk police started an investigation of the death of Machinist Mate Third Class Petty Officer John Bartulewicz III, becoming the first USS Bush crew member to allegedly died by suicide since 2017.
Then within one week in September—one on September 14 and two on September 19, three more crew members died by suicide. They include: Electronics Technician (Nuclear) Chief Petty Officer James Harold Shelton, Aviation Ordnanceman First Class Petty Officer Vincent Michael Forline and Airman Ethan Thomas Lee Stuart.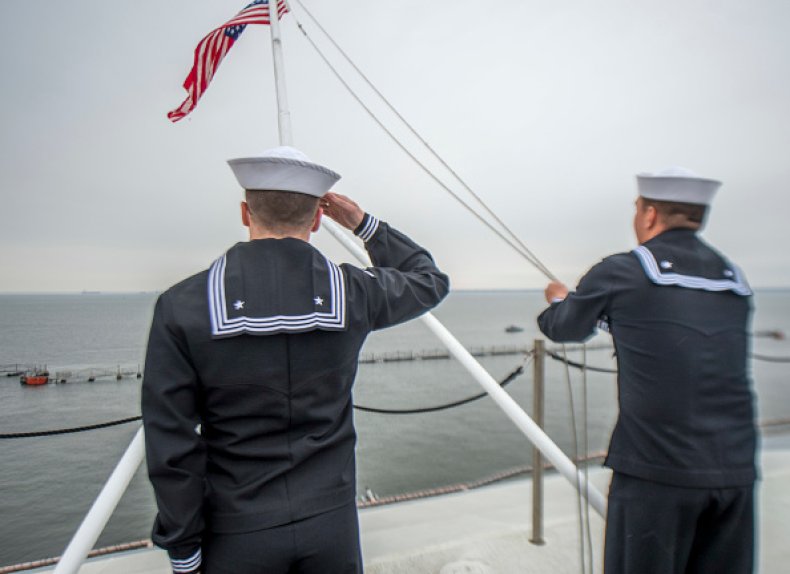 On a floating city like an aircraft carrier, crewmembers often become friends and "family," and even one suicide can have an effect on the entire crew. With four in three months—and three in a week—the ship's chaplain and other Navy chaplains, psychologists and counselors have spent time helping the Bush crew deal with the suicides.
"As a crew and as a family, they are grieving. They are supporting each other, and are comforting those in need," said Cragg, who added that a group called SPRINT—special psychiatric rapid intervention team—was also aboard to help crew members cope.
The Navy released records earlier this month that there had been 46 active duty members and four reservists who have died by suicide from January 1 until September 5. The number of suicides and self-inflicted deaths in the Navy has gradually increased since 2016 when there were 52. In 2018 there were 68, which is about 20.7 per 100,000 members.
The civilian rate for suicides in the United States is approximately 26.8 per 100,000 people, according to 2016 statistics.
If you have thoughts of suicide, confidential help is available for free at the National Suicide Prevention Lifeline. Call 1-800-273-8255. The line is available 24 hours every day.