3 NFL Head Coaches Fined $100K Apiece For Not Wearing Protective Masks
Three NFL coaches and their respective teams could see fines totaling more than $1 million for not wearing protective masks during their games, which are televised nationally. The coaches all lead teams in Western and Rocky Mountain states of California, Colorado and Washington.
As the NFL has kicked off the 2020 season with COVID-19 safety precautions in place—from the sidelines to the stands—there have been warnings to those who do not abide by the guidelines. Now as the second week of the regular season comes to a conclusion, fines have been handed down to teams and coaches for not wearing protective masks.
"NFL fined three head coaches - - Denver's Vic Fangio, Seattle's Pete Carroll and SF's Kyle Shanahan - $100,000 each for not wearing masks Sunday, and each of their teams another $250,000, sources told ESPN," according to ESPN's Adam Schefter. "So that's $1.05 million dollars in fines for not wearing masks.
So, by doing the math, each of these three teams would pay a $350,000 fine, totaling $1,050,000 for their head coaches not wearing protective masks on the sidelines.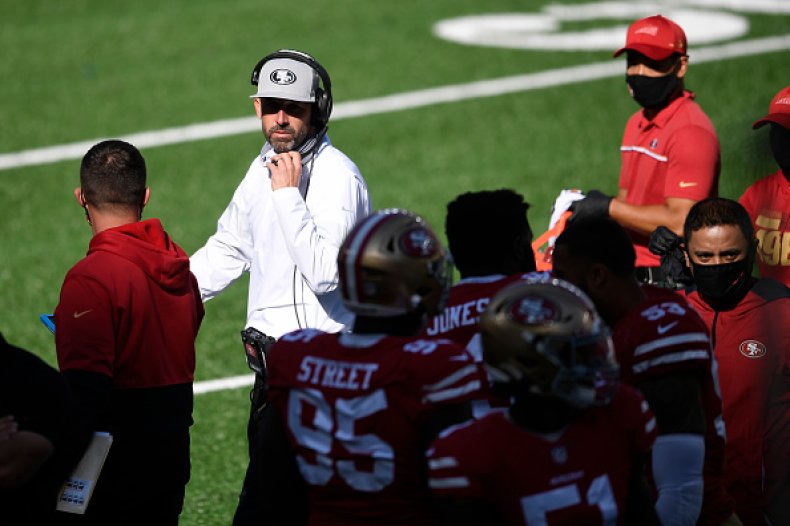 Troy Vincent, the executive vice president for the league's operations, wrote the message to those coaches. This comes after coaches around the league weren't too compliant during the league's first week. Furthermore, the fines handed out Monday happened before Monday night's game between the New Orleans Saints and Las Vegas Raiders, played at the new Allegiant Stadium in Las Vegas. Saints coach Sean Payton and Raiders coach Jon Gruden were seen loosely wearing masks during the game, which Las Vegas won, 34-24.
Many people thought the NFL season would never happen when the coronavirus began sweeping its way around the world just six months ago.
Sports around the globe shut down indefinitely in March with the spread of COVID-19, also known as the coronavirus pandemic. The NBA and NHL postponed their regular seasons and start of the playoffs until further notice. College sports canceled their seasons altogether through the end of the school year.
Although they all have started back up, they have done so with modified schedules and little-to-no in-person crowds.
The NFL has stood by its regular season, but has mostly played at empty stadiums so far. Part of the NFL's season getting kicked off was having precautionary measures set in place, like referees and team personnel wearing protective masks, including the coaching staff.
Few stadiums in the NFL have allowed fans at their games so far in 2020. The Dallas Cowboys had more than 20,000 last Sunday while the Miami Dolphins had a few thousand that same day.
More teams will start opening their gates to fans in the coming weeks. But the relaxing of protective masks by coaches and team personnel remains unseen at the time.