3 Officers Fired After Firing Into Crowd Leaving Football Game, Killing 8-Year-Old
The borough council in a town near Philadelphia voted on Thursday night to dismiss police officers Devon Smith, Sean Dolan and Brian Devaney following their involvement in the shooting death of 8-year-old Fanta Bility at a high school football game last year.
A grand jury on Tuesday recommended that the officers each be charged with 10 counts of reckless endangerment, one count of manslaughter and one count of involuntary manslaughter. The borough council vote was 6-1 in favor of firing, according to WPVI-TV.
The three officers were monitoring the crowd leaving the game atAcademy Park High School in Sharon Hill on August 27, the Associated Press reported.
Outside the school, Angelo "AJ" Ford, 16, and Hasein Strand, 19, got into an argument and exchanged gunfire, with two shots fired in the direction of the officers.
Believing a car parked in front of them was responsible for the gunfire, the officers fired 25 times toward it. Authorities later determined that the woman inside, Academy Park graduate Assiyah Easley and her passenger, Yasmin Mobley, were not responsible for the gunfire. The women were wounded, along with three other members of the crowd including Bility's older sister, Mamasu.
"They were shooting at us....I heard the shots coming past us and, you know, the next thing I know this car pulls up," Devaney told Sharon Hill Detective Vincent Port on the night of the shooting, according to the Philadelphia Inquirer.
Strand pleaded guilty to aggravated assault for his role in wounding one of the children in the crowd, as well as illegal possession of a firearm. He faces 32 to 64 months in prison, while Ford is facing charges involving an "attempt to kill Strand."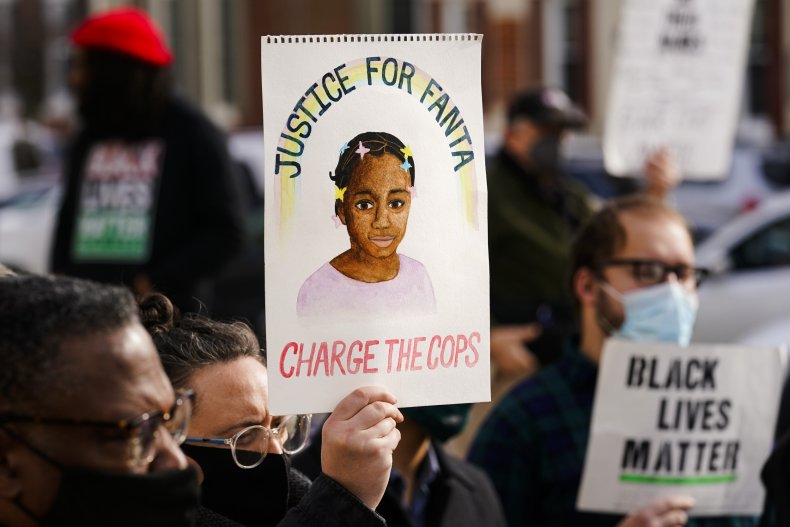 According to the Philadelphia Inquirer, the officers' actions were in direct violation of the department's use-of-force policy, which was established January of 2016. The policy prohibits officers from firing their weapons "when it appears likely that an innocent person may be injured." It also bars them from firing at moving vehicles unless in self-defense or defense of others.
"If someone is shooting at officers, they are presenting a threat of death or bodily harm," Seth Stoughton, a former police officer and criminal justice scholar at the University of South Carolina told the Philadelphia Inquirer.
"But if that person is standing in front of a crowd, that officer should not shoot back. Even though the force is proportional, it's not appropriate, given the higher chance that someone could be shot by an officer's bullet."
The charges against Strand and Ford in Bility's death were dropped, according to WPVI-TV.
"While I believe these defendants should be held accountable for starting the series of events that ultimately led to Fanta Bility's death, developments during the grand jury investigation render it appropriate to withdraw these charges at this time," Delaware County District Attorney Jack Stollsteimer told WPVI-TV.
Bail for the officers was set at $500,000 each.
"This is a sad day for our officers, who face criminal charges for trying to do their jobs and keeping the community safe," Joseph Fitzgerald, Delaware County Fraternal Order of Police Lodge 27 president, said in a statement, according to AP.
"The FOP continues to support these fine officers and will provide a vigorous defense against these allegations."