Thanksgiving Dessert Recipes: Easy Pumpkin Flavored Cookies, Cake and More
By the time Thanksgiving rolls around we are already well into pumpkin spice season, and possibly even a little sick of the flavor. However, the turkey-themed holiday provides those who crave that sweet and tangy taste a much-needed excuse to break out the autumnal fruit.
Read on for three quick and easy recipes for the perfect pumpkin-flavored desserts.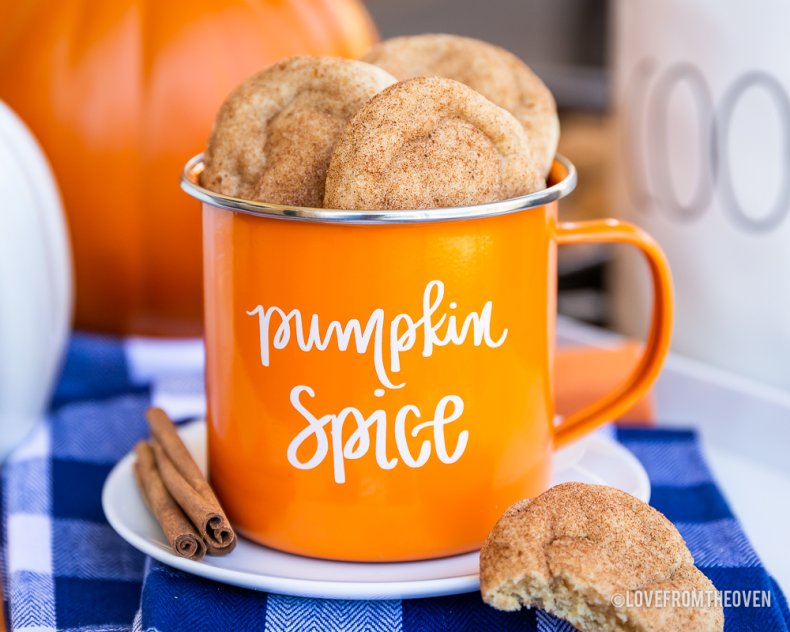 Pumpkin Caramel Cookies
"They are so delicious, but they are a bit sticky (hello, caramel!)," Christi Johnson, the brains behind independent foodie site Love From the Oven, said of her pumpkin caramel cookies. She continued: "You can't exactly throw them into a cookie jar together or they will become one gigantic cookie, which is not an entirely bad thing, depending on your feelings about large cookie consumption."
The recipe calls for:
1/2 cup butter softened
1/2 cup light brown sugar tightly packed
3/4 sugar
1 egg
3/4 heaping up of canned pumpkin puree (not pumpkin pie mix!)
2 teaspoons vanilla extract
2 1/2 cups all-purpose flour
2 teaspoons baking powder
2 teaspoons baking soda
1/2 teaspoon cornstarch
2 teaspoons cinnamon
1/2 teaspoon pumpkin pie spice
1/2 teaspoon salt
1/2 cup caramel sauce
sea salt for tops
To prepare the cookies, start by preheating the oven to 350 F. Beat butter, brown sugar and sugar into a frothy mixture. Add in egg, and then add vanilla and pumpkin into a well-combined mixture, as per Johnson's instructions.
In a separate bowl, place the flour, baking powder, baking soda, cornstarch, cinnamon, pumpkin pie spice and salt—and stir. Combine wet and dry ingredients before mixing in caramel sauce. However, be careful not to overmix the ingredients, Pittman cautioned.
Final steps include scooping the cookie dough onto parchment-lined baking sheets. Place cookies about two inches apart from one another and sprinkle the tops with sea salt. The cookies should bake for approximately 11-13 minutes.
One final note on serving: "Cookies are best when stored individually wrapped or in a container where they are not layered on top of each other," according to the Cook the Story blogger.
Birthday Cake-Flavored Pumpkin Seeds
This recipe is for the more health-conscious among us. Following the recipe— designed by Christine Pittman, the force behind foodie blog Cook the Story— should produce about four helpings of the tasty treat, and each serving is about 445 calories.
To create the snack, you'll need:
1 and 1/2 cups fresh pumpkin seeds (the amount you'll get from approximately one large pumpkin or from two pie pumpkins)
1/2 cup boxed white cake mix
2 tablespoons canola oil
After preheating the oven to 325 F, measure the dry cake mix into a medium-sized bowl, as per Pittman's directives. The pumpkin seeds should then be placed in a colander and rinsed with cold water.
After drying the pumpkin seeds, warm the canola oil over a medium heat, and add the pumpkin seeds (be careful to avoid grease splatters). Once cooked (should take about 5 minutes), transfer the hot seeds to the bowl of cake mix and stir until the seeds are thoroughly coated.
Spread the seeds on a parchment-lined baking sheet in a single layer. Bake the seeds for 18-22 minutes, or until golden brown. minutes. Remove from oven, set aside to cool. The seeds are best served at room temperature, Pittman noted.
Pumpkin Dump Cake
"This Pumpkin Dump Cake recipe is the perfect solution, if you don't feel like messing around with pie crust, but still want a fresh baked pumpkin dessert," wrote Mom Foodie blogger Robin Gagnon, who calls the recipe one of her "top picks" for Thanksgiving desserts.
"The pumpkin cake is almost like an upside down pumpkin pie...so no one will miss pie," she continued on the blog. "You won't miss the work."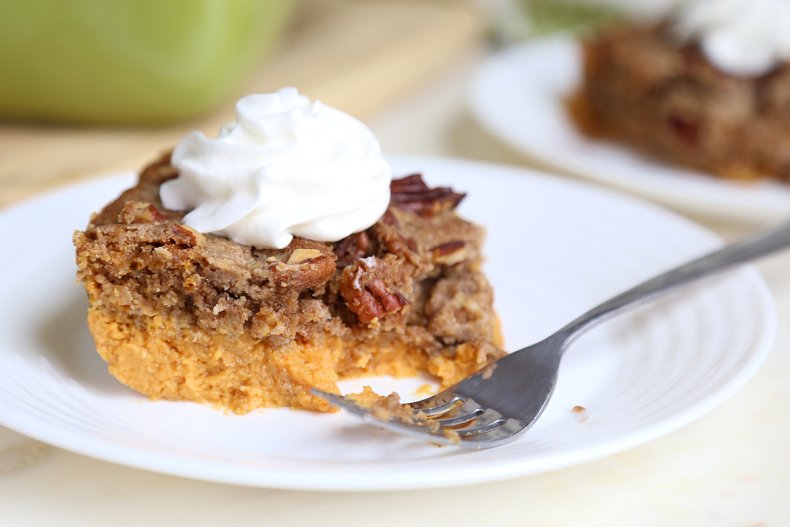 This recipe calls for:
15-ounce can of pumpkin puree
12-ounce can of evaporated milk
3 eggs
3/4 cup sugar
1 teaspoon pumpkin pie spice
1/4 teaspoon sea salt
1 box spice cake mix, or yellow cake mix
3/4 cup butter (1 1/2 sticks), melted
1 cup pecans, chopped
To prepare the cake, preheat the oven to 350 F. Coat the inside of a 9 x 13-inch baking dish with cooking spray and set aside.
Combine pumpkin puree and evaporated milk in a large mixing bowl, beat eggs in a small bowl, then combine with puree mixture along with pumpkin pie spice, sugar and sea salt to bowl.
Once thoroughly combined, pour the pumpkin mixture into the baking dish and layer dry cake mix in an even coating on top. Lightly drizzle melted butter over the cake mix before adding pecans as top layer. Bake for 50-60 minutes, making sure the bottom later is cooked through as well.