3 Police Officers Test Positive for COVID-19 After Breaking up Large Party
At least three Vancouver, British Columbia, Canada police officers have tested positive for coronavirus after breaking up a large party.
On Friday, Ralph Kaisers, president of the Vancouver Police Union and BC Police Association said that due to the party, three officers had tested positive and more officers are self-isolating.
"Please party responsibly. 2 entire patrol teams of VPD members are off in isolation because of an out of control 100+ person party they had to respond to. 3 members have now tested positive," Kaisers wrote.
Two patrol teams self-isolating means that between 16-20 officers are out of commission, according to Global News.
The party took place at in a penthouse suite in downtown Vancouver on July 25, according to CTV. Though the Vancouver Police Department (VPD) confirmed to Newsweek that three officers did test positive for the disease, the VPD could not confirm that the party was the source of the illness. VPD Spokesperson Constable Tania Visintin also confirmed that officers who came in contact with the three infected officers are self-isolating.
At least 45 cases of COVID-19 in the Vancouver area have been linked with parties, according to health officer Dr. Bonnie Henry on Thursday. However, cases of coronavirus linked with people ignoring social distancing guidelines is not just a problem in Canada.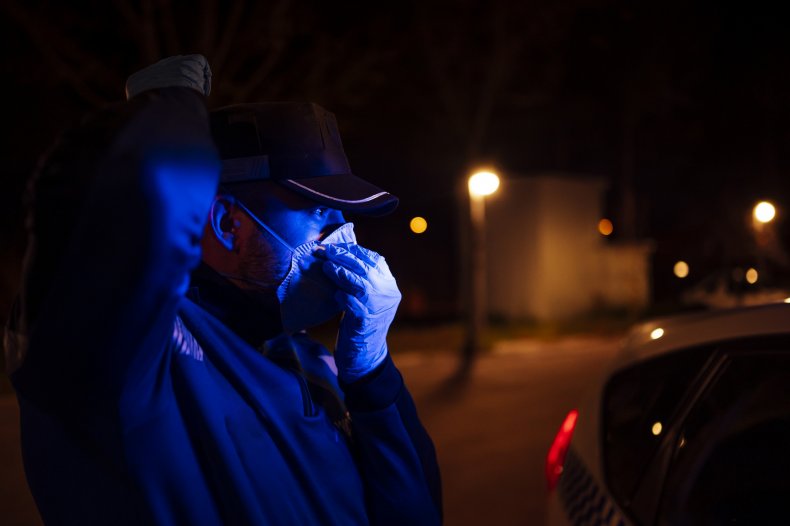 In Dallas, Texas, a man died of COVID-19 in July after his granddaughter visited him after she attended a party. The granddaughter was placed in the Parkland Hospital's ICU and put into a medically induced coma to recover. When she came to 10 days later, she found out her grandfather had died from the disease the previous day.
There have also been reports of so-called "COVID-19 Parties," where people gather either to intentionally spread the virus, or because they think the coronavirus is a hoax. In Florida, Osceola County Sheriff Russ Gibson said some people will rent homes for parties that can bring together between 50-400 people.
A 30-year-old in south Texas who attended a "COVID Party" died of the disease, according to Jane Appleby, the chief medical officer for Methodist Healthcare in San Antonio.
"This is a party held by somebody diagnosed with the COVID virus and the thought is that people get together to see if the virus is real and if anyone gets infected," Appleby said. "Just before the patient died, they looked at their nurse and said 'I think I made a mistake, I thought this was a hoax, but it's not.'"
Recently, TikTok and YouTube stars have come under fire for throwing large parties in mansions. Last month, beauty influencer Nikita Dragun threw a birthday party for fellow YouTuber Larray at the Hype House in Los Angeles. The Hype House is a mansion run by the content collective of the same name, and acts as a hub for influencers to promote each other. According to comedian Elijah Daniel, influencers told him that they'd tested positive for COVID after attending the party.
This week, influencer Hunter Ecimovic posted a video to Twitter from a crowded party. In the video, he appears to share a drink with a member of the Canadian comedy team, the Nelk Boys. The video also appears to show other partygoers touching each others' faces.
In response to the influencer parties, Los Angeles Mayor Eric Garcetti ordered city police to cut off water and power to houses that continue to host large parties "in flagrant violation of health orders." The new policy went into effect Friday night; if police respond to a complaint and verify a large gathering, those at the house will be notified their utilities will be cut off within 48 hours.
"The consequences of these large parties ripple far beyond just those parties," Garcetti said. "They ripple throughout our entire community because the virus can quickly and easily spread."