The NCAA last month said it would pull championship events from states that pass laws banning transgender women from participating in female sports. On Sunday, the NCAA granted regional sites in three of those states.
The NCAA announced its softball tournament field on Sunday evening, and there will be games in Alabama, Arkansas and Tennessee. These three states have all passed anti-transgender sports laws for women's sports.
This is a stark contrast from the NCAA's stance last month when its board of governors said it would be difficult to hold championship events—including regional tournaments—in states that have such anti-transgender sports laws. Here's what the board said in April.
"The NCAA has a long-standing policy that provides a more inclusive path for transgender participation in college sports," the statement read. "Our approach — which requires testosterone suppression treatment for transgender women to compete in women's sports—embraces the evolving science on this issue and is anchored in participation policies of both the International Olympic Committee and the U.S. Olympic and Paralympic Committee."
The statement went on to say all student-athletes should be treated with dignity and respect, and that determining NCAA championships locations could hinge on "safe" environments.
"When determining where championships are held, NCAA policy directs that only locations where hosts can commit to providing an environment that is safe, healthy and free of discrimination should be selected," the board stated. "We will continue to closely monitor these situations to determine whether NCAA championships can be conducted in ways that are welcoming and respectful of all participants."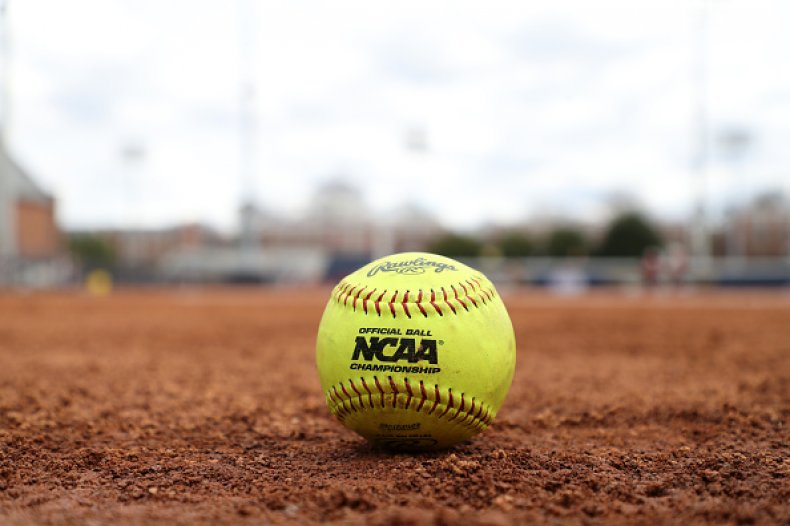 Several states have introduced such legislation so far that would ban transgender girls from competing in high school sports, and Republican governors in Alabama, Arkansas, Mississippi, Tennessee and West Virginia have already signed such bills into law. Three of those states—Arkansas, Mississippi and West Virginia—extend that ban to collegiate sports.
Idaho was the first state to pass a law barring transgender women from playing sports against other women. Lawmakers and governors in Mississippi, Arkansas and Tennessee followed. A couple dozen of other states have filed similar bills. North Carolina's HB358, otherwise known as the "Save Women's Sports Act," would prevent transgender women from playing on women's sports teams at public schools or universities as well.
"I do not want to wait until biological females are pushed out of female sports, and all of their records are broken, scholarships lost and benefits of excelling are diminishing before this is addressed," North Carolina Republican Rep. Mark Brody said last month.
In all, there are 30 states that have either introduced similar anti-transgender sports bills or have already passed them.
The NCAA Division I softball tournament bracket was revealed Sunday evening. Oklahoma is the No. 1 overall seed. Each of the top 16 seeds get to host a four-team regional, which is followed by a weekend of eight Super Regionals to determine the eight teams that will make it to Oklahoma City for the Women's College World Series, which begins June 3 this year.
Norman Regional – May 21-23 at Norman, Oklahoma
No. 1 seed Oklahoma* (45-2) vs. Morgan St. (24-15)
Texas A&M (31-21) vs. Wichita St. (39-11-1)
Seattle Regional – May 21-23 at Seattle, Washington
Michigan (36-6) vs. Seattle U. (29-19)
Portland St. (15-24) vs. No. 16 seed Washington* (41-11)
Knoxville Regional – May 21-23 at Knoxville, Tennessee
No. 9 seed Tennessee* (41-13) vs. Eastern Ky. (35-15)
James Madison (34-1) vs. Liberty (42-13)
Columbia Regional – May 21-23 at Columbia, Missouri
Iowa St. (32-21) vs. UNI (31-18)
UIC (29-21) vs. No. 8 seed Missouri* (38-15)
Stillwater Regional – May 21-23 at Stillwater, Oklahoma
No. 5 seed Oklahoma St.* (42-9) vs. Campbell (27-17)
Boston U. (36-2) vs. Mississippi St. (33-23)
Austin Regional – May 21-23 at Austin, Texas
Oregon (37-15) vs. Texas St. (38-12)
Saint Francis (PA) (40-8) vs. No. 12 seed Texas* (39-11)
Athens Regional – May 21-23 at Athens, Georgia
No. 13 seed Duke (42-10) vs. UNC Greensboro (34-15)
Western Ky. (31-13) vs. Georgia* (29-21)
Gainesville Regional – May 21-23 at Gainesville, Florida
Baylor (27-21) vs. South Alabama (30-19)
South Fla. (29-17) vs. No. 4 seed Florida* (42-9)
Tuscaloosa Regional – May 21-23 at Tuscaloosa, Alabama
No. 3 seed Alabama* (45-7) vs. Alabama St. (19-27)
Troy (36-15) vs. Clemson (42-6)
Lexington Regional – May 21-23 at Lexington, Kentucky
Notre Dame (31-13) vs. Miami (OH) (46-8)
Northwestern (29-15) vs. No. 14 seed Kentucky* (39-13)
Tucson Regional – May 21-23 at Tucson, Arizona
No. 11 seed Arizona* (36-13) vs. UMBC (25-11)
Villanova (36-13) vs. Ole Miss (34-20)
Fayetteville Regional – May 21-23 at Fayetteville, Arkansas
Stanford (31-20) vs. South Dakota St. (42-6)
Manhattan (22-14) vs. No. 6 seed Arkansas* (40-9)
Baton Rouge Regional – May 21-23 at Baton Rouge, Louisiana
No. 7 seed LSU* (32-19) vs. McNeese (34-24)
George Washington (37-9) vs. Louisiana (44-10)
Tallahassee Regional – May 21-23 at Tallahassee, Florida
Auburn (27-22) vs. UCF (39-17-1)
Kennesaw St. (26-25) vs. No. 10 seed Florida St.* (39-10-1)
Tempe Regional – May 20-22 at Tempe, Arizona
No. 15 seed Arizona St.* (32-14) vs. Southern Ill. (37-14)
BYU (36-15) vs. Virginia Tech (33-13)
Los Angeles Regional – May 21-23 at Los Angeles, California
Minnesota (29-11) vs. Fresno St. (36-10)
Long Beach St. (30-9) vs. No. 2 seed UCLA* (41-4)
Uncommon Knowledge
Newsweek is committed to challenging conventional wisdom and finding connections in the search for common ground.
Newsweek is committed to challenging conventional wisdom and finding connections in the search for common ground.
About the writer
Scott McDonald is a Newsweek deputy night editor based in Cape Coral, Florida. His focus is assigning and writing stories across all topics, from news to politics, business, weather, sports and international news. Scott joined Newsweek in 2018 after a lengthy career of print journalism in Texas, including The Dallas Morning News, where he was a sportswriter, and he's a voter for the Heisman Trophy. He has been a newspaper editor-in-chief and also a newspaper publisher. He is a graduate of The University of Texas at Austin. You can get in touch with Scott by emailing s.mcdonald@newsweek.com. Languages: English