3 Students Dead, Teacher and Others Injured in Michigan School Shooting; Suspect Arrested
Three students at Oxford High School in Michigan died Tuesday and several others were injured during a shooting on campus, authorities said during an afternoon press conference.
Authorities initially said six people were injured in the shooting but later updated the number of individuals receiving treatment for gunshot wounds to eight.
Undersheriff Michael McCabe with the Oakland County Sheriff's Office said a teacher was among the injured. The wounded were taken to local hospitals for treatment of their injuries, officials said.
Law enforcement began receiving calls about a possible active shooter incident at the high school at 12:51 p.m. local time, McCabe said. More than 100 calls were made to authorities in connection with the incident, he added.
Minutes after authorities received the first tip about the shooting, a suspect was taken into custody, McCabe told reporters.
"The whole thing lasted five minutes," McCabe said. He added the school "did everything right" in its response to an active shooter on campus.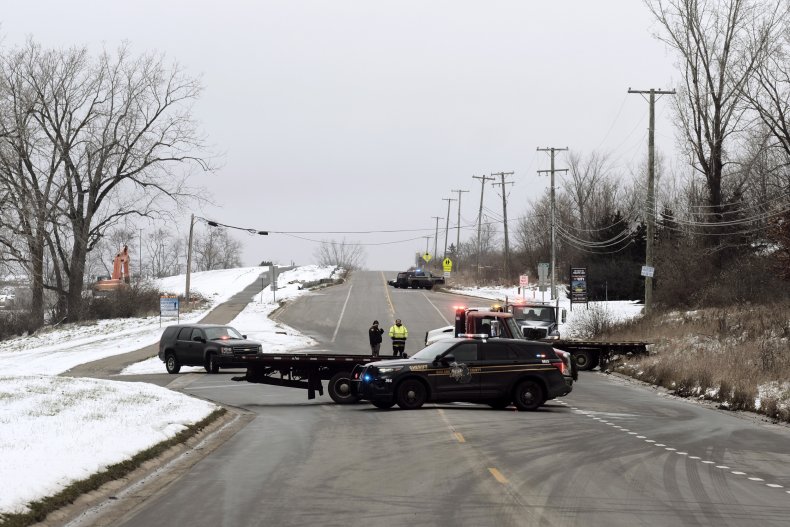 "There was an orderly evacuation," McCabe said. "Everybody remained in place, they barricaded themselves."
John Lyman, the public information officer with the Rochester Hills Fire Department, told reporters nearly 60 ambulances and a couple of helicopters were sent to the campus in Oxford, a Detroit suburb, to assist with the response to the shooting. Timothy Waters, the special agent in charge of the FBI's Detroit Field Office, was also at the campus by the time of the afternoon press conference and told reporters the bureau would be assisting local law enforcement.
The identities of the individuals who were shot have not yet been publicly released. McCabe said further information about the shooting would be shared during a second press conference expected to take place later in the day, at about 5 p.m. local time.
Officials did not disclose the identity of the suspected shooter but did identify him as a 15-year-old sophomore student enrolled at the school. The suspect was believed to have fired an estimated 15 to 20 shots from a semiautomatic handgun that McCabe said authorities took from him. Authorities have already recovered "multiple shell casings" inside the school, he said.
"Deputies confronted him. He had the weapon on him. They took him into custody," McCabe said. He said the suspected shooter "did not give us any resistance when he was taken into custody."
The suspect has already invoked his rights to not speak with authorities, McCabe said. At this stage in the investigation, he said, it is believed the suspect acted alone.
"We don't believe anybody, at this point in time, pending further investigation, that he planned this with anybody else," the undersheriff said. He added that investigators will be looking into social media posts and speaking with students at the school to learn more in the coming hours and days.
Updated 11/30/21, 5:48 p.m. ET: This story has been updated to reflect that authorities identified two additional individuals who were injured during the shooting.
Updated 11/30/21, 4:27 p.m. ET: This story has been updated to include additional information and background.
Updated 11/30/21, 5:53 p.m. ET: This story has been updated with the current number of injuries.