The 3 Things Black Americans Need to Vote Republican | Opinion
A brand new survey from the Pew Research Center found that the top concerns of Black Americans are crime, the economy, and housing. On all three of these issues, the failures of the Biden administration could not be starker. But it's not just President Biden and VP Harris; Democrats—including the ineffectual Congressional Black Caucus—have failed Black America for generations.
Despite representation at the highest levels of the nation, the conditions of Black Americans have barely improved. As Transportation Secretary Pete Buttigieg was shocked to learn last week during an interview with Charlamagne Tha God on "The Breakfast Club," "a lot of Black people feel like Democrats have kept no promises since they've been in office," as Charlamagne put it. ("Really?" Buttigieg responded, summing up the cluelessness of the Democrats nicely.)
It's why President Trump secured the votes of up to 18 percent of Black men and 8 percent of Black women. Where the Democrats have taken Black voters for granted for half a century, Trump spoke directly to Black Americans and offered specific policies, albeit at the 11th hour of his campaign. His four-year promise to Black America, which he called "The Platinum Plan" and released a month before the 2020 election, sought to radically increase Black homeownership and secure investment in Black businesses—the first real step toward Reparations for Black Americans descended from slaves since Reconstruction.
The Obama-Biden and Biden-Harris administrations may have appointed many Black people to positions of leadership, but it was Trump's presidency that oversaw historic lows of Black unemployment, making gains in a very material way that is more important than the symbolic nature of what Democrats have had to offer.
At a time of rampant inflation and skyrocketing gas prices, it shouldn't be that difficult to understand why some Black Americans would vote for a Republican, and not just as a protest vote against Democrats' hypocrisy.
But Republicans anxious to win elections should want more than that; they should court Black Americans so we want to vote for them, not just right now but long term.
How can they accomplish that? With three things.
Republicans Should Recognize the Unique Investment Descendants of Slaves Have in the U.S.
A pro-Black Republican agenda begins with recognizing our unique investment in our nation. President Trump's Platinum Plan wasn't just about investing in the Black community; it was about recognizing the unique equity—literal sweat and blood equity—that Freedmen descended from slaves have invested in this nation.The Platinum Plan focused exclusively on the challenges faced by Americans descended from U.S. slaves and didn't attach all manner of other marginalized groups or interests onto our cause.
In this, Trump stood in stark contrast with the intersectional approach that has the Democratic Party in a stranglehold, where the cause of women, LGBTQ people, immigrants, Asians and Muslims are constantly added to the civil rights struggle that began with Black Americans and was never fulfilled. Again and again, the Democrats eagerly abandoned us to fight for these other groups.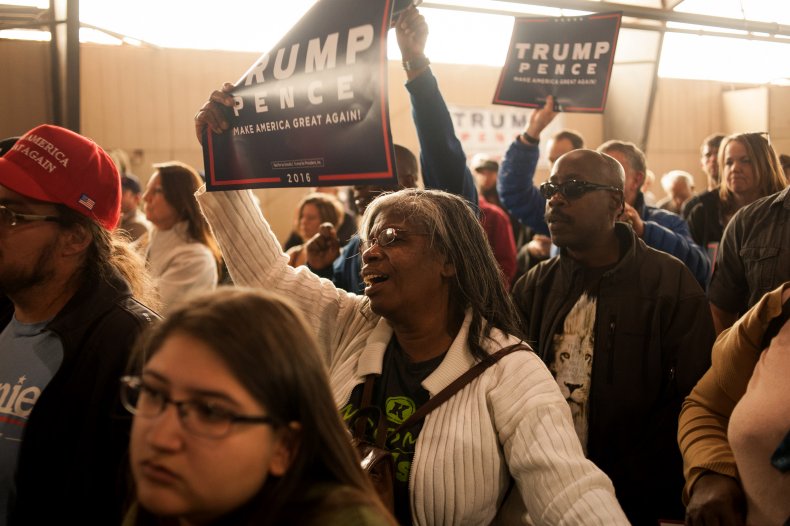 Many Black Americans, especially those descended from slaves, see in this a constant betrayal of our interests. Republicans who seek to build on what Trump started would do well to start where he left off. The gap between Republicans and key political priorities of Black voters is smaller than they might think.
So why have so few made headway on this front? Republican waste is why. Republicans just don't talk about the perspectives of Black Americans. With a few exceptions, Republican talking points don't consider the unique needs of the Black community, and sadly, too many Black conservatives had led the Right further out of touch with mainstream Black America's unique needs.
View Us as Partners in Accountability and the Rule of Law
Republicans who truly wish to court Black voters by addressing our needs must begin to see us as partners in maintaining the rule of law. Our nation is being destroyed by Democrats' insistence on liberty at the exclusion of order. In a twisted way, progressives seem to believe that our community prefers the disorder they have allowed to proliferate in some corners—as though Black America doesn't want what every other American community is seeking: for their children to thrive and the exercise of authority to be both respected and honorable.
That thriving requires the rule of law everywhere, including in the inner cities of urban centers controlled by Democrats, where underemployment and a crime wave of murder, carjackings, and theft is spiraling out of control and yet where the Left-wing position seems to be to ignore it.
Black Americans need our elected officials to lower crime and to correct the socioeconomic conditions that can fuel community-based crime. Freedmen descended from slaves, like all Americans, want our children and families to live in communities that are safe, stable, and secure. Democrats have lost their way by sometimes misapplying legitimate bodies of data about adversity, trauma, and disparities—whereas on the Right, we too often refuse to acknowledge those factors at all.
Moreover, the lawlessness at the border has to stop. Polling consistently shows that our community does not want open borders. An endless flow of poorly vetted migrants does not serve U.S. security nor sovereignty.
Our community is deeply committed to the national character of America, however flawed it has been and remains. We want a tight job market, so all American workers benefit from the corporate ingenuity of the U.S. companies we patronize. We want safe communities. And we want the right to define our own nation.
In these respects, Black Americans have much in common naturally with Republicans, if they would only wake up and realize it.
Give All Children a Proud American Education
A pro-Black Republican agenda should focus on a proud American education, one where we are not afraid nor ashamed to tell the fullness of United States' history. The answer is 1776—and 1619, both of which contribute to our complex evolution.
Unfortunately and unnecessarily, the Right has fallen headlong into an anti-critical race theory craze that many view as this generation's resistance to civil rights.
Contrary to widespread belief, Black Americans can and do simultaneously acknowledge the beauty, the pains, and the triumphs of the nation's founding and its evolution.
Instead of resisting the shake up, Republicans who want to see us in their party in the future must seize the opportunity to tell our full American story with compassionate consideration to those involved, without denying the facts. It is what it is.
GOP leadership must work to ensure the next generation of Americans are well grounded in the significance of our flag and allegiance to the United States—without the alienating knee-jerk opposition to revelations about our founding flaws.
It's what we want for our children, too: an educational plan where America has the courage to call itself out and demonstrates unwavering reverence for the course of human events that drive us to be a more perfect union. Denying parts of ourselves restricts perfection rather than enables it.
There is a real opportunity here, for the Right to step into the void with leadership and to reunite Black America with the Republican Party. Will the GOP answer the call?
Pamela Denise Long is CEO of Youthcentrix® Therapy Services, a business focused on helping organizations implement trauma-informed practices and diversity, equity, inclusion, and antiracism (DEIA) at the systems level. Denise is creator of "Humane Antiracism," an online training process that puts dialogue and relationships at the center of antiracist problem solving within networks. Connect with Ms. Long online at www.youthcentrix.com or @PDeniseLong on social media.
The views in this article are the writer's own.