3 Things to Know About Jerry's Stiller's Late Wife Anne Meara
Internet users are mourning the death of Jerry Stiller, the comedian who died at 92. His son, actor Ben Stiller announced the news of his father's passing on Monday via Twitter.
"I'm sad to say that my father, Jerry Stiller, passed away from natural causes," Ben wrote. "He was a great dad and grandfather, and the most dedicated husband to Anne for about 62 years. He will be greatly missed. Love you Dad."
Not only has the tweet brought immense praise and sorrow for the loss of the King of Queens and Seinfeld actor, but it's turned some attention to his late wife, Anne Meara, with whom Stiller enjoyed a lifelong professional and personal partnership. Fans respected the loyal and loving relationship the two shared.
Meara died in 2015 at the age of 85 the New York Times first reported. They didn't immediately confirm the cause of her death, though later, it was revealed she died of a stroke. Before her death, though, Meara and Stiller were one of the best comedy duos in American history. Here's what you need to know about Meara.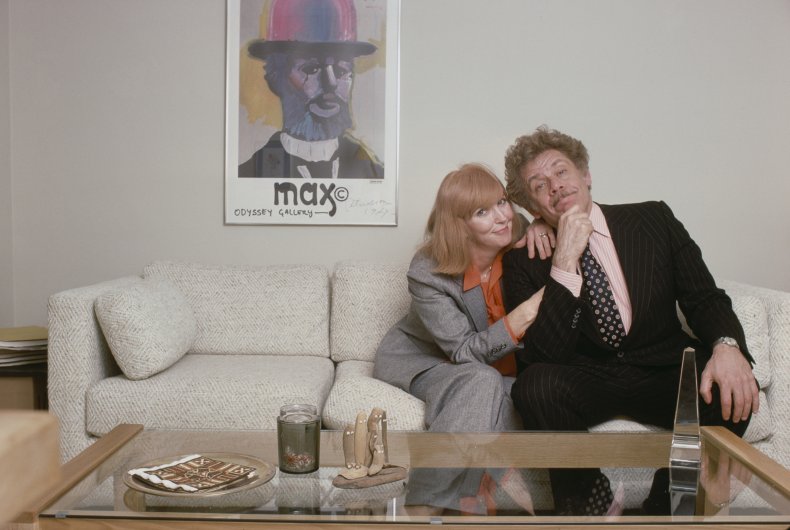 They started their career together
Meara was one half of Stiller and Meara, the comedy act she performed with her husband, Stiller. They started their comedy act in New York in the 60s, and eventually became household names. It only took a year for them to sky rocket to success, and take on other acts in American culture.
You've probably seen Meara on TV
Whether or not you first saw her alongside Stiller on The Ed Sullivan Show (where the couple performed a whopping 36 times, according to Country Living), or another program, you've likely watched Meara on your screen. Aside from comedy, she pursued an acting career of her own and gave some masterful performances. Some of the series Meara appeared on include Sex and the City (she played Steve's mom, Mary Brady), Law & Order, The King of Queens, Oz, and All My Children, according to the Internet Movie Database.
She also acted in a handful of films like Night At The Museum (starring her son with Stiller, Ben Stiller) and Awakenings.
They had a wonderful marriage
Stiller and Meara had a kind of traumatic meet cute, but they hit it off immediately. Apparently, Meara had run into Stiller while she was enraged about a creepy man she encountered in New York, Stiller wrote in his memoir Married to Laughter. They got coffee right after it happened and had an instant connection.
"I really knew this was the man I would marry," Meara said to People in a 2000 interview. "I knew he would never leave me."
The pair were total opposites, but somehow, it worked. "Anne's very quicksilver. She moves rapidly and makes a choice. Jerry will stop and think," Valerie Harper said of the pair, Country Living reported. "But the result is the same: they are committed to getting it good. Neither of them ever phones it in."