3 Weeks Until Recall Election, a Democrat Joins Debate for First Time, But it's Not Newsom
The California gubernatorial recall debate stage will welcome a Democrat for the first time Wednesday night, but the Democrat participating will not be sitting Governor Gavin Newsom.
Kevin Paffrath is one of 46 candidates who appears on the recall election ballot. Paffrath, who is known by his YouTube username "Meet Kevin," identifies as a Democrat and is listed on the ballot as a financial educator and analyst. He is set to participate in the Wednesday evening debate in Sacramento hosted by KCRA-TV and The San Francisco Chronicle alongside three Republican recall candidates.
"I'm honored that we were finally invited to a debate because we feel we've been somewhat sandbagged by the Republican debates," Paffrath said during a Wednesday conversation with Newsweek.
All three of the Republican candidates expected to join Paffrath at the Wednesday debate—former San Diego Mayor Kevin Faulconer, businessman John Cox and state lawmaker Kevin Kiley—have participated in other debates held earlier this month.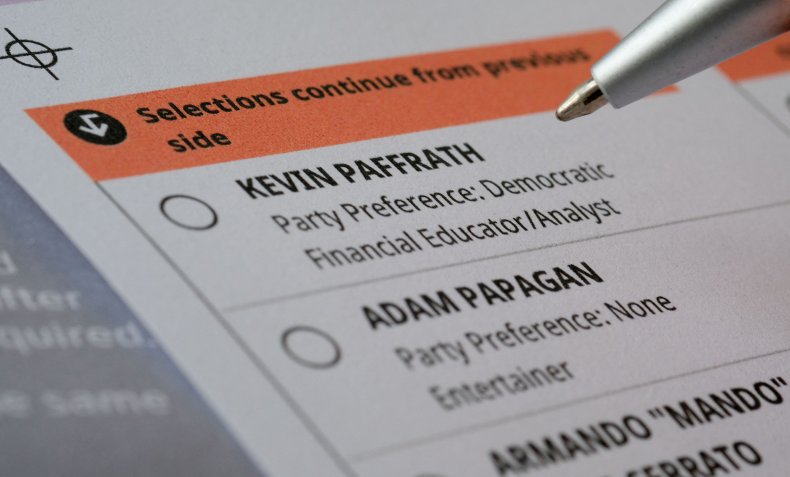 With just under three weeks remaining until the September 14 special election, the Wednesday debate will serve as the latest opportunity for a handful of candidates to answer questions about how they would lead California if Newsom is recalled and they are chosen to replace him. If more than 50 percent of voters cast their ballots in favor of ousting Newsom, the candidate who receives the greatest number of votes will become the new governor until the end of Newsom's term.
In the months since the recall petition gathered enough signatures to qualify for a ballot, Newsom's campaign has said the recall is a Republican-led effort driven by "anti-vaxxers, Q-Anon conspiracy theorists and anti-immigrant Trump supporters." While 24 of the candidates listed on the recall ballot are Republicans, nine are Democrats and the rest identified as third-party candidates or indicated no party preference.
Recent polls have indicated California voters are split on whether they want Newsom removed from office, but Republicans have largely dominated when pollsters asked which of the recall candidates voters wanted to replace Newsom. Larry Elder, a conservative radio host who has declined to participate in the recall debates thus far, has led the Republican field in all polls conducted since Elder announced his campaign last month.
Meanwhile, Paffrath has emerged in the polls as a Democrat some voters may consider backing in the September 14 race. A SurveyUSA poll conducted in early August found 27 percent of voters likely to pick a replacement candidate supported Paffrath, while 23 percent said they intended to back Elder. A subsequent YouGov poll found that while likely voters preferred Elder to Paffrath by 10 points, Paffrath did poll above other Republican candidates.
Paffrath told Newsweek he is hopeful Elder and reality television personality Caitlyn Jenner, another Republican candidate who has not participated in any of the recall debates so far, will change their minds for future debates. In contrast with Elder, Jenner and the other Republicans running, Paffrath said he believes he would have better luck working with the Democrat-led state legislature if he were elected to replace Newsom.
"You could be in a situation where, if we have a Republican governor, my expectation is we're going to have the biggest lame duck governorship we've ever seen in California for the next year, because the 2022 election is next year," Paffrath said. "Why would Democrats, with this power, be incentivized to hand a Republican a win between now and then."
The California Democratic Party has encouraged voters to vote against recalling Newsom but has discouraged them from picking amongst the replacement candidates. Newsom, who is not expected to attend Wednesday evening's debate, has also discouraged voters from choosing any of the replacement candidates.
Newsom's campaign previously told Newsweek the governor does not intend on participating in any of the debates ahead of next month's recall election.