3 Wisconsin Residents Sue Gov. Evers Over Mask Mandate, Say It Violates 'Rule of Law'
Three Wisconsin residents, on Tuesday, filed a lawsuit against Governor Tony Evers' recent emergency health order mandating masks statewide, suggesting that the order violates the "rule of law" in the state.
The Wisconsin Institute for Law and Liberty (WILL) filed the lawsuit on behalf of the three residents in the Polk County Circuit Court.
"This lawsuit is not about whether masks are good or bad, or whether Wisconsin ought to do more, or less, to address COVID-19. It isn't even about whether the state should have a mask mandate. This lawsuit is about our system of government and the rule of law," Rick Esenberg, WILL president and general counsel said in an email sent to Newsweek. "Governor Evers cannot seize these time-limited emergency powers more than once without legislative approval."
On July 30, Evers first issued the statewide mask mandate, which went into effect on August 1. The mandate required masks be worn in all indoor spaces or in enclosed outdoor areas. According to the order, violators could face a $200 fine. Evers cited "a new and concerning spike in [coronavirus] infections."
While the state has seen a slight decrease in daily coronavirus cases, the lawsuit claims that Evers' mandate violates state law, as it was based on the same threat of a previous emergency order, issued in May.
"State law forbids a governor from unilaterally extending a public health emergency beyond 60 days or skirting the law by declaring multiple 60-day emergencies for the same crisis," WILL wrote in a press release. "Governor Evers cannot seize emergency powers more than once to address the same crisis. To interpret the law otherwise, would allow one-person rule by the Governor for what could be a virtually unlimited amount of time whenever the vague statutory definition of a "public health emergency" or "disaster" can be said to be present. The result would be the total breakdown of our constitutional order."
In an email sent to Newsweek, Britt Cudaback, deputy communications director for Evers' office, stated that "Republicans and their allies have tried at every turn to prevent the governor from keeping Wisconsinites healthy and safe."
"We know requiring masks and face coverings will help us save lives, and Gov. Evers will continue listening to science and public health experts in making the best decisions for the people of our state," the statement added.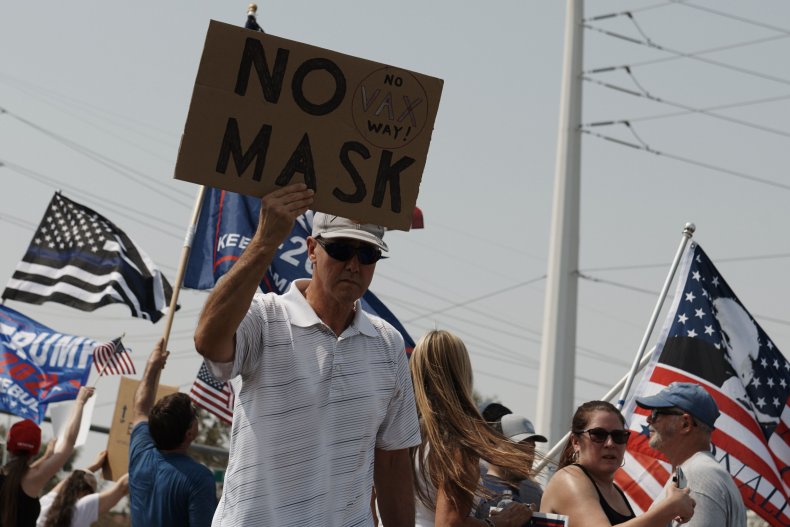 A similar lawsuit was recently filed in Michigan, by the Friske Orchards Farm Market Inc. against the state's Governor Gretchen Whitmer, for her mask mandate. According to the Detroit News, Friske, filed its lawsuit after receiving notices of legal action from local and state officials after not requiring customers or employees to wear masks. The market runs a fruit stand, a café, a bakery, a gift shop and outdoor entertainment area, according to the Detroit News.
"Friske has been serving the community for three generations and now faces the forced closure of its business for refusing to submit to unlawful and illegal executive orders," said David Kallman, the orchard's attorney. "This case is not about masks; it is about abuse of power."