3 Women Accuse Gordon Sondland of Sexual Misconduct, Professional Retaliation Amid Impeachment Inquiry
Three women say they suffered from sexual misconduct at the hands of Gordon Sondland before he was named the U.S.' EU Ambassador. All three also claim that there were professional repercussions for them when they rejected his advances.
In the first case, Nicole Vogel says Sondland took her on a tour of a hotel he owns. During the tour, he grabbed her face and tried to kiss her. When she rejected his advances, he allegedly passed on investing in her magazine business.
In the second, Jana Solis, a work associate, claims Sondland exposed himself to her during a business interaction, falling back against the couch to get away from him. Sondland subsequently allegedly called her place of work to "scream" at her about her job performance.
A third woman, Natalie Sept, says he tried to kiss her and pushed himself against her when when she met with him to discuss a potential job. When she rejected his advances, all job help from him stopped.
Sondland replied in a statement given to Pro Publica that read in part, "In decades of my career in business and civic affairs, my conduct can be affirmed by hundreds of employees and colleagues with whom I have worked in countless circumstances. These untrue claims of unwanted touching and kissing are concocted and, I believe, coordinated for political purposes. They have no basis in fact, and I categorically deny them."
Added Sondland's lawyer in a letter sent to ProPublica: "Notably, what each of these three women share in common is that they pursued Ambassador Sondland for financial and personal gain—an investment, a job, and insurance brokerage work—and he declined their proposals." He then suggested that the timing of their story might be considered "veiled witness tampering."
"Given the timing of your intended story, a reasonable conclusion to be drawn is that you are attempting to affect Ambassador Sondland's credibility as a fact witness in the pending impeachment inquiry... given the politically-charged climate in which current events are unfolding, some might consider this to be veiled witness tampering," he concluded, and went on to discredit the reasoning for each woman coming forward with her accusations.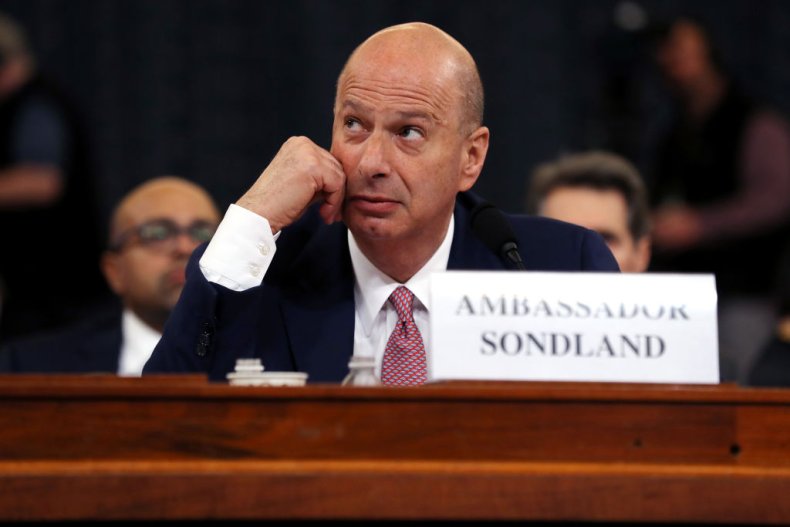 The three women disagree.
"It feels like the right thing to do," Vogel said.
"The fact that [Sondland] uses his power to terrorize people who he perceives as having less power is really disgusting," Sept said to Pro Publica. "I want other women to feel comfortable to share their stories, and be believed."
"I would hate to see anybody else go through it. This runs so far beyond just a little groping. It affects how I do business. And who I can do business with," says Solis. So if talking "is the right thing to do, then that's what I'm going to do...[what] mom did was right, that I had a sense of self and a strong character. And I want my character to be revealed to people in a positive way and in a way that is courageous to the degree that I can be."