A 3-year-old girl in California died on Thursday after she was left alone in a car for over two hours while her mother tended to her cannabis plants.
The incident occurred at around 5:47 p.m. when officers were called to a residence on the 100 block of West Perez Avenue following a report that a child was not breathing, according to the Visalia police. The 3-year-old girl was identified by police as Jessica Campos.
The Visalia Police Department said in a press release that an officer was responding to an unrelated incident across the street from the residence and was able to get to the scene "within seconds." Upon arrival, the officer performed CPR on the girl in an attempt to revive her.
Fire department and emergency service officials arrived shortly afterward and began performing life-saving measures. According to police, Jessica was transported to the Kaweah Health Medical Center, where she was pronounced dead.
After Jessica was transported to the hospital, detectives conducted interviews with the girl's mother, who was identified as 28-year-old Eustajia Mojica Dominguez. Police said that, based on interviews, it is believed that Jessica was left in the vehicle for nearly three hours.
"The outdoor temperature was determined to be at least 100 degrees at the time of the incident," the Visalia Police Department said in the press release.
During an interview with detectives, Dominguez told police that she was tending to and "processing" her marijuana plants while her child was left alone in the vehicle.
After learning that the mother was tending to the plants, the Visalia Police Department's narcotics unit and the special enforcement unit were called to assist with the investigation. Seventy mature marijuana plants, 80 immature marijuana plants and approximately 200 pounds of processed marijuana were found at the residence.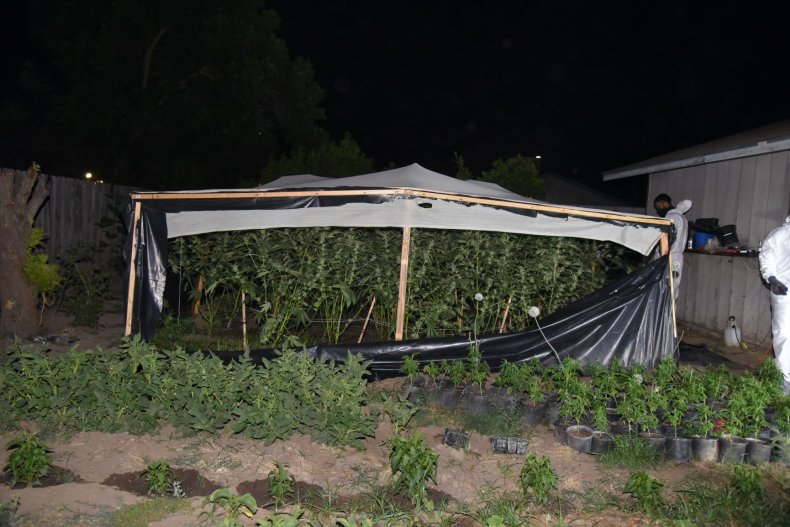 Visalia Police Sergeant Mike Verissimo told Newsweek that the amount of marijuana found at the home was "well over" the legal limit allowed in California.
Police also discovered four other children, two aged 15 and 11 and two 9 months old. The children were turned over to the local child welfare services agency, according to police.
Additionally, four other adults were found in the residence when police arrived. The adults were identified as Araceli Mojica, 33; Emmanuel Ortiz-Aguilar, 34; Valentin Aguilar Ortiz, 27; and Victor Flores Corona, 41.
Verissimo told Newsweek that Dominguez and Mojica are sisters and that the residence belonged to Mojica.
Dominguez was booked at the Tulare County Pretrial Facility and charged with involuntary manslaughter and child endangerment. The four other adults at the residence were arrested and charged with child endangerment. They were also booked at the county's pretrial facility.
"Drug charges related to the marijuana are being recommended to the Tulare County District Attorney's Office against all the adult suspects," police said in the press release.