3-Year-Old Shot in the Head While Driving With Her Father Becomes Latest Victim of Chicago Violence
A young girl is in stable condition after she was shot in the head in Chicago early Wednesday morning, authorities said.
Chicago police told Newsweek the 3-year-old girl was in a vehicle with her parents when the shooting occurred at about 12:45 a.m. Her parents told authorities two men were standing on a corner along the 2400 block of East 74th Street a few blocks west of Lake Michigan in Chicago's South Shore neighborhood when they began firing shots in the vehicle's direction. Neither of the parents were injured but one of the gunshots hit the 3-year-old in the head, police said.
The girl's parents told police they waved down another vehicle because the tires on their own were deflated and asked the driver to take them and their child to nearby Jackson Park Hospital and Medical Center, police said. The girl was then transferred to Comer Children's Hospital in serious condition, police said. Police told Newsweek the girl also had scratches near her eye when she was taken to the hospital and said the scratches could have been caused by glass that broke during the incident.
During a news conference Wednesday morning, authorities said the early hours of their detectives' investigation found the parents were at a gas station before the shooting when an altercation occurred. The two men who the parents said were standing on the street corner nearby began firing shots as the father was driving away, authorities said.
Newsweek subscription offers >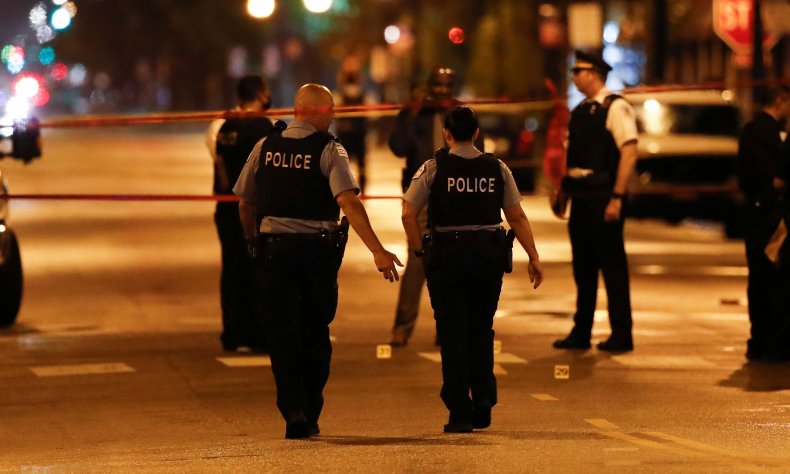 Police said no one was in custody in connection with the shooting and asked anyone with knowledge of the incident to come forward. The child is now in stable condition and is able to speak, police said.
"I urge the mother and father of that 3-year-old to cooperate, to provide substantive information about what transpired," Lightfoot said during the news conference.
The young girl was shot just hours after another violent incident across town in Chicago's Auburn Gresham neighborhood left at least 14 people injured, according to local authorities. Shortly after the mass shooting occurred, Lightfoot called for Chicagoans with information on the shooting to come forward.
Newsweek subscription offers >
"Too many guns are on our streets and in the hands of people who should never possess them," Lightfoot said on Twitter. "These individuals will be held accountable."
The violence reported in Chicago so far this year has the city heading toward one of its deadliest in recent memory, according to The New York Times. According to statistics compiled by Chicago police, 98 shootings were reported between July 13 and July 20, nearly double the number reported during the same week in 2019. The 1,637 shootings reported through July 20, 2020, also exceeds the 1,110 reported by this time last year.
The shootings Tuesday night and early Wednesday morning came after President Donald Trump said earlier this week he was considering sending federal troops into Chicago and other cities that have reported rising numbers of violent incidents since Black Lives Matter protests swept across the country in response to the death of George Floyd, a Black man who died while in police custody on May 25. Lightfoot said she would "under no circumstances" allow the president to do so, joining mayors in in Portland, Oregon, and New York City in condemning Trump's comments about their cities and others that he said were run by "very liberal Democrats."
According to Chicago Police Department Superintendent David Brown, Chicago's 55 major gangs and estimated 117,000 gang members fuel its violence.
"Someone gets shot, which prompts someone else to pick up a gun. This same cycle repeats itself over and over and over again. This cycle is fueled by street gangs, guns and drugs," Brown said.
"An eye for an eye makes us both blind. It's destroying our families and perpetuates this endless cycle of gunshot victims night after night."
3-Year-Old Shot in the Head While Driving With Her Father Becomes Latest Victim of Chicago Violence | U.S.