Millennials Aren't Watching TV—At Least Until They're Older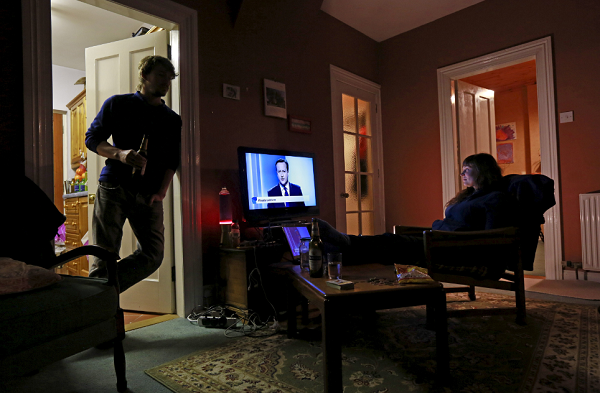 Millennials aren't watching television nearly as much as Baby Boomers did during their early adulthood. But as millennials—people born between 1979 and 1995—get closer to their 40s, perhaps then they'll spend more time in front of the boob tube, according to a new study.
Although the three-year study was intended to examine the effectiveness of TV advertising campaigns, David Poltrack, CBS Corp's chief research officer and president of CBS Vision, working in conjunction with Nielsen Catalina, found interesting patterns in the data about millennials. An analysis of Nielsen data of TV viewing across the four major broadcast networks showed that television consumption increased as people got older. Within the three "base years" tracked during the study—1990, 2001 and 2006—researchers found adults 25-34 watch on average 60 percent more TV than they did when they were in the 18-24 demographic. However, when comparing data from the "base years" with 2016 findings, researchers noticed 25-to-34-year-olds watched 67 percent more TV than when they were in the 18-24 group. But people in the 35-39 demo watched 40 percent more TV in 2016 than when they were in the 25-34 age group.
While speaking to AdWeek Monday, Poltrack suggested the increases could be caused by "delayed adulthood," in which millennials don't consider themselves actual adults until after reaching 30. As people grow older, settle down, leave their parents' home and start families of their own, they watch more TV, Poltrack said—which results in more adults purchasing items they saw advertised on the small screen.
"Because of their delayed purchasing patterns and their delayed lifestyle, their purchasing is going to accelerate more than that of previous generations as they move into their 40s and 50s," he predicted. "We're seeing a greater acceleration of TV viewing as people age than we have historically."
Poltrack's study appears to be in line with a separate Pew Research Center report that found adults 18-34 were more likely than previous generations to live with their parents. Although young adults 18-24 had been most likely to live with their parents since the U.S. Census started collecting household data in 1880, 50 percent of them were still living at home in 2014, along with 25 percent of 25-to-29-year-olds who were still living with their parents in 2014. Thirteen percent of people aged 30-34 were still living with their parents in 2014.