30 Moments from the Last 30 Years That Defined Pop Music
Pop music is back in a big way, with artists like Dua Lipa, Little Mix and Ariana Grande topping the charts the world over. Then again, did pop ever go away?
While rock music, R&B, dance, rap and hip-hop have all had their moments over the last 30 years, popstars have still delivered the fun, joy and spectacle, whether that was the 90s heyday of boybands, or the newer class of popstars sweeping the Grammys.
Since 1991, we have had girl bands becoming phenomena, legends reinventing themselves, and people becoming superstars off the back of one viral hit. While there's too many iconic pop moments to count, we've taken a look at 30 of the moments from the past 30 years that defined pop music.
Britney Spears' "...Baby One More Time"
Pop music changed forever when 16-year-old Britney Spears dropped her debut single, "... Baby One More Time" in 1998.
From the opening "oh baby baby" to the iconic video, featuring Spears in a schoolgirl outfit and pigtails, the song has gone down in history as probably the best debut single ever and an all time pop great, and catapulted Spears into pop princess territory.
Her legacy can still be seen across the entire pop landscape, and the song has never got old.
"American Idol"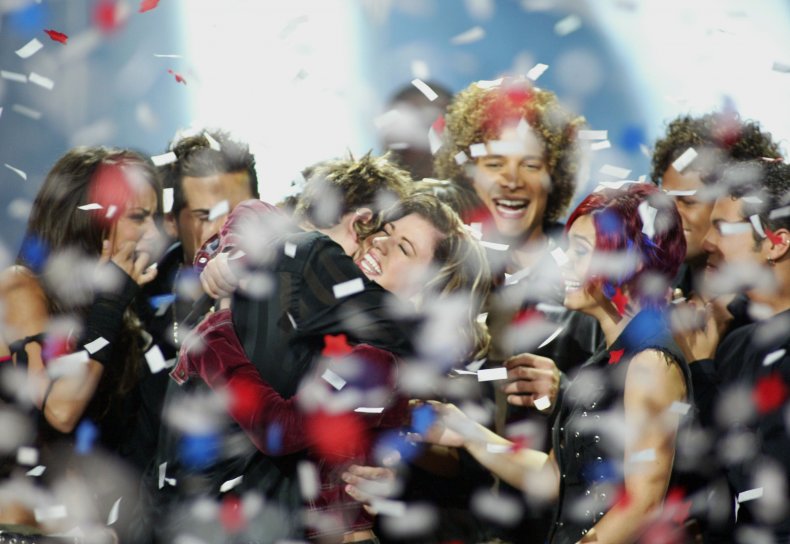 In 2002, American Idol debuted and changed pop music forever by giving aspiring singers a new path to stardom via auditioning for judges and appealing to the nation for votes.
Whatever you think about the concept and its effect on music, without Idol, we would not have Kelly Clarkson, Carrie Underwood, Adam Lambert or Jennifer Hudson.
Country rap wasn't really heard on the mainstream airwaves prior to 2019, but the release of Lil Nas X's "Old Town Road" changed that.
Lil Nas X's "Old Town Road"
After becoming a success on TikTok, "Old Town Road" made it onto the Billboard country music charts, but was disqualified on the grounds it didn't fit the genre.
Enter Billy Ray Cyrus, who added a verse in the remix, and "Old Town Road" sat at number one on the Hot 100 for a record-breaking nineteen consecutive weeks.
"Old Town Road" sparked a conversation about the definition of country music, and the exclusion of non-white artists in genres like country and rock.
Spice Girls at BRIT Awards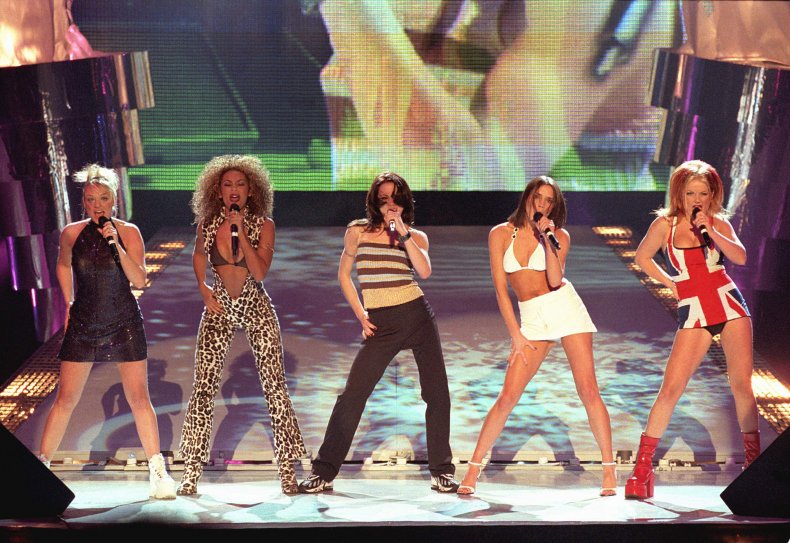 In 1996, pop music changed forever with the introduction of Baby Spice, Scary Spice, Ginger Spice, Sporty Spice and Posh Spice, as the Spice Girls burst onto the scene with Wannabe.
While the band delivered tune after tune and a girl power manifesto in just a few short years, perhaps their most memorable moment came in 1997 when they performed "Wannabe" and "Who Do You Think You Are?" at the BRIT Awards, with Geri Halliwell famously wearing a Union Jack dress which was actually a tea towel pinned to a Gucci mini-dress.
The performance has gone down in history and paved the way for British girl bands like Girls Aloud and Little Mix.
The boyband boom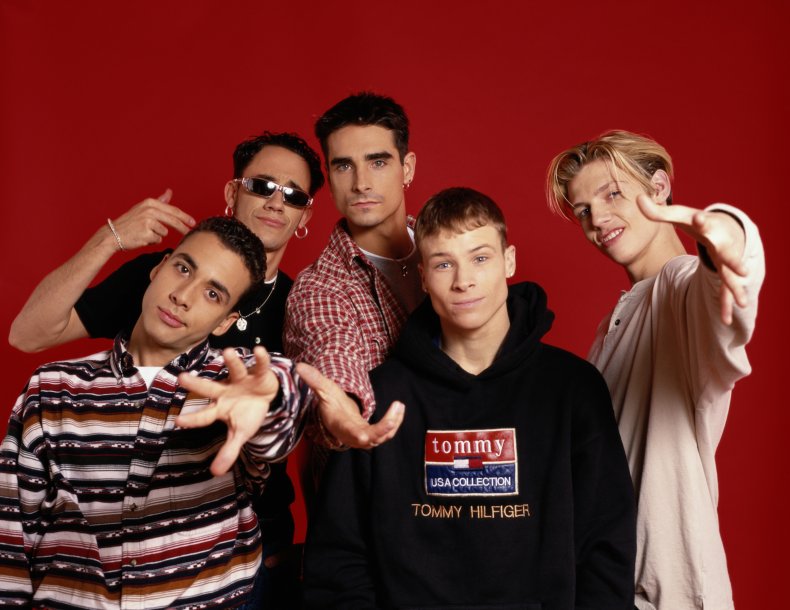 There wasn't a better time to be in a boyband than in the 1990s. The United Kingdom had Take That and 5ive, Ireland had Boyzone and Westlife, and the States had Boyz II Men and *NSYNC.
Perhaps the biggest of them all, though, was Backstreet Boys, who achieved stratospheric success with songs like "Everybody (Backstreet's Back)" and "As Long As You Love Me." They have sold over 100 million records and are the biggest selling boyband of all time, and proved that boyband hysteria can be manoeuvred into a long-term music career.
Whitney Houston's "I Will Always Love You"
There are few cover versions that surpass the original, but Whitney made Dolly Parton's "I Will Always Love You" her own when she covered it for The Bodyguard soundtrack in 1992.
The song spent a then-record breaking 14 weeks at number one, and is one of the best-selling singles of all time.
It also became Whitney's signature song, and won the Grammy for Record of the Year.
Elton John's "Candle In The Wind 1997"
Few songs sum up a moment in time like the reworking of Elton John's 1973 song "Candle In The Wind," which was released to mark the death of Diana, Princess of Wales.
Bernie Taupin's original lyrics were written about Marilyn Monroe ("Goodbye Norma Jean") but the lyrics were tweaked following the tragic death of Diana, a close friend of John's. He performed the song at Diana's funeral, and it was announced the proceeds of the single would go to charities supported by Diana.
"Candle In The Wind 1997" became the highest selling single since the charts began in the 1950s, and is the second biggest selling single ever, after Bing Crosby's "White Christmas," with more than 33 million copies sold.
Los Del Rio's "Macarena"
Los Del Rio released "Macarena" in 1993, but it wasn't until 1996, when the Bayside Boys produced a remix with English lyrics, that it became a sensation.
As well as spending 14 weeks at number one, "Macarena" gained its place in the party hall of fame thanks to its corresponding dance, which pretty much everybody has done at one point in their life.
The dance craze's legacy can be felt in songs like "The Ketchup Song," "Cha Cha Slide" and "Harlem Shake."
Mariah Carey's "All I Want For Christmas Is You"
Mariah not only broke records with this 1994 track, but updated the Christmas standards list.
Her festive song finally reached number one in 2019, 25 years after its release, marking the longest journey to number one in the U.S., and is one of the biggest-selling singles of all time.
Beyonce's "Crazy In Love"
Not only considered one of the greatest songs of the past three decades, "Crazy In Love" changed the landscape of pop for good by heralding the introduction of a solo superstar.
It wasn't Beyonce's debut solo single—that was "Work It Out" from the Austin Powers in Goldmember soundtrack—but the moment the Destiny's Child star strutted down that street in denim shorts, a white vest in heels, we all knew that we were in for something special.
Britney Spears at MTV Video Music Awards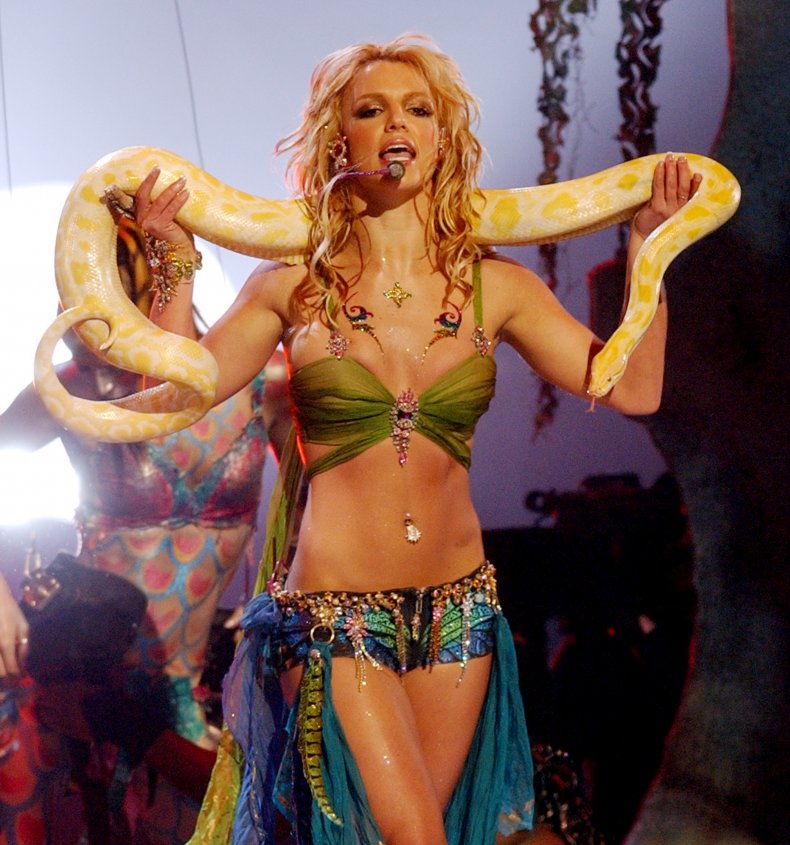 There are few MTV VMAs performances more iconic than Britney's 2001 performance of "I'm A Slave 4 U". This show marked Britney's transformation from squeaky clean teen into full-blown sex symbol, by way of a belly top and a burmese python called Banana.
The image of Britney carrying a snake across the stage is ingrained into the minds of any pop obsessive worth their salt.
"Lady Marmalade"
It shouldn't have really worked: a Labelle cover version, by four very different solo artists, for the Moulin Rouge! soundtrack. But in 2001, Christina Aguilera, Pink, Mya and Lil Kim—with a little help from Missy Elliot—produced a Grammy award winner that still sets off a dancefloor.
The moment Christina really sets her pipes free? A moment. Pop fans still wonder which four popstars could do the same nowadays, but nobody could come close to this melting pot of talent.
Madonna's noughties reinvention
Madonna has reinvented herself more times than we can count, from bombshell to goth to cowgirl, and in the noughties, her mainstream popularity had floundered after the release of American Life in 2003.
But then came Confessions on a Dance Floor in 2005, and its lead single "Hung Up" re-cemented Madonna as the queen.
ABBA allowed Madge to use a rare sample of "Gimme! Gimme! Gimme!", resulting in a disco classic for the noughties.
Taylor Swift's crossover into pop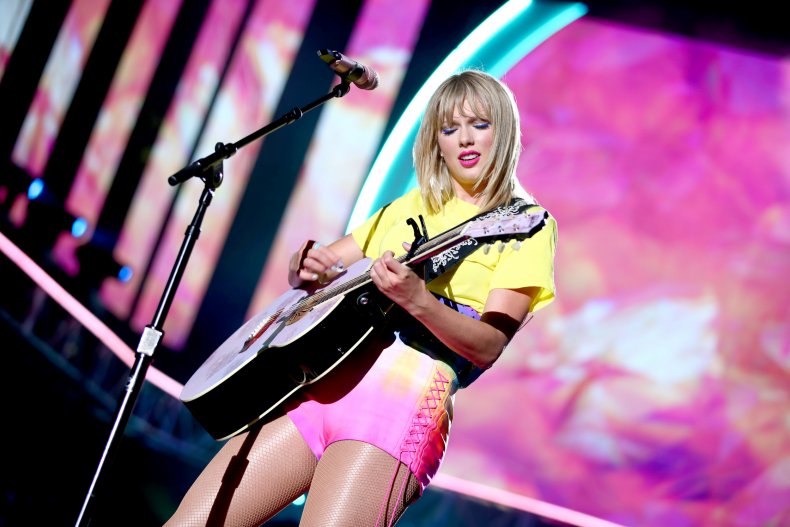 It's hard to imagine pop music nowadays without Taylor Swift, but prior to 2012, she was the darling of country music, picking up the highest accolades for songwriting in the genre.
It was the release of Red, featuring the singles "We Are Never Ever Getting Back Together" and "I Knew You Were Trouble," in 2012 which marked Taylor's crossover into pop. The rest, as they say, is history.
Moby's "Play"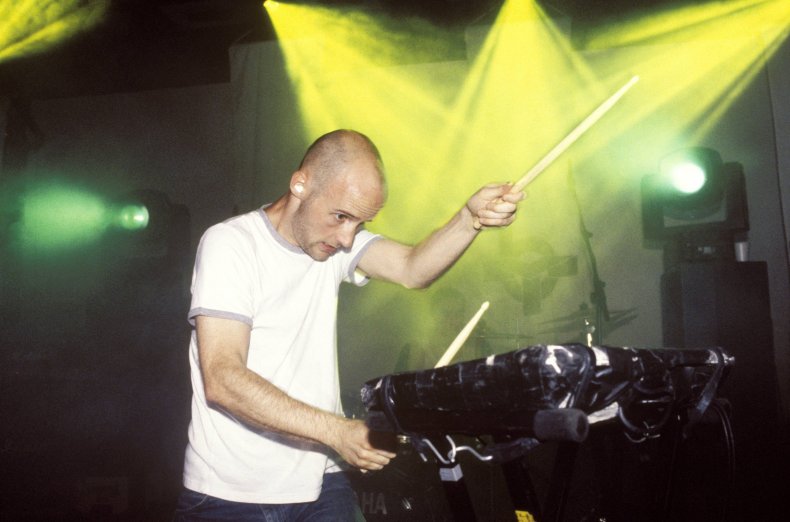 Moby's fifth album Play was released in 1999 and became a commercial phenomenon, becoming the biggest selling electronica album of all time.
What made it so history-making was that Play was the first album ever to have all of its tracks licensed for use in films, television shows or commercials.
The introduction of Justin Bieber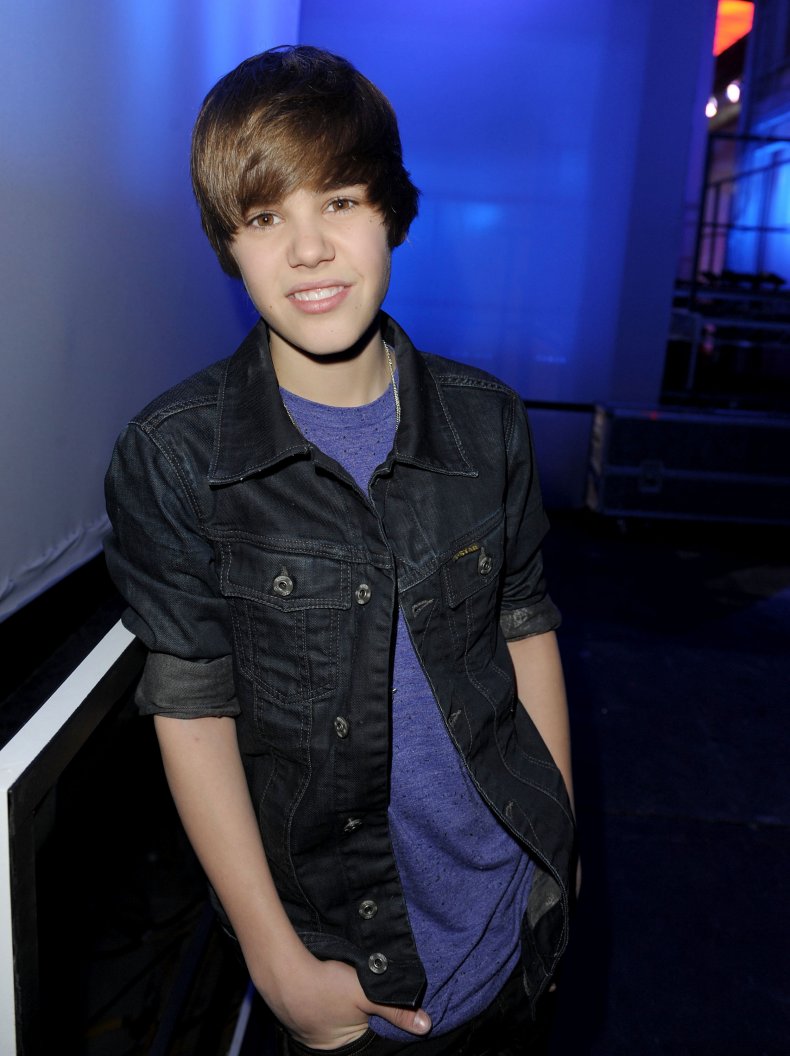 In 2008, music mogul Scooter Braun was scrolling through YouTube when he accidentally clicked on a video of a young pre-teen called Justin Bieber singing. He was so impressed that he tracked young Bieber down and soon afterwards, he was signed by Braun and Usher.
Cue the release of "Baby" and the world came down with a major dose of "Bieber Fever."
While Bieber went through personal issues over the years, he is still one of the world's biggest popstars and has matured over the release of six albums.
Madonna, Britney and Christina Aguilera at the MTV VMAs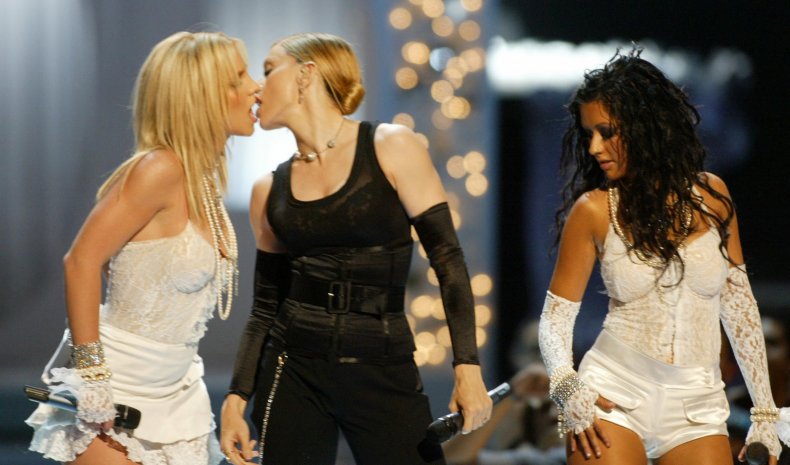 Another VMAs performance to rock pop culture was Madonna, Britney Spears, Christina Aguilera and Missy Elliot taking to the stage in 2003 for a medley that made headlines.
It's actually the most ambitious crossover in history (sorry, Marvel) - Britney and Christina, dressed as brides, sing "Like A Virgin," before being joined by their groom, Madonna, singing "Hollywood," and finally Missy joins the trio to perform "Work It."
Of course, it will always be remembered for one specific moment - Madonna kissing Britney, and the camera panning to Britney's very recent ex Justin Timberlake looking very unimpressed. Madonna also kissed Christina, but the JT reaction meant this was missed.
Adele's "21"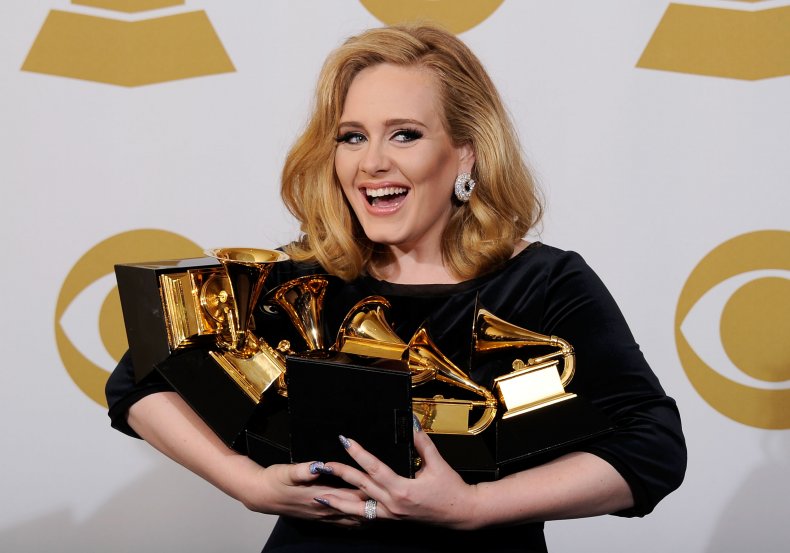 What on earth would we do during a break-up without Adele's 21?
Adele first came to public attention in 2008 with her debut album 19, which was a huge success, but she reached stratospheric heights with her sophomore effort in 2011.
Containing the singles "Rolling In The Deep," "Someone Like You" and "Set Fire To The Rain," 21 was a commercial and cultural juggernaut, becoming the world's best-selling album of the year for 2011 and 2012.
As well as making Adele an international superstar, 21 heralded a change in music, with solo artists moving into more autobiographical, deeply emotional songs in an attempt to grab a piece of the pie.
Beyonce at the Super Bowl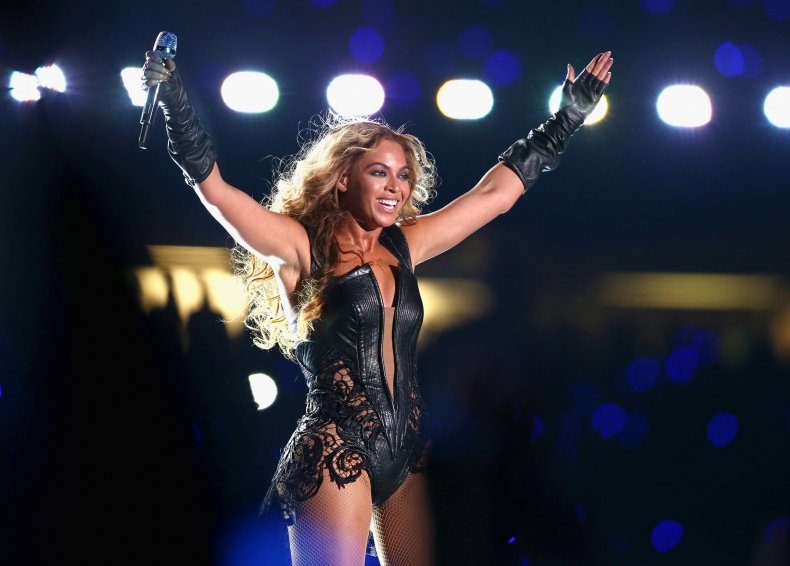 Or should we say Beyonce Bowl? Beyonce raised the bar for all future Super Bowl halftime shows when she headlined Super Bowl XLVII in 2013.
The star performed high-octane renditions of songs like "Run The World (Girls)," "Single Ladies (Put a Ring On It)" and "Baby Boy," while her Destiny's Child bandmates reunited with her on stage.
At the time, the show became the most tweeted-about moment in Twitter history with 268,000 tweets per minute.
Robin Thicke's "Blurred Lines"
Robin Thicke's "Blurred Lines" featuring T.I. and Pharrell Williams was a huge hit worldwide, reaching number one in multiple countries and being nominated for two Grammys.
However, its lyrics caused major controversy, with women's groups accusing the lyrics of misogyny and perpetuating date rape culture.
"Blurred Lines" ended up being banned from many university events in the United Kingdom, and the song sparked a conversation on misogyny in music.
Miley Cyrus at the MTV VMAs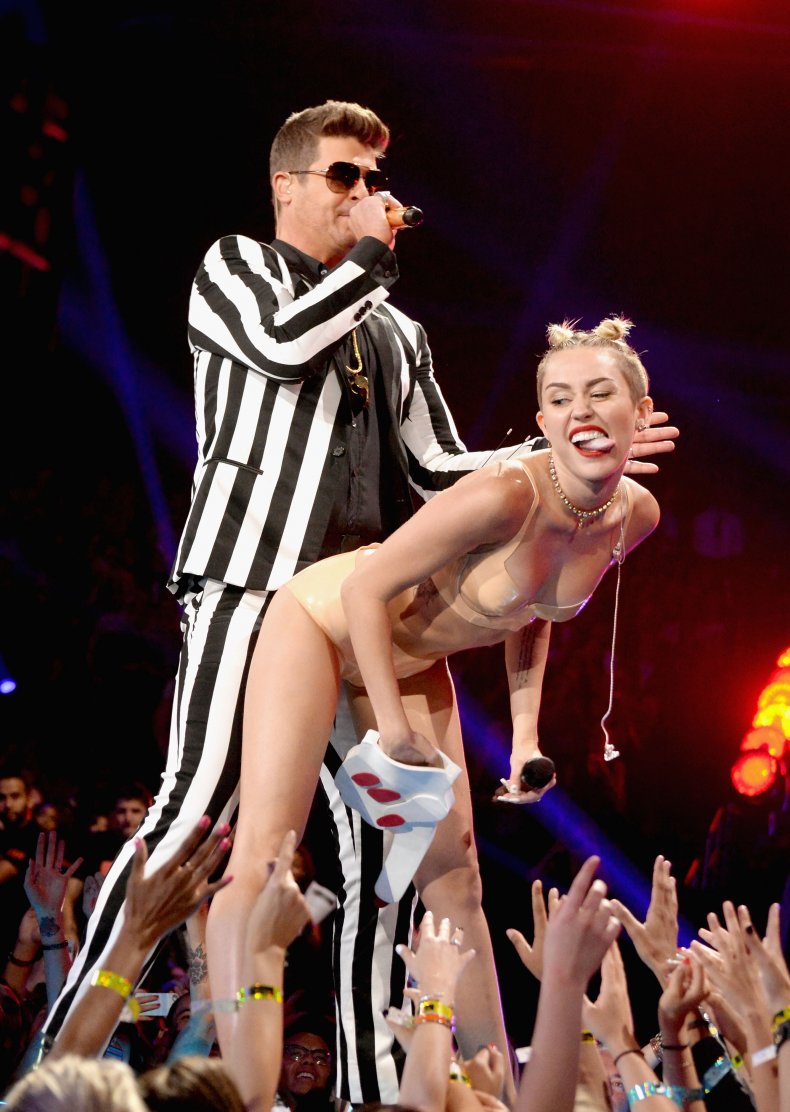 "Blurred Lines" also contributed to Miley Cyrus jettisoning her family friendly Hannah Montana persona and becoming the wild child of pop.
Dressed in a teddy bear playsuit, Miley came on stage to perform her single "We Can't Stop", before stripping down to nude latex underwear and joining Robin Thicke to sing his hit song.
The image of Miley twerking on Robin while wearing an oversized foam finger went viral, and Miley later said that that performance changed her life.
She told Wonderland: "Not only was culture changed, but my life and career were changed forever. It inspired me to use my platform for something much bigger. If the world is going to focus on me and what I am doing, then what I am doing should be impactful and it should be great."
Psy's "Gangnam Style"
In 2012, South Korean star Psy became a global phenomenon with the release of "Gangnam Style", a commentary on the lives of those who live in the Gangnam region of Seoul.
Originally seen as a novelty song thanks to its accompanying dance, "Gangnam Style" became a viral sensation and the first YouTube video to reach 1 billion views, as well as reaching number two in the US and number one across Europe.
Although Psy is considered a one-hit wonder outside of Asia, the success of "Gangnam Style" led to the spread of the Korean wave, as Westerners started warming to songs not in the English language—a pre-cursor to the K-Pop explosion.
Kylie Minogue's "Spinning Around"
The power a pair of gold hotpants can have. In 2000, Kylie Minogue made her eagerly awaited comeback after three years away, and "Spinning Around" ensured that a whole new generation would see her as a reigning pop princess.
The accompanying video has gone down in pop history too thanks to the little hotpants Kylie wears, which are deemed iconic by fans, and resulted in Kylie's bum becoming the object of a lot of media attention.
Lady Gaga's "Bad Romance"
Proving that pop music can also be art, Lady Gaga's videos and album concepts have become as important as the singles she releases.
Gaga already had all eyes on her by the time "Bad Romance" was released in 2009, but she brought her art to a whole new level with the surreal video, which was named best music video of the 21st century by Billboard.
One Direction are born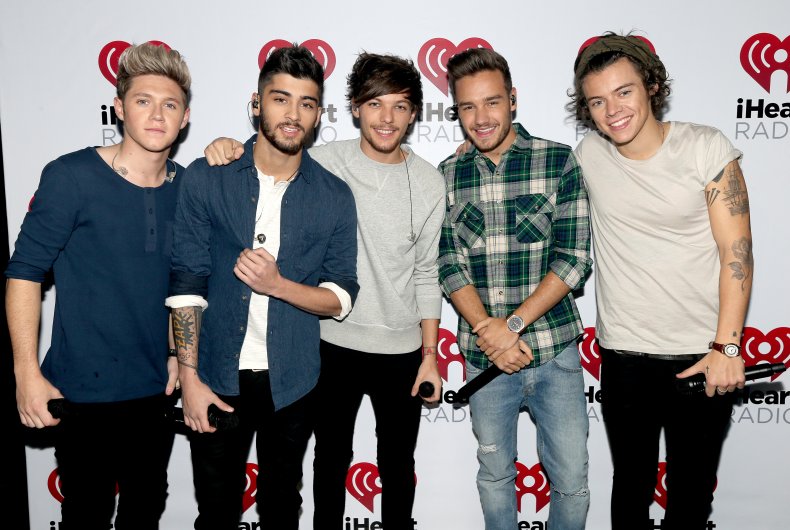 The boyband phenomenon had died down by the 2010s, but then came the formation of a group called One Direction on the 2010 series of The X Factor.
The group—made up of Harry Styles, Niall Horan, Zayn Malik, Liam Payne and Louis Tomlinson—didn't actually win the competition, coming third after Matt Cardle and Rebecca Ferguson, but that didn't matter. The following year they released their debut single "What Makes You Beautiful" and sparked hysteria akin to Beatlemania.
One Direction are one of the best-selling boybands of all time, and although they have all gone on to pursue solo careers, Directioners are hoping for that hiatus to end any day now.
The death of Amy Winehouse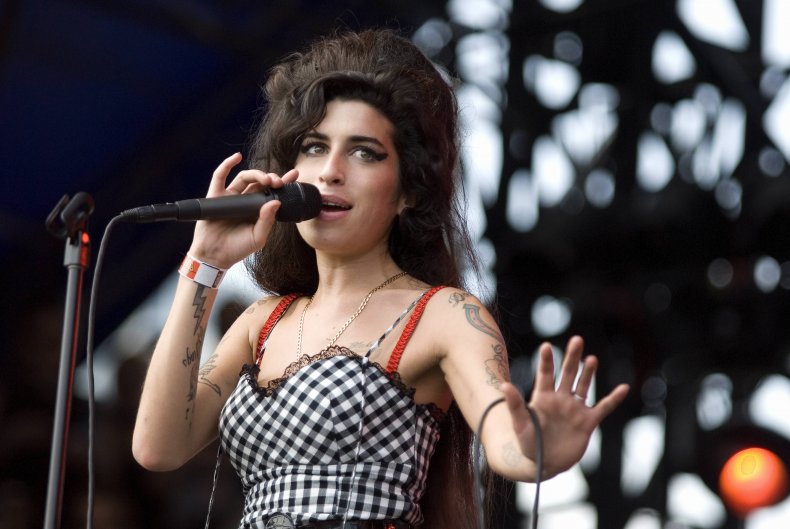 One of the most talented singers ever to come out of the U.K., the music industry was left devastated in 2011 when Amy Winehouse died at the age of 27, from accidental alcohol poisoning.
Amy had already changed the face of music in her tragically short career, with her album Back to Black considered one of the greatest of the 21st century. Her legacy continues to be felt to this day.
The success of "Despacito"
The end of the last decade was littered with acts attempting to weave Latin music into their tracks, and you can thank "Despacito" for that.
Luis Fonsi's 2017 single featuring Daddy Yankee achieved even more popularity when a remix with Justin Bieber was released, and it hit number one the world over, becoming the first Spanish language track to hit number one in the US since "Macarena" in 1996.
"Despacito" is credited by many critics for popularising Spanish-language pop music in the mainstream market.
BTS go global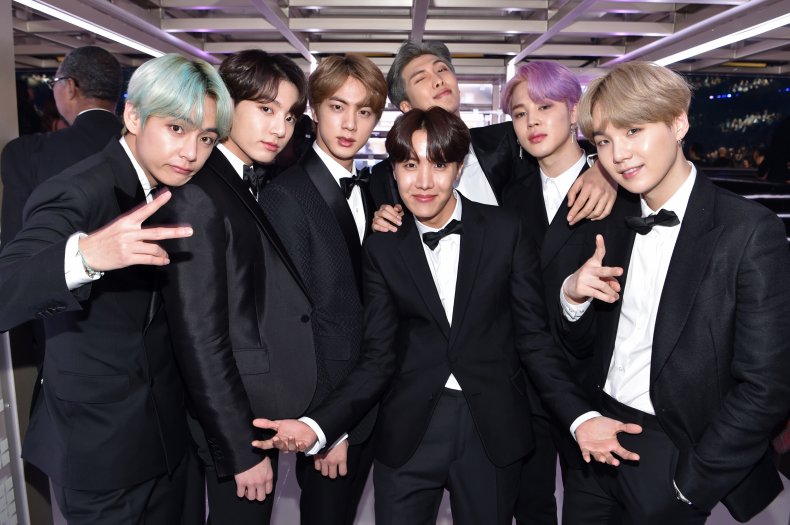 RM, Jimin, J-Hope, Suga, Jin, V and Jungkook debuted as BTS in Korea in 2013, and eight years on, they have become the world's biggest boyband.
In 2018, BTS became the first Korean act to top the US album charts, since debuting at number one in the States with two songs, selling out Wembley Arena and getting a Grammy nomination.
With K-pop now becoming mainstream in the Western world, BTS has been credited with spreading Korean culture and language, and are estimated to be responsible for 0.3% of South Korea's GDP.
Ed Sheeran changes the charts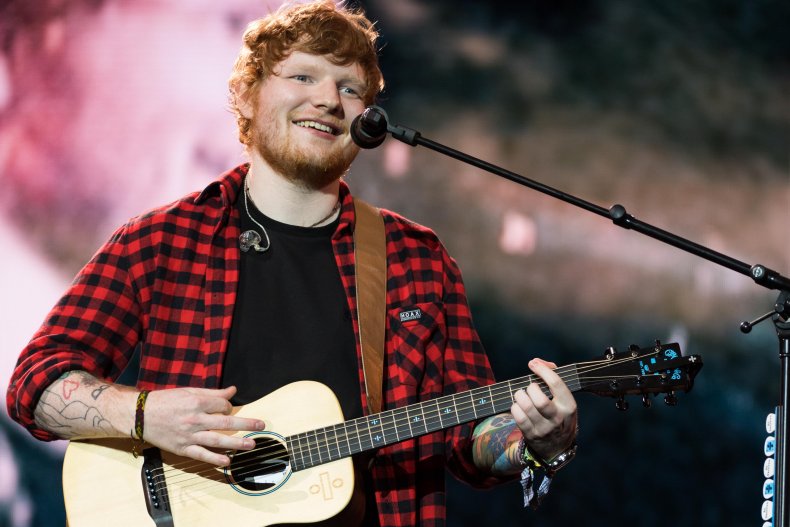 It's hard to imagine the charts of the last 10 years without Ed Sheeran.
Ed has managed to mesh critical and commercial success with his albums +, x and ÷ , and has smashed streaming and touring records, but also resulted in a change in how the charts are formed.
After all the tracks on the album ÷ reached the top 20 of the UK Singles Chart, the Official Charts Company introduced new rules limiting tracks eligible for entry in the top 100 to three per the main artist, as well as adjusting the streams-to-sales ratio for older songs, to avoid album dominance on the charts.
Olivia Rodrigo's "Drivers License"
In 2021, there's a whole new way to become a superstar, and Olivia Rodrigo soundtracked every break-up early in the year when her debut solo single "Drivers License" became a smash on TikTok.
The song went on to break Spotify records, leaving streaming analysts stunned, and topped the charts in the US and the UK, becoming one of the most dominant number-one hits in Billboard Hot 100 history.