30 Percent of Republicans Say True Americans May Have to Resort to Violence to Save U.S.
A poll released Monday highlights the divide in the American public based on party lines, with many Republicans still saying the 2020 U.S. presidential election was stolen from former President Donald Trump and some condoning violence as a solution for problems they see in the country.
The nonpartisan Public Religion Research Institute's poll found that while 31 percent of all Americans feel the election was rigged against Trump, 68 percent of Republicans said this was the case. Thirty percent of Republicans also said they agree with the following statement: "Because things have gotten so far off track, true American patriots may have to resort to violence in order to save our country."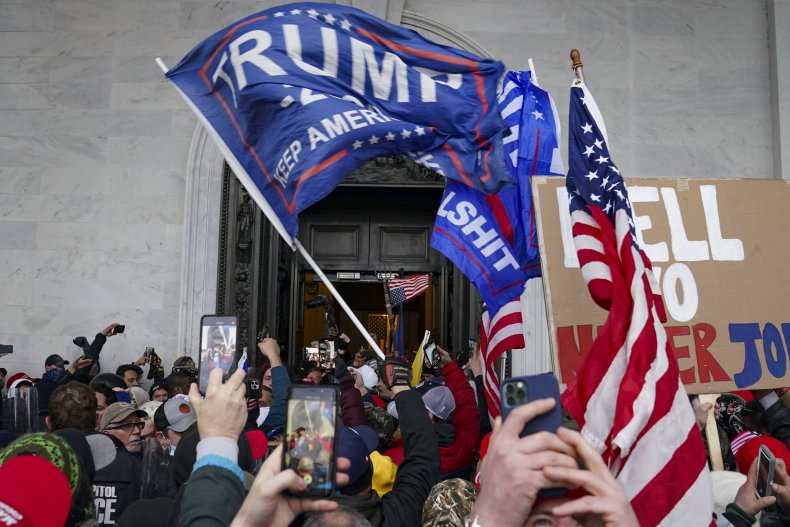 Meanwhile, 17 percent of independents and 11 percent of Democrats said they agreed that violence may be needed to get the country back into order.
Republicans who most trust far-right news sources such as Newsmax and One America News agreed with the statement that violence may be warranted increased to 40 percent, compared with 32 percent who agreed with the statement and who most trust Fox News and 22 percent of Republicans who said they most trust mainstream news sources.
Republican respondents in the poll were also far more likely than their Democratic counterparts to say America "has always been a force for good in the world." Ninety-two percent of Republicans said that the U.S. has always been a force for good, compared with 67 percent of Democrats and 72 percent of independents.
Other findings from the poll show 51 percent of Americans say the GOP "has been taken over by racists." That percentage includes 9 percent of Republicans who agreed with the statement.
Forty-four percent of all respondents said the Democratic Party "has been taken over by socialists." Included in that number are 84 percent of Republicans and 12 percent of Democrats.
Around four in 10 Americans (41 percent) agreed with the following statement: "Things have changed so much that I often feel like a stranger in my own country." Fifty-seven percent disagreed with that statement, though there was division reflected in the responses that also ran according to political ideology. Among Republicans, 56 percent agreed with the sentiment that they felt like strangers in their own country, compared with 31 percent of Democrats and 39 percent of independents.
Fifty-two percent of all Americans agreed with the statement, "Today, America is in danger of losing its culture and identity," while 45 percent disagreed. However, 80 percent of Republicans agreed with the statement, compared with 33 percent of Democrats. Independents were more split on the question, with 50 percent agreeing and 49 percent disagreeing.
The poll also found 26 percent of Republicans identified themselves as QAnon believers. Thirty percent of Republicans who most trust Fox News or far-right news outlets (44 percent) are more likely than those who most trust mainstream news (16 percent) to be QAnon believers.
The Public Religion Research Institute poll was conduced among 2,508 adults in all 50 states in the United States between September 16 and 29, 2021.