30 Percent of Unvaccinated Americans Would Reconsider Shot Amid Omicron Surge, Poll Finds
The Omicron variant may make unvaccinated Americans reconsider getting inoculated against COVID-19, according to a new poll.
A Morning Consult survey released Wednesday found unvaccinated adults are more likely to think there's too much concern over the new strain, which was discovered in South Africa last week and has since spread to more than a dozen countries.
Still, 30 percent of unvaccinated U.S. adults said given the emergence of the new strain they would consider getting one of the coronavirus vaccines. Eleven percent of unvaccinated respondents said they'd "definitely" get the shot as a preventative measure, while 19 percent said they'd "probably" consider it.
Meanwhile, 42 of unvaccinated adults surveyed said they would "definitely" not consider getting vaccinated and 28 percent of the unvaccinated respondents said they'd "probably not" get the shot.
Among the unvaccinated who said they're worried about Omicron, nearly half said they'd consider getting the COVID-19 shot with 20 percent responding they would "definitely" get the shot and 28 percent saying they would "probably" get it.
Much is unknown about the Omicron variant, including whether it is more transmissible than other strains of the virus or if it causes more severe illness. Questions have also been raised about the efficacy of currently available vaccines.
Moderna and Pfizer have started to develop new vaccines to combat Omicron, should they prove to be necessary. Pfizer CEO Albert Bourla said a new vaccine could be completed within 100 days.
As of publication, no cases of the variant had been reported in the U.S. President Joe Biden and top health officials have said the variant will likely eventually be detected in the country but has urged the public not to panic.
Biden has pledged not to impose lockdowns or shutdowns as a result of Omicron's presence. Instead, the administration has vowed to combat the variant through ramped up vaccination and testing programs. The president is expected to detail his strategy to combat Omicron later this week.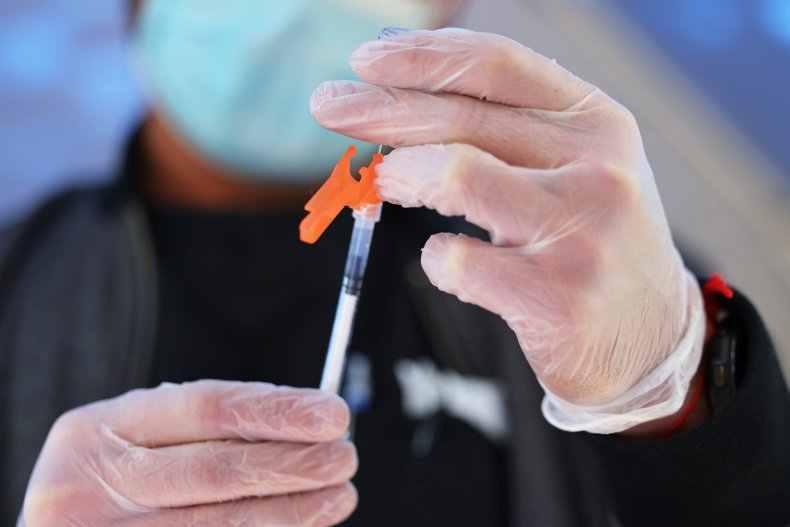 But the administration has imposed travel restrictions from eight African countries amid the new outbreak. On Wednesday, the Centers for Disease Control and Prevention (CDC) directed all airlines that operate in the U.S. to share passenger information for travelers who were recently in those eight nations.
An overwhelming majority of Americans—78 percent—back imposing travel restrictions on countries where Omicron has been detected, according to the poll.
Such a measure has support from both the vaccinated and unvaccinated, with 85 percent of inoculated individuals and 60 percent of unvaccinated people calling the restrictions important to ensuring public safety.
Morning Consult surveyed 2,200 U.S. adults between November 29 and November 30. The poll has a margin of error of plus or minus 2 percentage points.