30 Powerful Photos of the Florida Shooting Student Gun Control Protests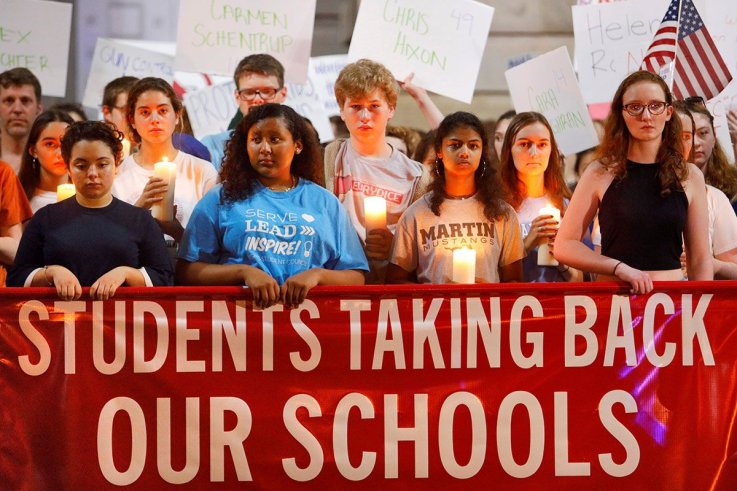 The mass shooting at a Florida high school has inspired a growing youth-led protest movement. Classroom walkouts and rallies have been staged in cities across the country, with students demanding changes to U.S. gun control legislation. This Newsweek gallery features 30 powerful images of young people taking a stand in attempt to stop further massacres.
Wearing T-shirts reading "We call B.S.," survivors of the February 14 attack at Marjory Stoneman Douglas High School burst into lawmakers' offices at the Florida statehouse. The teens were welcomed into the gun-friendly halls of power, but the students' top goal—a ban on assault-style rifles such as the weapon used in the massacre—was taken off the table a day earlier. However, more limited measures are still possible.
The attack was carried out by 19-year-old former Stoneman Douglas student Nikolas Cruz, who purchased an AR-15-style assault weapon nearly a year ago. "Nikolas Cruz was able to purchase an assault rifle before he was able to buy a beer," said Stoneman Douglas student Laurenzo Prado, referring to a Florida law that allows people as young as 18 to buy assault weapons. "The laws of the country have failed," he told reporters at the Florida state capital.
Lawmakers in Tallahassee said they would consider raising the age limit to 21, the same as for handguns and alcohol.
Read more: Who is Alfonso Calderon? Florida Shooting Survivor Gives Passionate Speech in Tallahassee
President Donald Trump held an emotional, hour-long meeting with students who survived the Florida shooting and a parent whose child did not. He said arming teachers and other school staff could help prevent future mass shootings, voicing support for an idea backed by the powerful National Rifle Association (NRA) gun lobby.
"I don't understand why I could still go in a store and buy a weapon of war," said Sam Zeif, 18, sobbing after he described texting his family members during the attack. "Let's never let this happen again, please, please."
Trump sat in the middle of a semi-circle in the White House State Dining Room. Photographers captured images of his handwritten note card with questions and responses such as: "What would you most want me to know about your experience?" and "I hear you."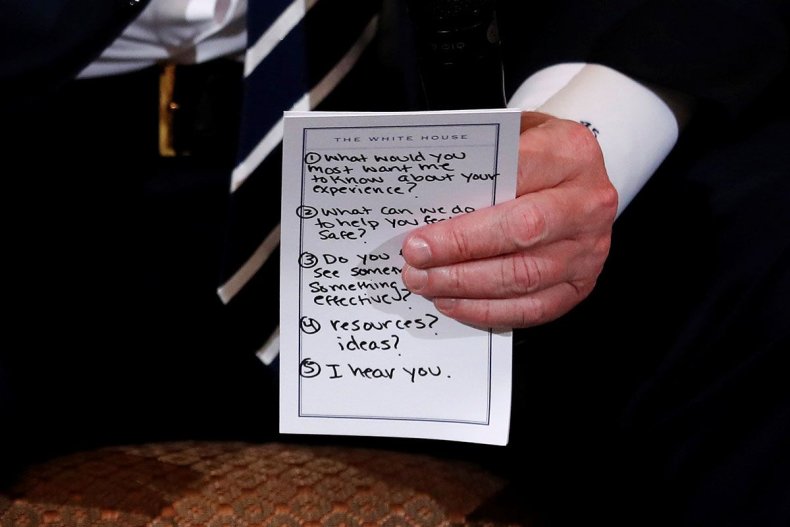 The Republican president, who has championed gun rights and was endorsed by the NRA during the 2016 campaign, said he would move quickly to tighten background checks for gun buyers and consider raising the age for buying certain types of guns.
Calls for national student walk-outs and marches in the coming months have gained steam on social media, including the "March for Our Lives" on March 24 in Washington, spearheaded by some Douglas students. Cameron Kasky, a Douglas student and an organizer of the Washington rally, created a GofundMe page that has raised about $1.7 million toward a goal of $2 million. "The march on Washington is going to be huge but the marches all over are just as important," Kasky Tweeted on Tuesday.
The youth-led protest movement that erupted within hours of the shooting has also attracted prominent celebrity supporters. Film star George Clooney, Hollywood director Steven Spielberg and media mogul Oprah Winfrey each contributed $500,000 to help fund the March rally in Washington.