'30 Rock' Blackface: Which Episodes Are Being Removed?
30 Rock is following shows like It's Always Sunny in Philadelphia and removing episodes featuring actors in blackface from streaming services. At creator Tina Fey's insistence, four episodes of the NBC show are being removed from syndication and streamers.
In one case, the blackface featured in the Emmy-winning comedy is actually a comment on TV's troubling history of having white actors play black characters. However, Fey said in a statement: "I understand now that 'intent' is not a free pass for white people to use these images."
This represents something of an about-turn for Fey, who told Net a Porter in 2015: "There's a real culture of demanding apologies, and I'm opting out of that," after her show Unbreakable Kimmy Schmidt was accused of racism.
Now, however, she has decided to remove the following episodes from streaming services and on-demand stores, which see actors Jon Hamm and Jane Krakowski using "race-changing make-up":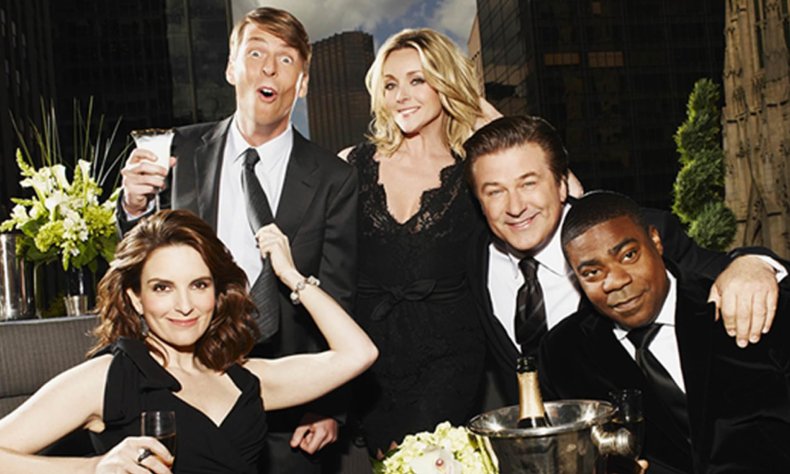 Season 3, Episode 2, "Believe in the Stars": Jenna Maroney (played by Jane Krakowski) and Tracy Jordan (Tracy Morgan) have an argument over whether it is harder to be a white woman or black man, which leads them to a social experiment where they both dress up in drag, with Tracy in white face and Jenna in blackface.
Season 5, Episode 10, "Christmas Attack Zone": Jenna dresses up Pittsburgh Steelers wide receiver Lynn Swann for a New Year's Eve party where the theme is cultural phenomena from 2010—Jenna has come as "Black Swan(n)."
Season 6, Episode 19, "Live from Studio 6H": In a scene that is criticizing TV's historic use of blackface, Jon Hamm appears in a clip of Alfie and Amos, a fake 1950s sitcom which sees the actor playing Alfie (Tracy Morgan) becoming increasingly disgusted at his co-star's stereotypical portrayal of an African American character.
Season 5, Episode 4 "Live Show" (East Coast version): More of a case of "blackhand" than "blackface"—in one cutaway scene, Dr. Drew Baird, the handsome but stupid doctor played by Jon Hamm, has lost both of his hands, but gets a hand transplant from a black man from death row, whose hands then try to strangle him.
Fey's full statement about the removed 30 Rock episodes reads: "As we strive to do the work and do better in regards to race in America, we believe that these episodes featuring actors in race-changing makeup are best taken out of circulation. I understand now that 'intent' is not a free pass for white people to use these images.
"I apologize for pain they have caused. Going forward, no comedy-loving kid needs to stumble on these tropes and be stung by their ugliness. I thank NBCUniversal for honoring this request."
30 Rock is streaming now on Amazon Prime Video and Hulu.