'30 Rock' Reunion Release Date, Cast, Plot: Everything You Need to Know
30 Rock is following on from Parks and Recreation in having a remotely-shot reunion, which is set to be released by NBC in July. Tina Fey and Alec Baldwin will return as Liz Lemon and Jack Donaghy respectively, and will be joined by the rest of the main cast. However, rather than a straightforward reunion, the hour-long special will also act as the upfronts presentation for NBCUniversal, allowing the company to highlight its roster of programming.
When is the 30 Rock reunion airing?
As fits a special highlighting the best of NBCUniversal's shows, the special will air on multiple networks owned by the company. The presentation will air first on NBC on July 16 at 8 p.m. ET / 7 p.m. CT, and then air on networks like USA, Syfy, E!, Bravo, Oxygen and CNBC at a later date. The special will also be on NBCUniversal's new streamer Peacock as of July 17.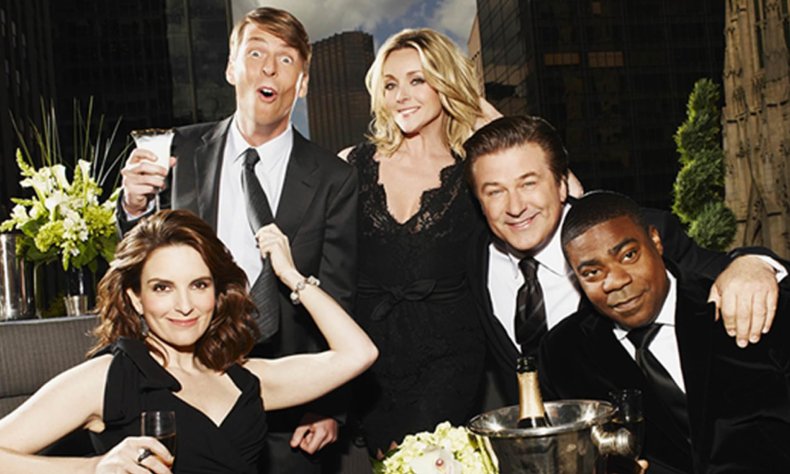 Who is in the cast of the 30 Rock reunion?
Reprising their roles from the original show, which ran from 2006 to 2013, are:
Tina Fey - Liz Lemon
Alec Baldwin - Jack Donaghy
Tracy Morgan - Tracy Jordan
Jane Krakowski - Jenna Maroney
Jack McBrayer - Kenneth the Page
The reunion special will also feature guest appearances from stars from new and returning NBCUniversal show, promoting their upcoming episodes. Though the company has not confirmed who will be appearing, among those likely to appear are Christopher Meloni, who is returning as Elliott Stabler for the hotly anticipated Law & Order: Organized Crime, and Kenan Thompson, the SNL star who is getting his own show on NBC.
What will happen in 30 Rock?
The 30 Rock special is acting as NBC's upfronts special, an event that is usually just for TV professionals and sees the network showing advertisers what they have coming up so they can purchase advertising hours. Exactly how this will work has not been revealed yet, as the company has not released a trailer for the special yet.
Josh Feldman, NBCUniversal's head of marketing, said the special will: "bring together video, advertising, and humor to show the world the power of One Platform in a whole new way"—which is a very Jack Donaghy thing to say.
In fact, drawing viewers to watch an hour of previews for upcoming shows by bundling it up as a reunion of a much-loved comedy is exactly the kind of TV industry move that 30 Rock used to satirize across its Emmy-winning run.
However, bringing the cast together for this first-of-its-kind upfront special makes a kind of sense—after all, the series is perhaps the only show ever made to have an NBC executive as one of its main characters. However, it remains to be seen whether NBCUniversal's reality shows can match the greatness of series that Donaghy commissioned in the universe of 30 Rock like MILF Island, God Cop, Homonym, and Queen of Jordan.
The 30 Rock reunion special airs on Thursday, July 16 on NBC.