30 Rock Wraps Up Seven Iconic Seasons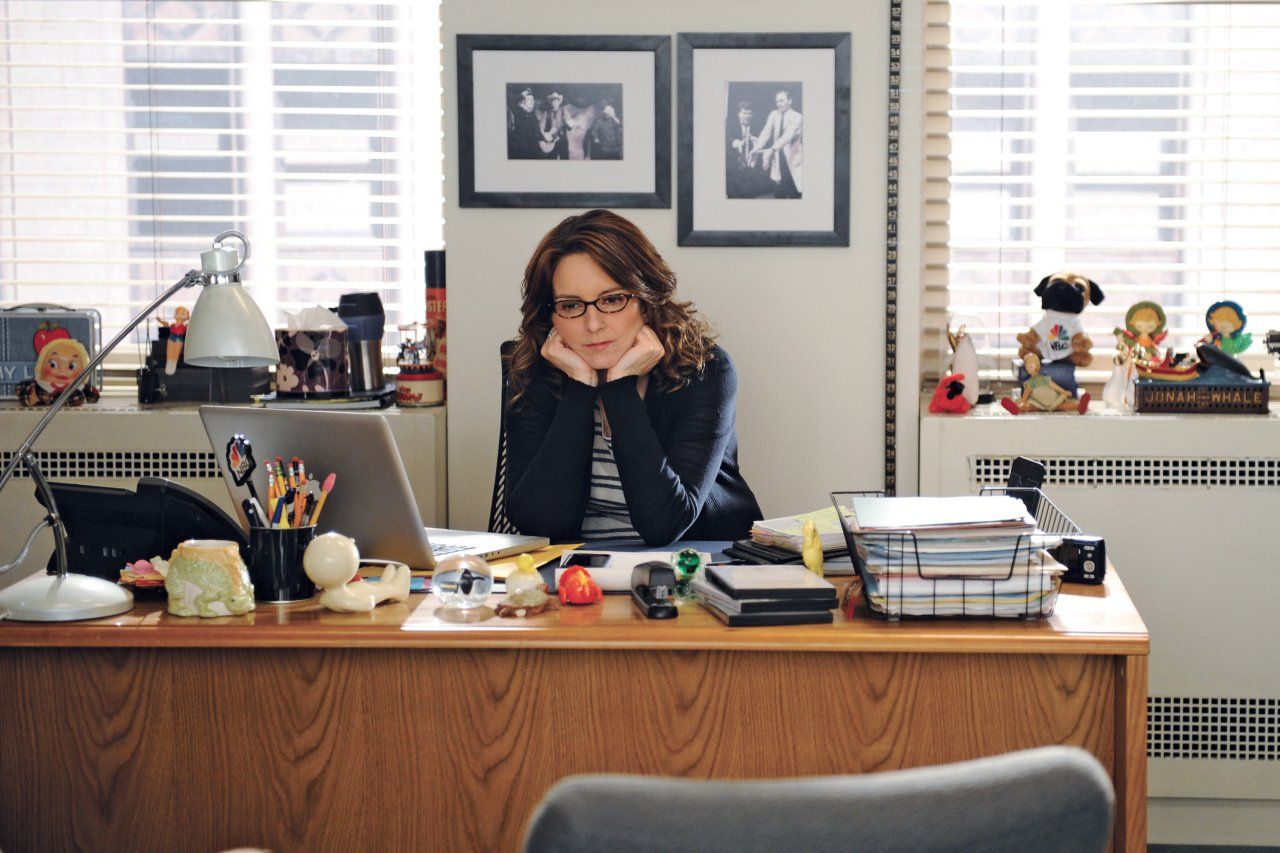 Back in 2006, one of the year's most highly anticipated new shows was a roman à clef set at a Saturday Night Live–style sketch comedy show. No, it wasn't Tina Fey's 30 Rock, but Aaron Sorkin's Studio 60 on the Sunset Strip, which also aired on NBC and died in 22 episodes. In fact, 30 Rock was very nearly canceled right out of the gate, with nearly half its 8.2 million viewers fleeing by the fourth week. But instead of being axed, 30 Rock became a sleeper hit. The show that gave us Liz Lemon and launched a thousand catchphrases ("Blerg!") wraps up a seven-season run at the end of January.
30 Rock made creator-star Tina Fey—a former SNL writer and anchor of its talent springboard "Weekend Update"—a household name, while the show soon became a critical darling, known for its smart, tongue-in-cheek writing and acerbic wit. Beneath the absurdist single-camera comedy trappings of 30 Rock was a hyperliterate cultural magnet, one that exerted a powerful attraction toward the cultural memes of the day, not to mention bipartisan politics, celebrity vanity, corporate mergers, and the eternal struggle faced by working women to have it all.
In Liz Lemon, the harried executive producer and head writer of the comedy show TGS, Fey created an everywoman whose flaws were in fact part of her attractiveness; her persistent fear of exercising and love of junk food refreshing in an era of actresses who would like viewers to forget they have to eat at all. 30 Rock was, in many ways, a bildungsroman depicting the psychological development of Liz as she moved into a semirational adulthood, surrounded by a crowd of unruly eccentrics—such as Jane Krakowski's Jenna Maroney, Tracy Morgan's Tracy Jordan, and Jack McBrayer's Kenneth Parcell—and an unlikely mentor in her boss, Alec Baldwin's ultraconservative executive, Jack Donaghy.
But rather than make, as most Hollywood projects would, marriage the inevitable conclusion to Liz Lemon's saga, 30 Rock bucked that long-held trend by marrying off Liz before the ending and downplaying her wedding altogether. There would be no special episode, no electronic invitations on the NBC website, no fuss about reaching yet another milepost on Liz's uncharacteristic journey. Instead, the show has held out Liz's ultimate goal—motherhood—as a possible ending for the overworked writer, though it has once again defied expectations. A recent episode suggested that Liz would be adopting an older child, her quest toward motherhood not reliant on biology or medical intervention. In doing so, Fey signaled yet again that 30 Rock was not a traditional comedy defined by traditional sitcom trappings: it was a glorious metareflection of the times we live in.
Fey cohosted the Golden Globes telecast with Amy Poehler this year, the first time two women had done so, well, ever. It was a big night for women in general, between the Cecil B. DeMille Award for Jodie Foster and the wins for Lena Dunham (another multihyphenate, like Fey, it should be noted) and her HBO comedy, Girls. Dunham thanked Fey and Poehler, calling them "inspirations." And it's true: Girls gets most often compared to Sex & the City, but without Fey and 30 Rock, it's possible it might not have existed.
The current crop of female-centric sitcoms on television, from Fox's New Girl and The Mindy Project (featuring yet another multihyphenate in Mindy Kaling) to CBS's 2 Broke Girls, owes a great deal of its success in part to Fey, who created a comedy that recalled the strength of trailblazers such as The Mary Tyler Moore Show and That Girl. Even as it summoned the liberated spirit of The Mary Tyler Moore Show's central character, 30 Rock was likewise as modern and forward thinking in terms of its view of an independent woman in the workplace. While Liz had several boyfriends—most notably played by Matt Damon, Jon Hamm, James Marsden, Jason Sudeikis, and Dean Winters—over the course of the show's seven-season run and married one this year, her one true love was her job, and the show often focused on her tumultuous romance with her career.
Fey's Liz Lemon wasn't a spinster; she didn't particularly enjoy sex, but she also wasn't content to be placed on the shelf after reaching the 40-year mark. Instead, 30 Rock found her attempting to balance the chaos in her life while avoiding another pitfall by not putting Liz and Baldwin's Jack together. Instead, their mentor-student relationship is a precise and complex look at male-female friendships, a screwball banter untainted by sexual entanglement. Their interactions often powered individual episodes, an explosive collision of liberal and conservative politics. Their yin-yang dynamic, of loving respect buried under antagonism, remains one of the hallmarks of the show, which mined gender politics as deftly as it did those of Washington, D.C., or Hollywood, casting a knowing eye on both bedroom and boardroom maneuvers.
Under Fey's guidance, 30 Rock was never afraid to turn on its corporate masters, constantly painting NBC, Comcast (embodied on screen in rickety cable company Kabletown), and its overlords as either inept or malicious. That it did so with such savage humor and biting wit intact is a reason to celebrate the show, as few others could get away with the sort of corporate intrigue lampooned here. But beneath its wink-wink-nudge-nudge high-low humor, 30 Rock was as sly as a fox, its writers knowing just how far to push the parody, as well as never straying into saccharine special-episode territory.
The absence of 30 Rock from the airwaves, as it finishes its final season, is a true loss to television in general. This was a show that was as smart as its creator-star, offering layers upon layers of throwaway lines, metareferences, sight gags, quick cutaways, and sharp callbacks to previous episodes. 30 Rock was a compendium of the mores and dreams of postmillennial America, our best and worst selves reflected on screen.
The end of 30 Rock is not the end of Fey, fortunately. After brilliantly cohosting this year's Golden Globe Awards, she will next be seen as a Princeton University admissions officer opposite Paul Rudd in director Paul Weitz's Admission, which opens in theaters in March. And Fey has just signed on to costar in the untitled sequel to The Muppets, where she will reportedly play a Russian-gulag prison guard. It's just the sort of unexpected move that's guaranteed to keep Fey's reputation firmly cemented as a gonzo comedian.
30 Rock Wraps Up Seven Iconic Seasons | Culture