'I Themed 30 Nights for My Kids During Lockdown'
I live south of Barcelona in a little town called Sant Pere de Ribes, and we've been in lockdown due to COVID-19 for more than 30 days.
Luckily, I live in a house with my two children, Seb, 11, and nine-year-old Oli, and my husband, Tom. So I have company.
Sant Pere de Ribes went into lockdown really, really fast. We were told that schools would close on March 13 and that on March 16 restrictions would be put in place. But then the government moved those restrictions forward to March 14. We aren't able to leave the house except for shopping, to go the pharmacy or to the vets.
It's a beautiful town, and the community spirit here is brilliant. Straight away people were offering help to older and more vulnerable people.
My children are both super active, doing Taekwondo, Kung Fu, soccer or gymnastics six days a week. They went from that to nothing. So we started holding themed nights straight away after lockdown was announced, mainly because it was my son Oli's ninth birthday. He was a bit upset because we'd ordered a huge cake for his class. We normally do breakfast in bed for a birthday, but we did a little extra because Oli wasn't going to see his friends—a whole buffet breakfast, and made it a little like a hotel.
So far, we've done everything from a bowling alley to a 'beach' day indoors, re-created an English pub, an escape room, a racetrack, a fun fair, 'camping' and a spa experience.
I'm a qualified teacher and with a friend, decided to open CatVana Learning Centre in the middle of the town to offer a lunch club with English lessons, and an after school club. Setting up the business took six months of constant meetings in three different languages. It was really full-on, and it then had to close after just three months. I didn't want to go crazy, so I thought, let's do something fun and different every day, and then we've got something to look forward to.
Bowling was brilliant because it was quite easy to set up. We're really lucky to have a Nintendo Wii, so we didn't need to find bowling balls, or anything to stack up. Our beach day was also awesome, we were lucky because we had lots of blue blankets and blue tarpaulin in our house, so we could make an ocean quite easily. But if you don't have that, you can use your imagination!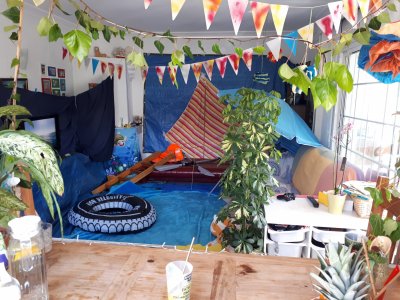 It's a huge distraction from the fact that we can't go anywhere, and can only see people over Zoom or FaceTime. Going bowling and having an 'American' diner where we could eat burgers made it feel like we had left the house and done something different.
I'm sure it's the same for everyone the world over, we've missed holidays with friends and family. It's sad for anyone to miss that. And then when you have your children missing out as well, you're just trying to make it as nice for them as possible.
Luckily we've used stuff we've been able to find around the house, and we're lucky to have a garden. Our Mexican night was Father's Day (El Día del Padre) here in Spain. Tom's always wanted to go to Mexico. He was working all day, so while he was upstairs the boys and I decorated the house.
I do have children and I am a teacher, so I have access to things like tissue paper in my house. But I made the Mexican flag with a combination of scarves and blankets I have. The bowling alley sign was hand-drawn, with our name on it—'Hirschwood Bowl'. It's all been as easy as possible.
Unless you're in a situation where both parents are working from home, in which case you might just want to do themed nights on the weekends, I think the one thing everybody is going to have is time.
But you may have to be a bit more imaginative. For example, for the bowling alley, if you don't have Wii, you just need to find something round that you can roll down a hallway, or across the table for table-top bowling. And you need something you don't mind knocking over, like plastic cups.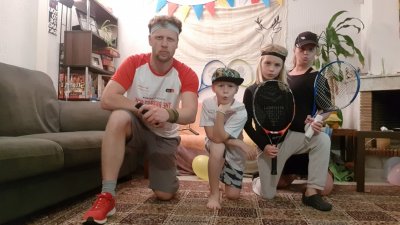 We've surprised the kids with a few of them. A year or so ago, my son Seb got a hoverboard for his birthday, which can hook onto a go-kart. Tom had this brainiac idea of turning our garden into a racetrack—it's just a tiny loop with a wiggle in it. The kids weren't allowed to come down until it was built.
The funfair was great, but it took a lot of work. We made 'hook-a-stick' instead of 'hook-a-duck'. We don't have rubber ducks, but we have a lot of sticks in our garden. We also had target shooting with Nerf guns against little targets, and a 'bouncy castle' which was just our trampoline.
If you're not locked down yet, get things you can or order stuff. And plan. Don't commit to doing a themed night, every day. By day 25, things were getting tricky! In the days you're teaching your kids at home, you don't necessarily have all the time in the world anyway.
Initially, I was just sharing the themed nights on Facebook, but then I was getting lots of positive comments from it. People were like, "oh my god, I'm going to take that idea!", or, "that's brilliant!" and so I thought I would write a blog with the themed night ideas detailed, so anybody could access it.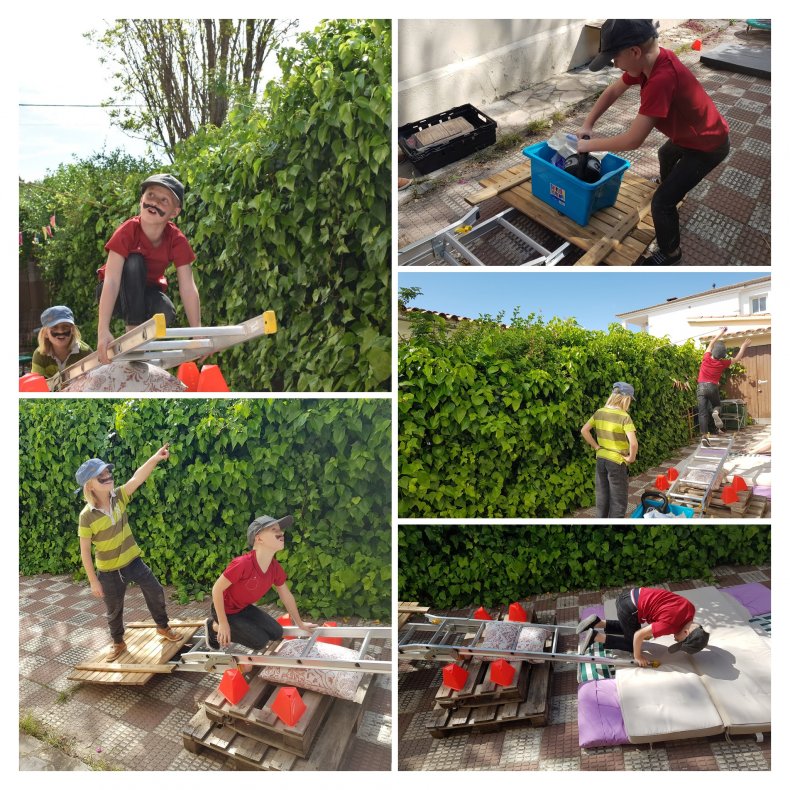 My boys go to a local school, and there are lots of families there who don't have computers in their house or internet. On April 8, we opened our home wi-fi for everyone around us. And I've been to my business, which is situated under a block of flats, to open up the wi-fi there as well.
The town is hoping to open up wi-fi for everyone. The idea was that when schools 'went back' on the week beginning April 13, as many children as possible could access school from home.
CatVana wasn't going to run an Easter camp, we were going to save it for summer, but we wanted to help the people here and take some of the burden off parents. So they can just plonk their kid in front of the computer and we can entertain them for a small while. Hopefully that will relinquish some of the stress people are feeling in their houses.
Everyone's in the same situation. The most important thing is that you need to take care of your mental health. Your anxiety levels need to be low, and you need to be as calm and as happy as possible.
My Themes To Try:
The English Pub: set up drinks on a bar and take it in turns to serve.
Tapa a Tapa: create a tapas dish each to share.
Super Mario Bros. themed Easter Egg Hunt: dress up and hunt for eggs.
Tea Party at Ascot: make small sandwiches and cakes.
I Will Walk Rebellion: create a route around your house, a playlist, and walk to your own silent disco for 5km.
New Board Game Night: order a new one and devour together!
The 'Should Have Been' Night: when an intended theme night fails, eat junk, play games and watch a film.
The Escape Room: create your own challenge with these tips.
Camping: pop a tent in the garden or lounge.
Viva a Mexico: create a Mexican night with homemade bunting, paper flowers and food.
Pub Quiz: set up a Zoom meeting and host a pub quiz with friends.
Obstacle Course: use items from around the house for an indoor adventure.
Family Game Show Night: emulate your favourite TV game show at home.
Treasure Hunt: use homemade verbal, written or picture clues that lead to the prize.
Ready, Steady, Cook!: copy your favourite cooking shows and compete in the kitchen.
Date Night: parents get a dinner date, served by the kids.
Sports Day: try egg and spoon racing, sack racing or these great ideas.
Spa Experience: light candles, incense, fill some buckets with soapy water and more.
Fun Fair: create simple fair games in the house and/or garden.
Happy Unbirthday To You: a family member picks 5 things to do for their 'Unbirthday'.
One-On-One Nights with the Kids: one parent and one kid, hanging out for the night.
Home Hairdressers: cutting each other's hair, risky but fun.
Join A Free Live Art Class: find a class online and try it together.
Bowling: create an 'at home' alley with Wii or balls and stacked cups.
Haunted House: take a room each and try to scare each other.
Cave Rave: dress up and dance!
Cinema Time: make some popcorn and sit together for a family movie.
Kids Cook Every Meal: what it says on the tin (with supervision of course.)
Race Track: create a track in the garden and cruise it on anything with wheels.
The Hotel Stay: treat a family member to breakfast in bed, or create a 'hotel' buffet.
Wimbledon Themed Night In: have a tournament on Wii, or create your own.
Go to War: build a fortress inside and go to battle!
Through the Decades Dance off: choose your favourite decade, dress up and dance.
Junk Fashion Show: delve through the trash and create some fun outfits.
Role Reversal Night: parents and kids swap roles, though you may need patience.
Cat Saunders-Hirsch is co-founder of CatVana Learning Centre, an English learning hub with qualified British primary school teachers. She lives in Sant Pere de Ribes, Spain.
The views expressed in this article are the author's own.​​​​​
As told to Jenny Haward.